Did you just try to login to your Windows 10 computer, but got a black screen on the display instead? Well, it might sound surprising, but getting the Windows 10 black screen after login is a pretty common problem faced by many. In most of the cases, it happens due to a software or a display driver related issue. Users often complain that after logging to their Windows 10 PC, they get a black screen on the display instead of the usual screen. Needless to say, getting the black screen after login can be a complicated situation to be in. Let's proceed and learn how to fix this Windows black screen after login issue in different ways.
Part 1: Why Does My Computer Go to a Black Screen When I Log In?
Before we get into the details, it is important to know why the screen goes black after login on Windows 10 sometimes. In most of the cases, the following are the major triggers for the Win 10 black screen after login issue.
A hardware problem like a broken display or a loose wire can cause the black screen on display.
The display drivers that are installed might not be compatible or updated.
There could be a firmware-related issue with your system.
The vital processes needed to load the display on the computer might not be loaded correctly during the startup.
A change in the display adapter settings can also make the screen to malfunction.
A deadlock or a faulty process in the system can also cause this issue.
It can also happen if your system is running on low disk space or if the firmware has been corrupted by a malware.
---
Part 2: How Do I Fix a Black Screen on Windows 10 after Login?
If a hardware-related issue has caused your laptop to have a black screen after login, then consider visiting a repairing center. Though, if it is a software problem, then you can try to fix it by following these suggestions.
Method 1: Try a Windows Key Sequence to Wake the Screen
If you are lucky, then chances are that your system is just running slow or has gone in the hibernation mode. In this case, you can use the correct key combinations to wake your system up:
Use the Windows + L key if your system is locked or have gone in the hibernation mode. Sometimes, the Space or Enter key would also work to wake it up.
If you keep having an unresponsive screen, then press either the Windows + P or the Ctrl + Alt + Del keys at the same time. This will wake an unresponsive Windows system.
Lastly, if nothing else seems to work, then press the Windows + Ctrl + Shift + B keys simultaneously. The key combination is designed specifically to wake the system from black screen after login.

Method 2: Open Task Manager to Restart Windows Explorer
You can also get the computer black screen after login due to an error with Windows Explorer as well. For instance, the explorer process might not have been launched correctly. Since it is responsible for the overall user interface in Windows, it is recommended to simply restart the process.
Step 1. Go to the Desktop and press the Ctrl + Shift + Esc keys (or Ctrl + Alt + Del) to launch the Task Manager window.
Step 2. From here, click on the "More Details" option to get a detailed list of all the tasks running in Windows.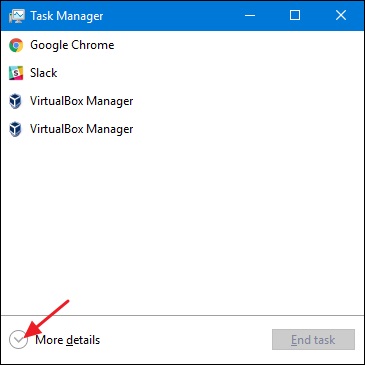 Step 3. Now, just select Windows Explorer from the list of the processes and click on the "Restart" button to launch it again.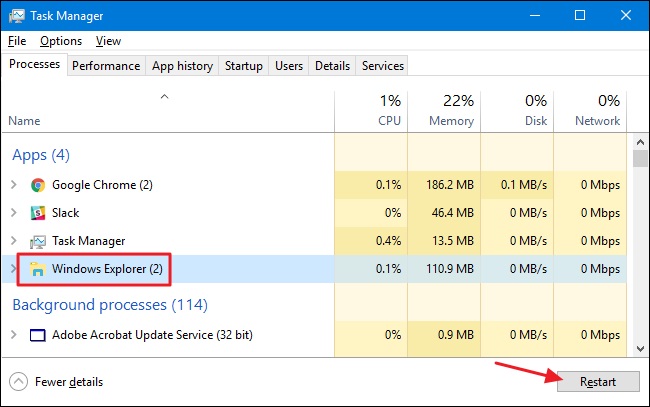 Method 3: Roll back the Display Adapter Driver
A while back, I tried to update the installed display adapter driver on my PC. Sadly, the update was either corrupted or got halted in between that resulted in the black screen after login problem. Therefore, if you have also encountered a similar situation, then you can try to roll back the display adapter driver to its previously installed driver settings.
Step 1. All you got to do is go to the Start menu and launch Control Panel from there.
Step 2. Now, go to Device Manager > Display Adapter and expand to see the drivers installed. (learn how to use Device Manager)
Step 3. Double-click the selected drive to go to its Properties > Driver tab and click on the "Roll Back Driver" button.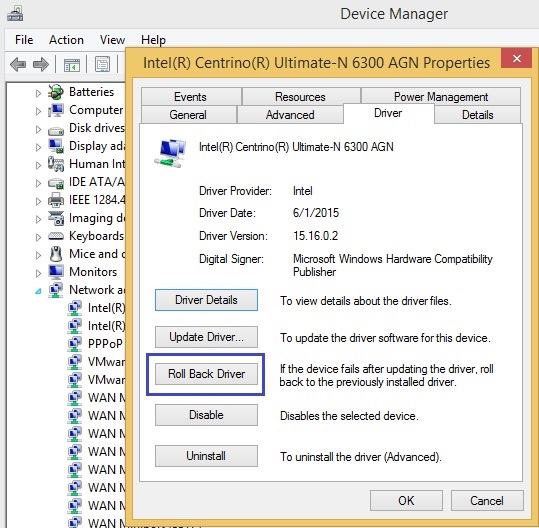 This will let you roll back the adapter settings to an existing setting in order to avoid any display issue.
Method 4: Uninstall your Display Adapter Driver
Apart from rolling back to a previous update, you can also consider reinstalling the display adapter driver as well. For this, you need to follow the same drill as above and visit Device Manager > Display Adapters > Properties > Drivers. Instead of the Roll Back, just click on the "Uninstall" button and follow a simple wizard to remove the driver.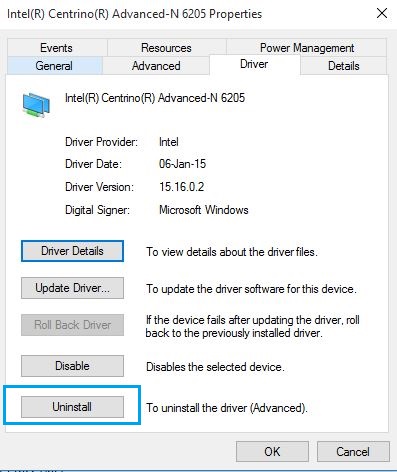 Afterward, you can follow the same steps to install the drivers instead. Furthermore, if you want, you can just select and right-click the drivers (in the Device Manager window) to get the Uninstall option.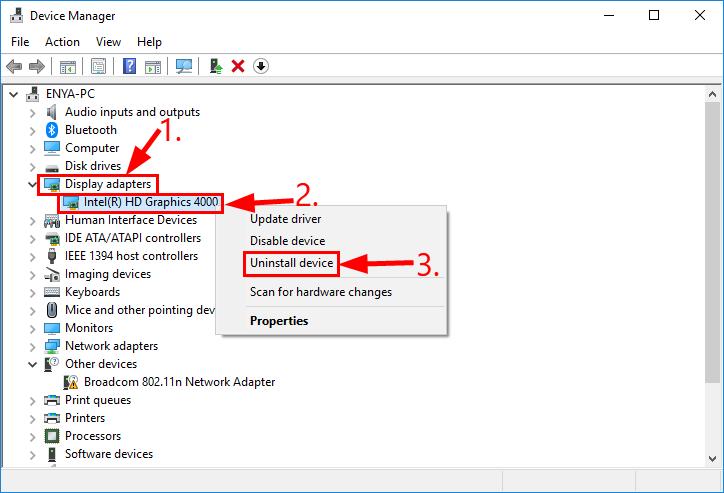 Some experts even recommend disabling the drivers and later enabling them to fix the Windows 10 black screen after login error. Since this would reset your drivers, chances are that it can also fix the PC black screen after login problem.
Method 5: Perform a System Restore
Performing a system restore is one of the best ways to fix various issues with a PC like black screen after login. In this, we will revert to a previous Restore Point all the system settings and user data. Therefore, before you proceed, make sure you already have a Restore Point maintained. Afterward, just go to your computer's Settings > System Settings > System Properties and visit the "System Protection" tab. Now, click on the "System Restore" button and follow a simple click-through process to restore your computer's settings.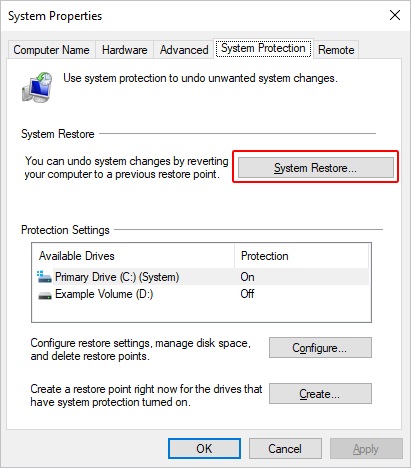 If everything would go well, then your system will restart without any issues and you won't encounter the after login black screen on Windows 10. In addition, you can learn how to fix black screen before login.
---
Part 3: How to Recover Lost Data from Windows 10 after Fixing the Error?
If you take any drastic steps while fixing the Windows 10 black screen after login error (like doing a system restore), then you might end up losing some important files. Don't worry – you can still get your lost files back using a reliable tool like Recoverit Data Recovery. The application runs smoothly on Windows 10 and can extract your data lost under different situations.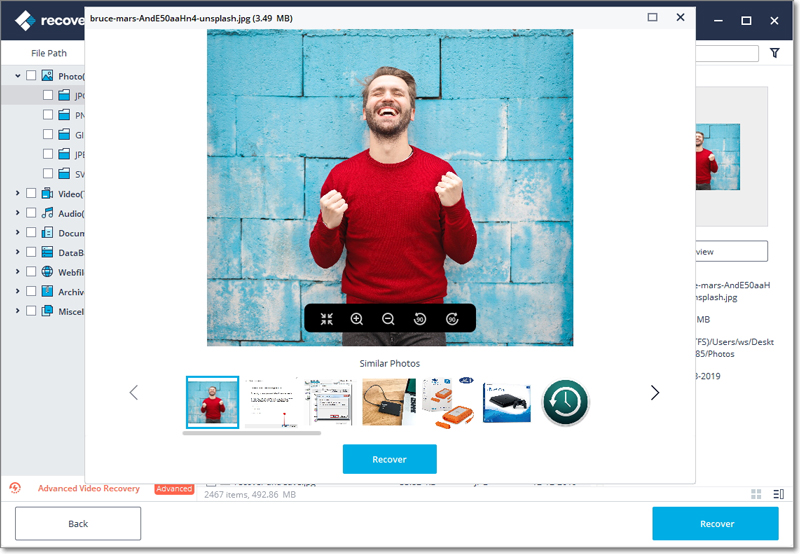 Using Recoverit, you can get back your lost photos, videos, audios, documents, and all kinds of data types easily.
The interface lets us preview our files so that we can select what we wish to extract. There are also powerful filters in the application to help us pick the data of our choice.
The tool is extremely easy to use and can recover data from external devices (like USB drives and SD cards) as well.
You can recover your files lost under different scenarios like accidental deletion, system restore, Recycle Bin recovery, malware attack, and so on.
To learn how to use Recoverit Data Recovery to get your data back, you can follow these basic steps:
Step 1: Select a location to scan
Once you have installed Recoverit Data Recovery on your system, just launch it, and select a location to scan. You can pick a partition, a drive, an external source, or browse to a selected folder to scan.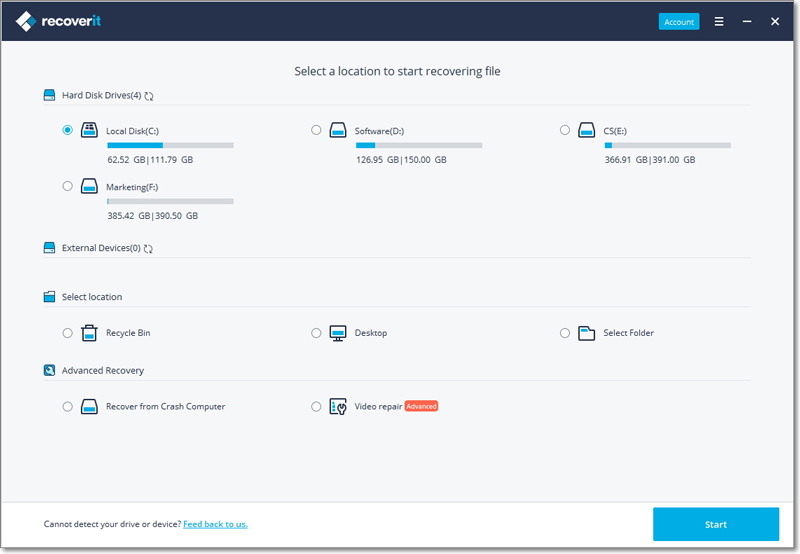 Step 2: Wait for the scan to be completed
As you would click on the "Start" button, Recoverit will start extracting your files from the selected location. You can view its progress from an on-screen indicator or even halt the process if you want to.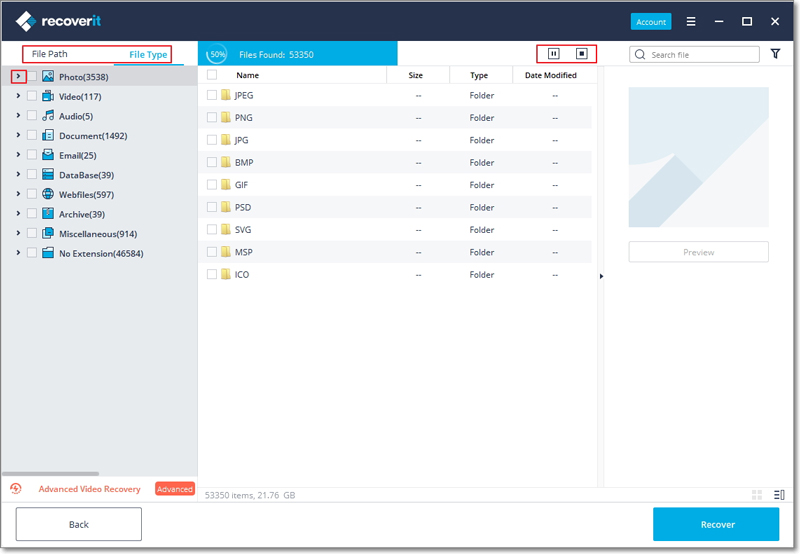 Step 3: Preview and restore your files
When the recovery process would be over, you can preview the files extracted by it. There are tons of filters that you can access from the sidebar to further save your time and efforts.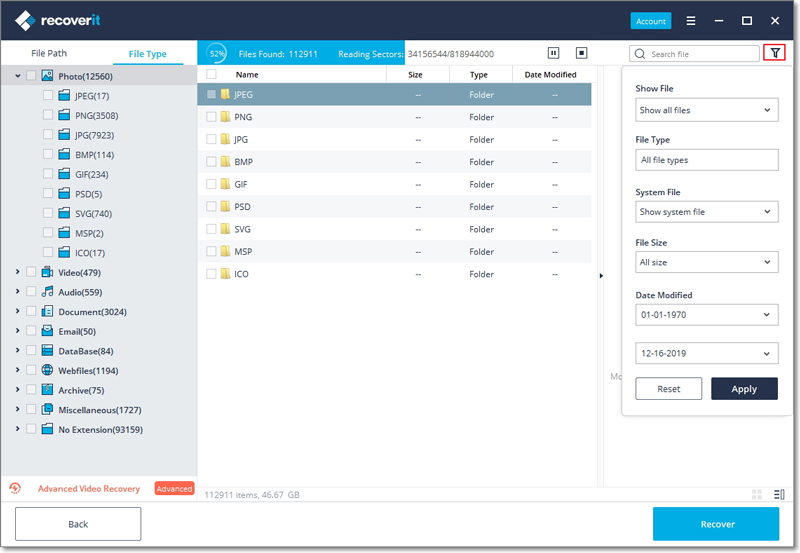 That's it! You can now preview your photos, videos, documents, music, etc. and select the files you wish to extract. Click on the "Recover" button and select a secure location to save your data.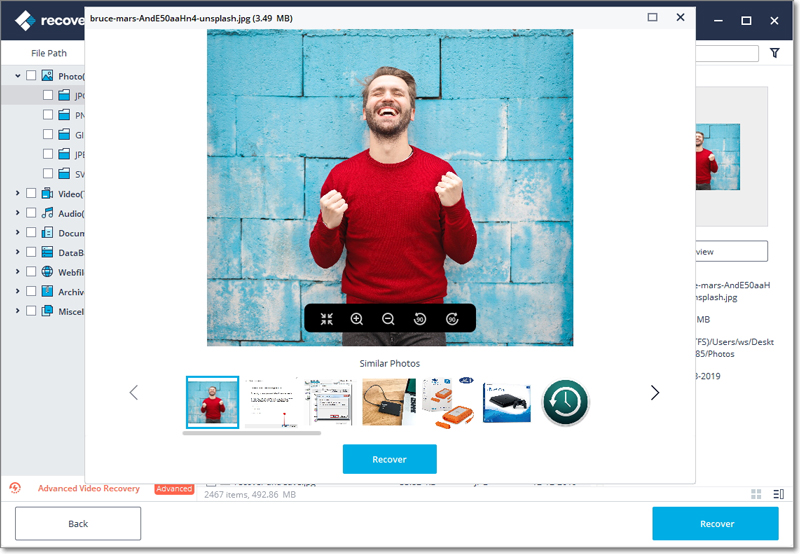 There you go! I'm sure that after going through this extensive guide, you would be able to fix the Windows 10 black screen after login problem. I have listed various software-related issues that you can follow to resolve the black screen after login issue. Though, if you have lost your data during the process, then you can simply use Recoverit Data Recovery. Used by experts, it can help you get back all kinds of lost and deleted content from your system in no time.
People Also Ask
How do I fix a black screen on Windows 10 after login?

Use this Windows key sequence to wake up the screen: the "Windows" key, "Ctrl", "Shift" "B", all pressed together. If this doesn't work, restart your Windows Explorer using "Task Manager" which can be opened with "Ctrl" + "Alt" + "Del".

How do I fix a black screen with just the cursor?

You may want to use the Windows and "P" keys to open your "Project" menu. Here, press the arrow keys for "Up" and "Down" a couple of times, even if you are not seeing the screen; then press "Enter".

How do I fix a black screen after an update?

Normally you restart your computer after updating any program, so press "Ctrl" + "Alt" + "Del" if it shows a black screen. The screen that appears will show the power button at the right-end; tap it and choose "Restart".

Why does my screen go black after a few minutes Windows 10?

Your screen can go black because of a problem with the physical connection between the video adapter and the display. It could also be because of errors related to a recent update of your graphics driver.
Computer Data Recovery
Windows PE

System problems

PC Errors