Can we recover data from corrupted hard disk
Hard drives are vulnerable to data corruption. If you don't have an antivirus installed on your PC, viruses can attack the computer at any instant. These viruses usually target the hard drive and end up corrupting it. Once the hard disk is corrupted, you run the risk of getting the files stored on it corrupted as well. In such circumstances, you can lose all of the data on your hard drive and might not be able to even access them. However, all isn't lost as there are tools available in the market that can recover files from corrupted hard drive. You can use them for getting back all your important files.
Part 1: Recover Files from Corrupted Hard Drive with Recoverit
Losing data because of a corrupted hard drive can be extremely annoying. However, you can recover corrupted hard drive with ease if you make use of a data recovery tool. Do keep in mind that not just any data recovery tool would work. You will have to use a reliable and safe tool if you want to recover data from corrupted hard drive. If you are looking for such software, then there is none better than Recoverit Data Recovery.
This hard drive data recovery software is capable of recovering data from various types of storage devices. It can recover corrupted files from USB drives, flash drives, hard drives and even digital cameras that have crashed, failed or suffered some sort of data corruption. Moreover, it is extremely safe to use and can help recover various types of files from corrupted storage devices too.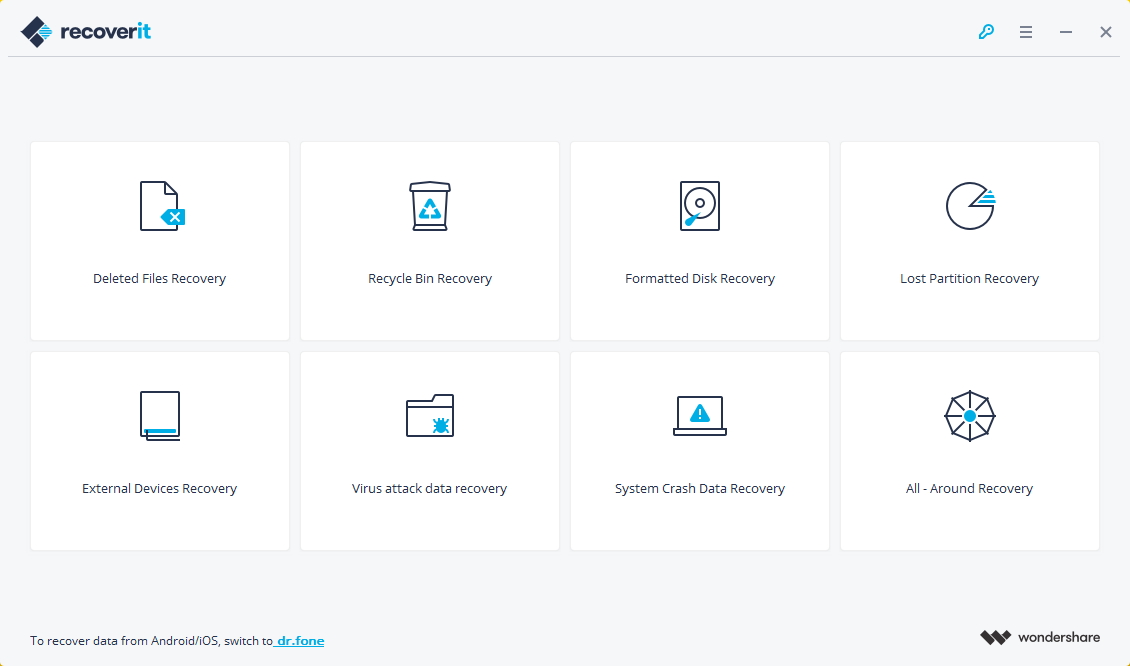 Recover lost or deleted files, photos, audio, music, emails from any storage device effectively, safely and completely.
Supports data recovery from recycle bin, hard drive, memory card, flash drive, digital camera and camcorders.
Supports to recover data for sudden deletion, formatting, hard drive corruption, virus attack, system crash under different situations.
Part 2: How to Recover Data from Corrupted Hard Disk
Here is a guide in Windows version which offers you the chance to learn how to recover corrupted hard drive using Recoverit hard drive data recovery tool.
Step 1. Select a recovery mode to recover corrupted files
Launching the software is the first step which involves double-clicking the icon of Recoverit.
After being opened, the software is going to inquire you regarding the data recovery mode.
To recover data from a corrupted hard drive, select the option of "Deleted Files Recovery" to start.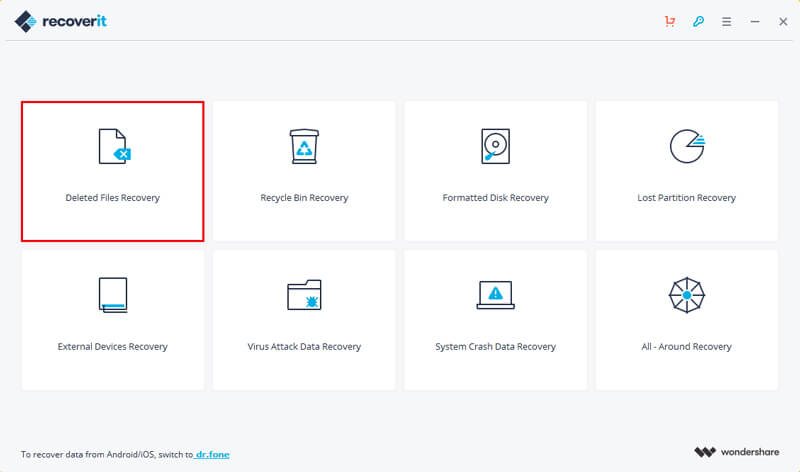 Step 2. Select the corrupted hard drive
Choosing the location where the lost data are to be recovered is the second step.
You will be given a list of all the possible locations where your data might be present.
You need to select the corrupted hard drive from the given options and then click the "Start" button to proceed.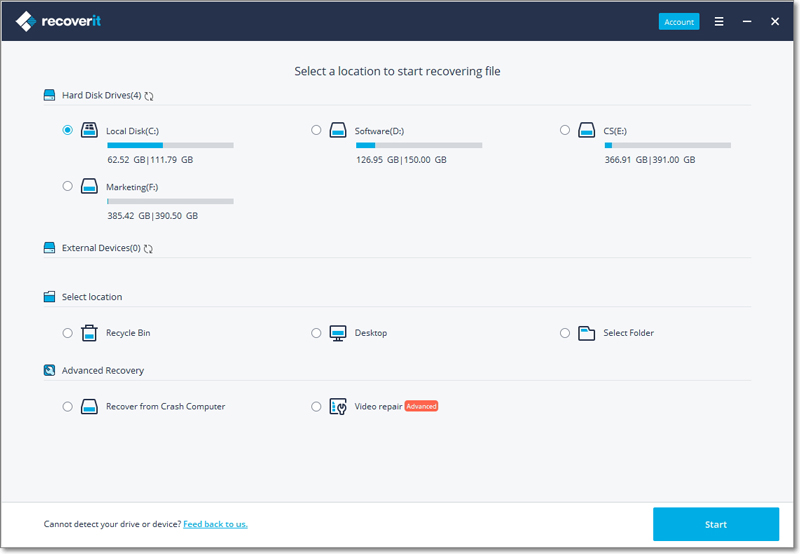 Step 3. Scan the corrupted hard drive
A quick scan will be initiated which is going to retrieve most of the files from the corrupted hard drive.
Go for the "All-Around Recovery" option if you fail to find the files you are looking for in the results provided by the quick scan. You will find the option located at the window's bottom left.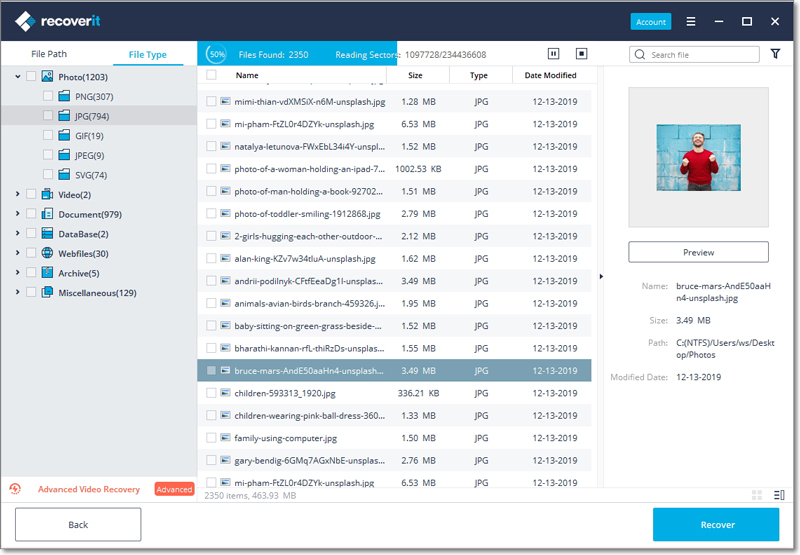 Step 4. Preview and recover corrupted data
You will have to wait a bit longer for the all-around scan to finish.
Once it is completed, you will get to preview all the files to check if the found data is what you want.
Choose the wanted ones and click "Recover" to retrieve data from the corrupted hard drive.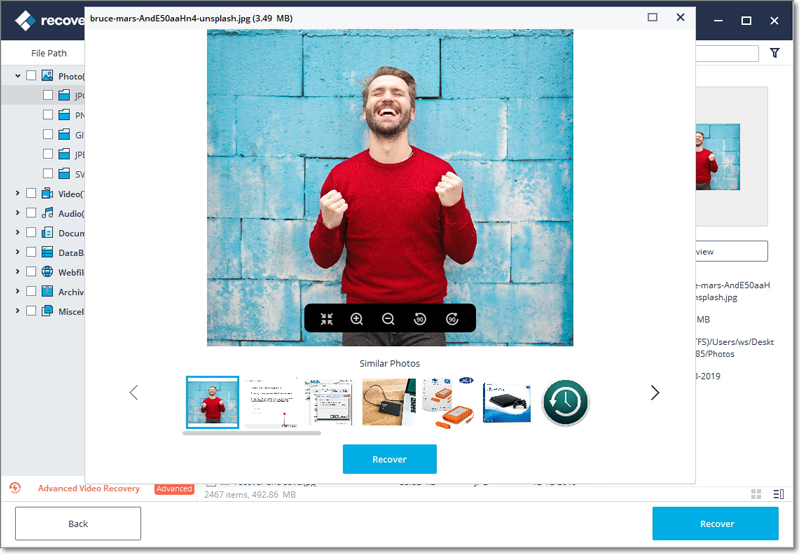 After taking the simple steps, the data stored on the corrupted hard drive is usually recovered. Afterwards, you have better go to fix the corrupted hard drive, though you have accessed the corrupted hard drive and recovered data from the failed hard disk.
---
Video Tutorial on Corrupted Hard Drive Recovery
Part 3: How to Repair Corrupted Hard Disk Using CMD
Can you fix a corrupted hard drive?
Sure, it is possible to get a corrupted hard drive repaired. In this section, you'll get to know the symptoms of a corrupted hard drive and learn how to repair corrupted hard drive.
1. What Is a Corrupted Hard Drive
Hard drive corruption can be caused either by viruses or by malware which slowly damage the sectors of the hard drive. While viruses are usually responsible for corrupting a hard drive, malware infections can also cause hard drive corruption. The malware can slowly damage the sectors of the hard drive, causing them to fail one by one.
Before a hard drive completely becomes corrupted, it starts showing some warning signs. If these signs are identified early on, you can save your data from being lost completely. The following are some common symptoms exhibited by hard disks if they are corrupted by a virus or malware.
Software crashes taking place on a frequent basis especially upon Windows boot-up.
Display of error messages even when moving files.
Changed or scrambled file or folder names.
Disappearance of folders and files.
Long waiting periods for accessing files and folders.
Hard drive starts producing grinding noises.
2. How to Fix Corrupted Hard Drive
Hard drive corruption can be devastating since it will make you unable to access the corrupted hard drive and lose the data present on it. Just as said above, there are various symptoms of hard drive corruption which can help you in identifying it before it affects your data that much. But what you still need is the solution to hard drive corruption. What makes us delighted is that Windows computer features a hard drive repair utility which enables you to repair corrupted hard drive. Here are the steps.
Open the menu for the power user by clicking the Windows and X keys together.
Choose the Command Prompt option when the power user menu appears.
A UAC window is going to appear and you will be asked permission to start the Command Prompt as the Administrator.
When this window appears, hit "Yes" to give permission.
Enter the command, chkdsk E:/f /r /x when the Command Prompt window opens.
Do keep in mind to replace the E with the letter of your hard drive.
You can use this option for running CHKDSK in Windows 10 and look for disk errors as well repairing them. The different parameters mentioned tell the CHKDSK what it needs to do. For instance, "/x" is for dismounting the drive prior to the starting of the process, "/f" is for fixing the errors which are found by CHKDSK and "/r" is for locating and recovering information from the bad sectors of the hard drive.
Closing Words
Hard drive corruption can prove to be quite damaging for you. You can end up losing a lot of your important files and data. You would need a reliable data recovery tool like Recoverit Data Recovery to recover data from corrupted hard drive.
What's Wrong with Drive
Recover Your Drive

Fix Your Drive

Format/Wipe Drive

Know Your Drive