Part 1

How to Repair External Hard Drive if the Computer cannot recognize it?

There are several times when our system works in a strange manner, making us wonder the consequences, the major of them being data loss. To overcome this issue, Hard Drive was widely used by people for backing up their data in a secure place. However, Hard Drive being an electronic device itself is prone to physical compromise that may result in data loss that might be impossible to recover until you search for ways to do so. There aren't many ways to recover the data from the Hard Drive and repair external hard drive but if you have made up your mind there are certain steps that you need to follow if your external Hard Drive not working:
Check IDE / SATA to USB Connection:
Step 1:
Ground Yourself: It is important that before you open up any Hardware, make sure you ground yourself for obvious reasons that include being shock resistant.
Step 2:
Install the Drive: Use an IDE / SATA data cable and a power connector to install the Hard Drive internally on your system. You can also try connecting the drive externally via USB.
Step 3:
Conclude the observations: The above two steps will help you determine whether or not enclosure was the reason that you were not able to recognize your Hard Drive in the system. By this reconnecting technique, you will figure out if you need to narrow down the issue further.
If enclosure is not the issue, you need to dig further to find out the culprit by following up another series of steps:
Check the Sound the Hard Drive is making:
Listen up to the sound that your connected Hard Drive is making. Are you able to hear it? If it is spinning you'll possibly know. Compare the sound with list available at Data Cent and try figuring out the possible scenarios. However, if there is no sound made by the Hard Drive, it is dead in all probability. This damage can be internal, due to the faulty printed circuit board (PCB). If your drive is spinning but the system doesn't recognize your Hard Drive, follow the next series of steps to manually check the settings in your computer:
Enter into BIOS:
Press the trigger key that could be [DEL], [ESC], [F2], or [F10], depending upon your system. Check out the list of the types of devices that are connected with your system. You can fetch this information under the BOOT menu or Advance menu of the system.
On Windows: If you are working on windows, here are the steps to check the devices connected:
Click the key combination [Windows] + [R], which will launch Run of your computer.
Open the Command Prompt with the input of cmd in the field.
In the command prompt enter diskpart. Type list volume in the disport menu to see the connected drive to the system.
Follow these steps if you are wondering how to fix external hard drive. However, if your problem is still not solved, there are chances that the PCB of your external hard drive is damaged. There are ways to replace your hard drive's PCB, but for your record, these methods are not recommended as they may cause further damage to the device.
Part 2

How to Repair External Hard Drive if there is an Error Message?

While using your external Hard Drive, there has been observed an error message, which asks the user to format the Hard Drive. In these cases, it is recommended not to follow the instructions blindly and do some researches own your own. Some of the error messages are:

While accessing the file: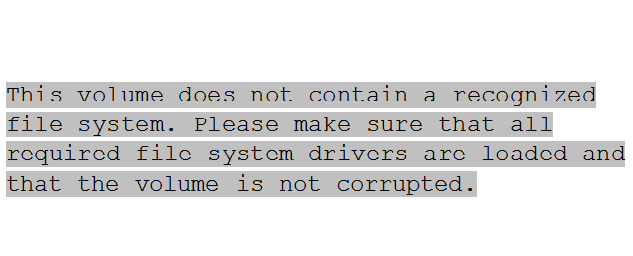 While attempting to run chkdsk:

Commonly, a user will not able to understand what a RAW file system means, therefore, they may follow the critical step of formatting the data to solve the issue. However, if you understand the requirements of the system, you might solve without the loss of any data. A RAW file system is a file that the Windows cannot recognize. As the result, available drivers could not mount the file system to a drive. May be, the filesystem type or location on the disk are corrupted. When the windows are unable to find these, it prompts the user to format the data.
This usually happens because many users disconnect there Hard Drives without choosing "Safely Remove Hardware"? option. Here is a way to fix this issue without formatting your Hard Drive.
Accessing S.M.A.R.T Data
If there is any physical damage to your Hard Disk, S.M.A.R.T Data will help you quickly figuring out the problems that are being faced. S.M.A.R.T stands for Self-Monitoring, Analysis and Reporting Technology and is used to alert the impending failure of the drive. This technology gives the user a deadline that they require to save the data.
Functions of S.M.A.R.T:
S.M.A.R.T helps the user to retrieve the data from the drive.
Save your data and prevents the user from attempting absurd mistakes that makes the situations worse.
S.M.A.R.T Data also helps in determining whether the damage is physical or logical. In case of physical damage, save the important data at another safe location and replace your Hard Drive. However, if the damage is logical, you can trust the drive and retrieve your data after the repair.
If at any point of time, your Hard Drive reports that S.M.A.R.T health is not able to access the search or in any ways, FAILED, the primary step one must take is to save the data immediately as the drive is of no longer use.
Part 3

Top YouTube Videos That Teach You How to Repair External Hard Drive:

As we see, to learn how to Repair an External Drive is handy as it helps in avoiding unprecedented circumstances pertaining to your data. For the ones keen to repair an external hard drive, we have multiple options, each catering to different issues and users. Therefore, you no longer need to worry if your WD External Hard Drive not recognized.

If you lost data on your external hard drive unfortunately, don't worry! You still have the chance to get lost data back. To recovery files from external hard drive, you can have a try the following tool.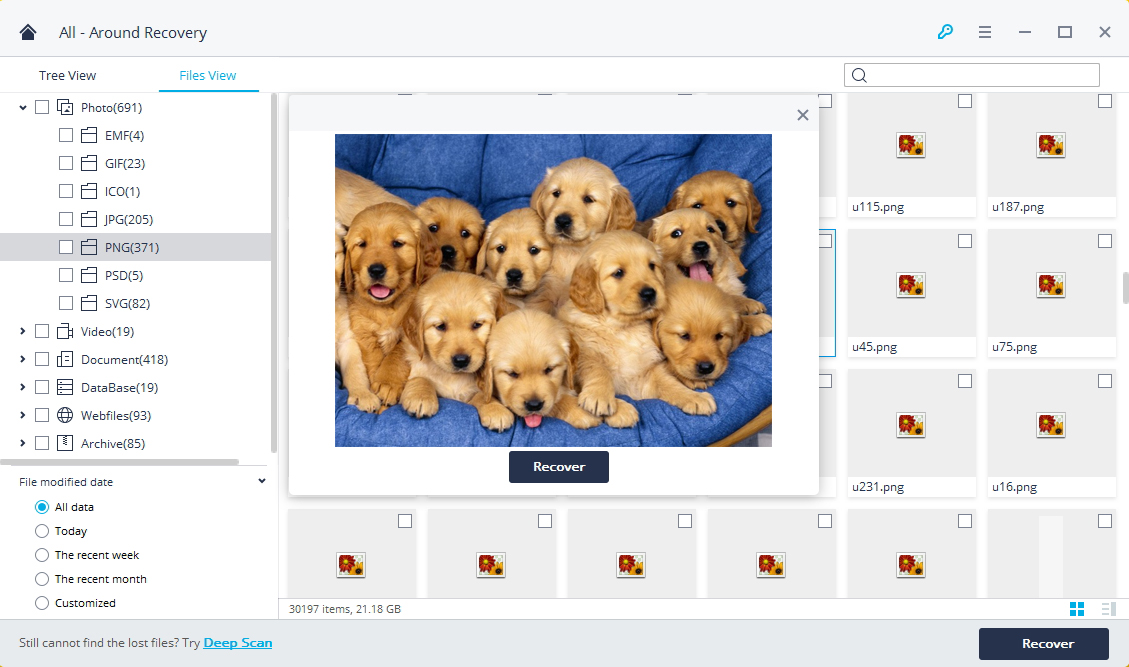 Recover lost or deleted files, photos, audio, music, emails from any storage device effectively, safely and completely.
Supports data recovery from recycle bin, hard drive, memory card, flash drive, digital camera and camcorders.
Supports to recover data for sudden deletion, formatting, hard drive corruption, virus attack, system crash under different situations.
Preview before recovery allows you to make a selective recovery.
Supported OS: Windows 10/8/7/XP/Vista, Mac OS X (Mac OS X 10.6, 10.7 and 10.8, 10.9, 10.10 Yosemite, 10.10, 10.11 El Capitan, 10.12 Sierra) on iMac, MacBook, Mac Pro etc.
3981454 people have downloaded it