What's NTOSKRNL.EXE?
Ntoskrnl.exe is a fundamental constituent of Windows that locates under C:\Windows\system32 or C:\WinntSystem32. Just as the name indicated, it's the Windows NT kernel file that contains the Windows kernel, the memory manager, the executive, and the scheduler, and other Windows components. Ntoskrnl.exe Missing or corrupt will cause the Windows boot-up failure, and you could not run your Windows system.
Ntoskrnl.exe Error- Missing or Corrupt
This scenario is familiar - your work is done and when you want to save it, a black or blue screen suddenly appears. You have to restart the computer, but you got a Ntoskrnl.exe error this time, like missing or corrupt.

Other similar Ntoskrnl.exe error messages include:
NTOSKRNL.EXE not found.
system32 toskrnl.exe missing or corrupt:
Please re-install a copy of the above file.
Causes - Why Ntoskrnl.exe Missing or Corrupt
Missing or corrupt ntoskrnl.exe file.
Corrupt boot.ini file.
Missing boot.ini file.
The corrupted hard disk drive
System corruption
Part 1. How to Fix Ntoskrnl.exe Missing and Corrupt Error
Now follow easy steps to fix the Ntoskrnl.exe error.
Disconnect all removable devices and make sure your hard disk is properly connected and detected by the BIOS, restart and exclude the possibility of hard disk false usage.
On another computer, create a bootable CD, DVD or USB with Liveboot.
Insert the CD, DVD, or USB, and reboot your computer.
Choose "Boot from LiveBoot" on the Boot Menu to enter the troubleshooting and fixing system.
Select "Windows Recovery" and click Boot File Recovery to fix Ntoskrnl.exe error, Ntoskrnl.exe compressed error, and boot.ini error.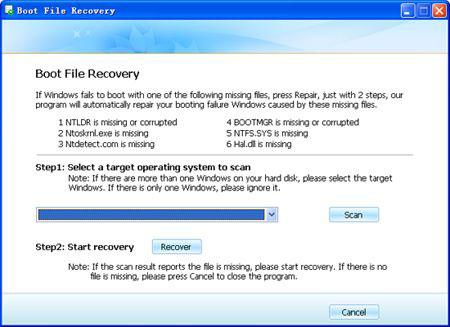 When Boot File Recovery complete, restart your computer.
If Ntoskrnl.exe missing error appears again, also try Boot Sector Recovery and MBR Recovery, respectively.
Still not succeed? It's difficult troubleshooting. Now restart your computer, and boot from LiveBoot, then go to Disk Management/Partition Genius to check whether the right partition is set to Active properly. The wrong Active partition would cause Ntoskrnl.exe missing error, too.
Now the Ntoskrnl.exe missing error would be fixed. Otherwise, it's a good idea to install a fresh Windows system, and you are highly recommended to wipe the partition clean before installing the Windows system.
Done. To get comprehensive technical support regarding LiveBoot software, please visit http://support.wondershare.com
No Trial Available. Learn more about Wondershare LiveBoot Boot CD
Part 2. Recover Lost Data Caused by Ntoskrnl.exe Error
Ntoskrnl.exe Error will result in data loss from your hard drive, with the wrong operations will cause hard drive formatted and inaccessible data. Under these circumstances, you will need a powerful data recovery software to retrieve your lost data.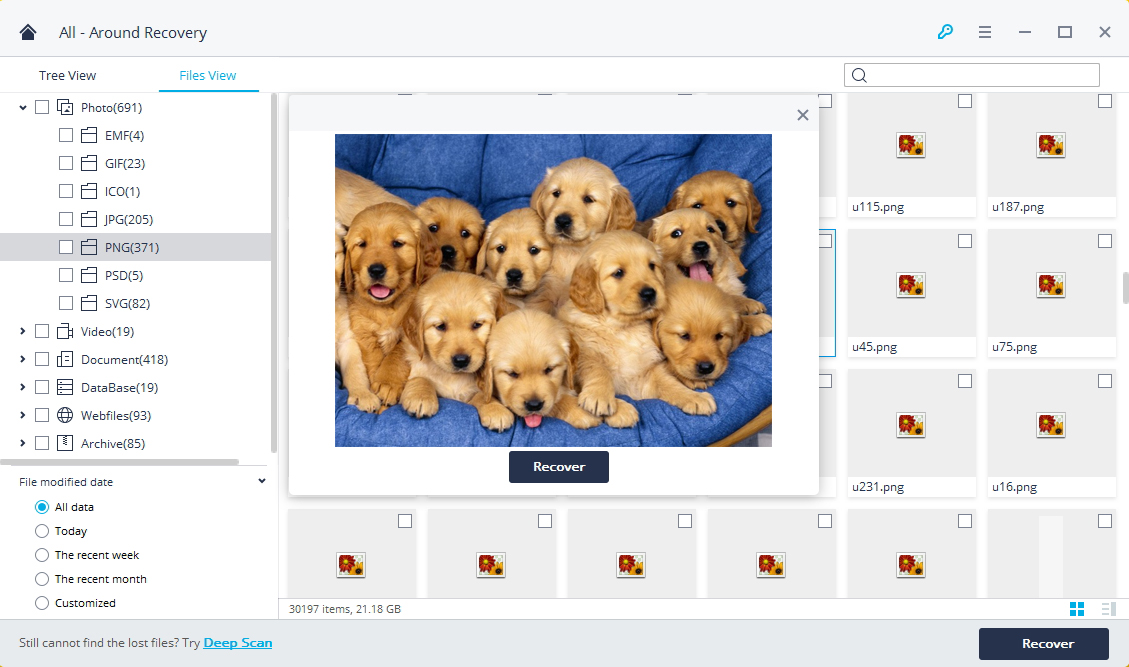 Recover lost or deleted files, photos, audio, music, emails from any storage device effectively, safely, and completely.
Supports data recovery from recycle bin, hard drive, memory card, flash drive, digital camera, and camcorders.
Supports to recover data for sudden deletion, formatting, hard drive corruption, virus attack, system crash under different situations.
Computer Troubleshooting
Win System Crash

Windows Tips

Computer Problems

Blue Screen Errors