Ever since media storage devices were introduced, their risks were born along with them. The storage of important data is one of the most important things. In order to back up data, users use all kinds of ways. One of the ways to back up and store data is through external hard drives. But the troubles occur with the media/data storage devices such as external hard drives. These troubles, including external disk crash, virus attack, Mac disk formatting and more, may cause the data stored in them to become unusable either because it's lost or corrupted. Also, human error by accidental deletion of external hard drives can cause data loss.
How do you recover files from an external hard drive on a Mac?
In this article, we will talk about how to recover files from external hard drive on Mac and further discuss what we can do to prevent the troubles.
Part 1: The Best Mac External Hard Drive Data Recovery Software
You will need a professional disk recovery utility to help you recover deleted files from external hard drive on Mac. External hard drive recovery software supports to recover deleted or lost files from any storage devices including external disk. Here, Recoverit data recovery for Mac is recommended for you. It is reliable and effective external hard drive recovery software to aid you retrieving data from external hard drive on Mac and other storage devices easily and safely.
Video Tutorial on External Hard Drive Data Recovery
Part 2: How to Recover Data from External Hard Drive on Mac
Files recovery from external hard drive on Mac is an easy job and takes no time at all if you use data recovery software. Now, download and install Recoverit external device recovery utility on your Mac, and then restore deleted files on Mac with a few simple clicks.
Step 1

Connect external hard drive

To recover deleted files from external hard drive, you should make sure your external hard drive has been connected to your Mac and recognized firstly.
Step 2

Select external hard disk

Next, all the hard disks on Mac will be shown on the list. Select the location of external hard drive where your data lost/deleted and click "Start" button.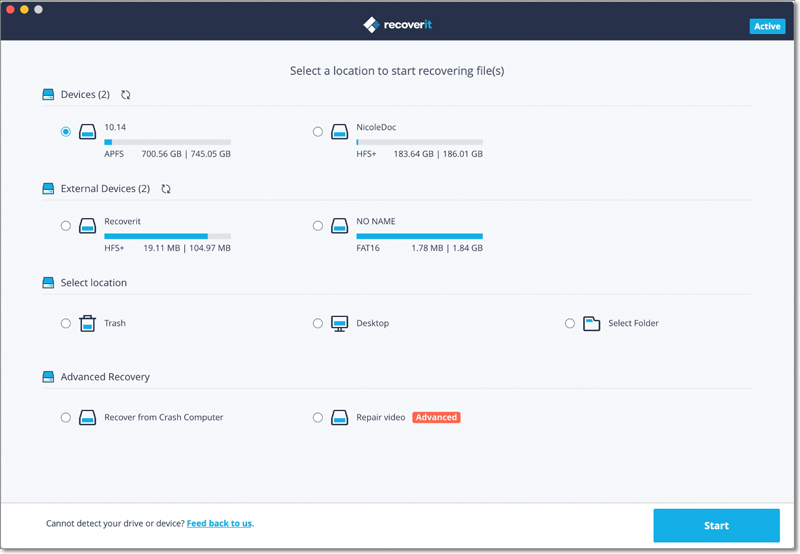 Step 3

Scan the selected disk on Mac

Recoverit will start an all-around scan to deep dig into your external disk on Mac for your deleted files present on it.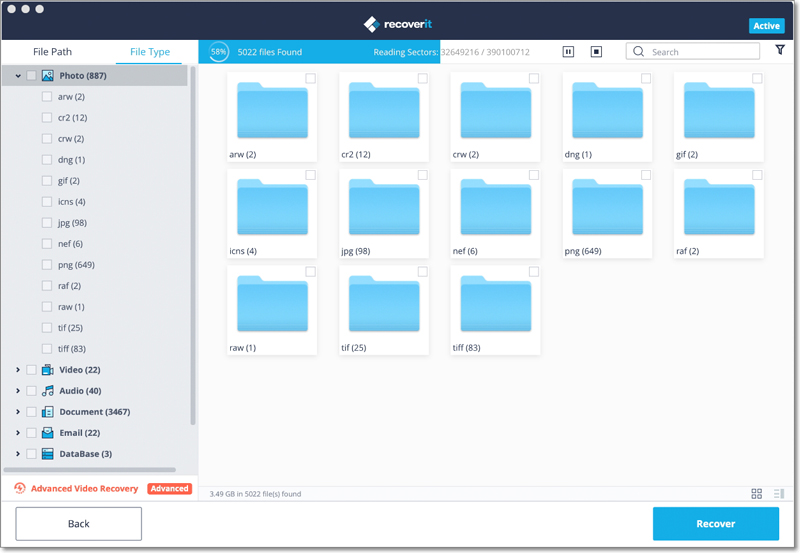 Step 4

Get deleted files back

After the scan completes, a list of found files will be displayed on the left panel. You can select the specific files to preview and click "Recover" button to get your files back.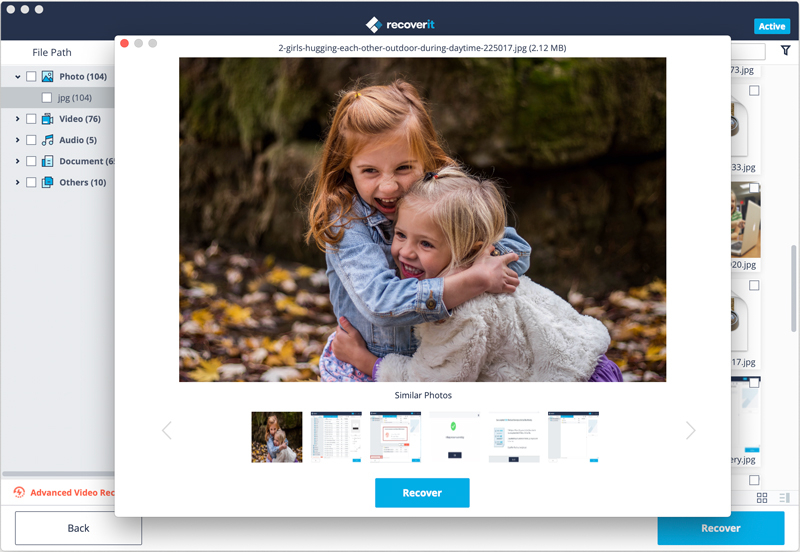 Tips for External Hard Drive Recovery Mac
Stop using the external hard drive to store or transfer files.
Do not install Recoverit Disk Recovery on the external hard drive partition.
Do not save the recovered files into the external hard drive from which you lost files.
Bonus Part: How to Protect External Hard Drive Data
Learning why our files are deleted or lost can help us take some proactive measures accordingly. Generally speaking, data loss is based on these factors:
Accidental Deletion of data.
External hard drives can't be opened or shown due to read-and-write error.
External hard drive crash or corruption due to virus attack.
External hard drive may be physically damaged due to any reason.
Accidentally deleted the external hard drive.
Eject the external hard drive when in use.
Power failure.
It is nowhere near enough to just know the common causes of losing important files. You should follow some tips that sound simple but fairly effective and put them into practice.
It is better to have at least 2 copies of your important files on different locations, such as another external disk, Mac disk and cloud-based storage. Backing up data can make them well-protected and reduce the possibility of permanent loss.
A low-quality external hard drive can bring about many unnecessary troubles, such as more frequent external disk crash, formatting error message and lower durability, etc. Make sure your external hard drive is made by a qualified manufacturer and purchased from a reliable retailer.
Place your external disk safely. One point should be kept in mind that once your external hard disk is physically damaged, it is hardly possible to recover files from it. So, you should put it in a safe place to prevent physical damage to your external hard disk.
Disconnect external disk properly. Roughly unplugging external hard drive from Mac does do harm to your disk. Stop doing that from now on, unless data on it is unimportant to you and you would like to change another external hard drive.
When the data lost from an external hard drive due to numerous reasons, they are not really gone for good. Instead, the file system keeps them in an invisible way until you write some new files on the same area. That's why Recoverit Data Recovery can help you. It enables you to retrieve files from external hard drive on Mac or Windows system of your choice.
What's Wrong with Mac
Recover Your Mac

Fix Your Mac

Delete Your Mac

Learn Mac Hacks