What is one of the most famous online file storing services available today? Most of us would answer unanimously that it is Dropbox. It is that powerful a service. With some of the best features and options to sync and backup, Dropbox is a force to reckon with in the online storing business.
From an end-user point of view, it allows you to something that is not very common, and that is that you can forget about syncing your files and creating backups with from time to time as it does that on its own. All that you need to do is to 'drop' those important files of yours in your Dropbox folder.
Part 1

What happens when deleting a file on Dropbox, and where does it go?

Ever thought about this? What if you ended up accidentally deleting a file from your Dropbox folder? What happens to it? Is it lost forever? Well, the answer to all these questions is that the file would disappear for sure from your Dropbox folder; however, it isn't lost forever yet.

And, since that's the case, there are ways as well to get back the deleted file in your Dropbox folder. You see, for all the rich features that Dropbox comes with, it is also smart enough to keep a record of every single change that you have done in your folder for the last 30 days. So, what this means is that not only does Dropbox allow you to get back or recover dropbox deleted files but also many different versions of it, as long as they were created in the last 30 days.

If your next question is 'How do you do that?' then keep on reading till the end as we are about to share the steps involved in recovering deleted files on Dropbox with you.
part 2

How to Recover Dropbox Deleted Files on your computer

This method works the same way for both Windows and Mac.

Step 1: Sign in to your Dropbox account and go to the option 'Show deleted files,' an option that you will see in every folder.
Step 2: Click on this option of 'Show deleted files,' and you should see all the files that were deleted in the last 30 days. Move the cursor over these files, and you should see an arrow right next to these files on the right-hand side. Click on it, and a drop-down menu with the option 'Undelete' will appear.

Step 3: You would also see that the drop-down menu, as mentioned above, gives you another option of 'Previous versions.' If you click on it, Dropbox will display the backed up versions of that file that you can preview and select from then.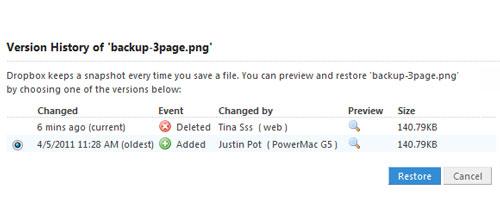 part 3

How to Recover Deleted Files from the Dropbox Website

Step 1: Log in to your account on the Dropbox website and press on the option of 'Events' and then find events with multiple file deletions and click on the corresponding link, as shown in the screenshot below.

Step 2: On the next page, you will see an option of 'Restore these files.' Click on it, and you will have added all those deleted files back to your folder again.

Step 3: You can also recover specific folders and files on the Dropbox website. To begin, press on the icon for a trash can that you will find near the search bar. It will display all the deleted files in the last 30 days for you. Now, you can highlight all the files you want to restore and simply click on the button 'Restore' to do it.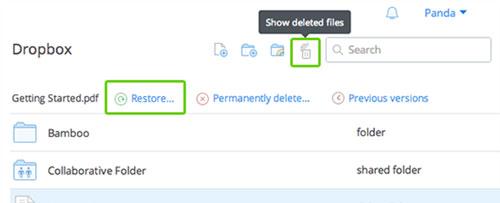 part 4

Tips & Tricks for saving files on Dropbox to avoid data loss

1. Keep your Dropbox folder clean by giving them names that will help you manage the files better, for example, use the years as the names for your Dropbox folders. You could name them in the order then such as 2014, 2015, 2016, and so on.

2. Use the option of Upload more often than Sync as when you Upload; Dropbox creates an exact copy of the file that is being uploaded, which isn't the case with Sync.

3. Ensure to back up a file that you were working on offline so that Dropbox has the latest version of it.
Recoverit - The Best Deleted Files Recovery Software
Recoverit data recovery is a powerful deleted files recovery software, a secure and effective data recovery software, retrieves your lost videos, photos, music, documents, emails, etc. from your PC's hard drive as well as from USB drives, external hard drives, and other storage devices.
Recover lost or deleted files, photos, audio, music, emails from any storage device effectively, safely and completely.
Supports data recovery from recycle bin, hard drive, memory card, flash drive, digital camera, and camcorders.
Supports to recover data for sudden deletion, formatting, lost partition, virus attack, system crash under different situations.
Video Tutorial on How to Recover Deleted Files on Windows 10/8/7 Easily?
Rescue & Fix Files
Recover Document Files

Repair Document Files

Recover & Repair More

Clear & Delete File
Other popular Articles From Wondershare