How Do I Recover Unsaved PowerPoint Presentation?
When I am working on an important PowerPoint presentation file, but it suddenly closed. I did not save the work which I did. How to recover unsaved PowerPoint presentation?
There is no doubt that many people often use Windows Office tools like PowerPoint, Word, Excel, and Notepad in daily work. But more of a sudden there are certain chances that you might accidentally delete your important files after your work is done. Also, some forget to save their PowerPoint files after they are done with them. Panic may be the first action if you encounter such situation. But now you don't need to worry about that as this article will provide you with comprehensive PowerPoint recovery solutions to help you recover unsaved PowerPoint presentation files, and recover deleted or corrupted PowerPoint files.
Need a faster and safer PowerPoint recovery solution? Give this reliable PowerPoint recovery software below a try to recover PowerPoint file with ease.
Part 1. How to Recover Unsaved PowerPoint Files?
Have you ever encountered such situation? You forget to save the PowerPoint file you are working on, then the power went out or your computer unexpectedly crashed. What a terrible thing it is. However, we can try some first-aid methods to recover unsaved PowerPoint files from the computer. You can follow the methods below step by step to recover unsaved PowerPoint files with ease.
Method 1: Recover Unsaved PowerPoint File with "Recover Unsaved Presentations"
If you forget to save the PowerPoint file you are working on and then it just lost due to some reasons, please keep calm and try the below-given simple steps to get it back quickly.
Step 1 Open the PowerPoint on your PC
Step 2 Click on the File tab in the upper left corner > Choose Open > In the "Recent" section, click Recover Unsaved Presentations in the bottom right corner.
Step 3 The Saved Drafts folder will open. Find your file and double click on it to open. Then save the file.
Tip 1: The files in the Unsaved folder are temporary files. It is highly recommended to recover and save the data you need as they might be lost soon.
Method 2: Recover unsaved PowerPoint files using the AutoRecover function
Besides, there is another way can help recover unsaved PowerPoint files – AntoRecover function. First, you need to check if it has been enabled. Follow the simple steps below.
Step 1 Open a PowerPoint presentation > choose the File tab > Select Options > Go to Save
Step 2Make sure that you have check the box saying "Save auto-recover info every x minutes", and the box saying "Keep the last Auto recovered version if I close without saving"
If you have AutoRecover enabled beforehand, you can go to find your unsaved PowerPoint file by following the 2 simple steps.
Step 1 Copy the file destination path from "AutoRecover file location".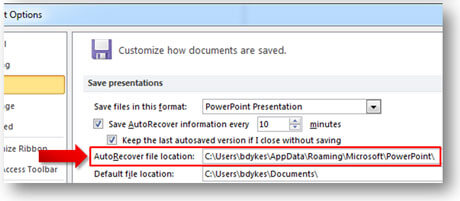 Step 2Open Windows Explorer, paste the path on the address bar, and hit "Enter" to search the lost unsaved PowerPoint file.

Tip 2: It is advised to save the document while you are working on it. There is a shortcut key to save the file while working, which is Ctrl + S, which automatically saves your document.
Part 2. How to Recover Deleted PowerPoint Files?
Method 1: Restore from Recycle Bin
If you have deleted PowerPoint files accidentally, it doesn't matter, there are also effective solution to help you recover the deleted PowerPoint files. You can check out the below-written methods to recover deleted PowerPoint quickly and safely.
Windows comes with a special feature of Recycle Bin, where it restores the accidentally deleted or removed files. With this feature, you can easily recover the deleted documents and save the documents for further usage. Follow the below-given steps to recover PowerPoint file.
Step 1

On the computer screen, search for the Recycle Bin icon and double-click it.

Step 2

Locate and select the deleted PPT file from recycle bin.

Step 3

Press right click on the located file and select Restore option.

Step 4

The Recycle Bin will restore the deleted files in its original location.
Method 2: Recover Deleted PowerPoint File with Recoverit PowerPoint Recovery
Most of the time it is really hard and frustrating to recover deleted PowerPoint files and documents. For example, you empty the recycle bin or just delete PowerPoint files with "Shift+Delete" keys. Generally speaking, it is hard to restore your PPT file manually. But now, you get an easy solution by installing a powerful Powerpoint recovery tool-Recoverit data recovery software. It is a leading recovery tool which can recover lost data caused by any reasons from PC, laptop or removable devices. This software allows you to process documents recovery, pictures recovery, Audio & Video Files recovery, Emails recovery, and other files recovery including your ZIP and RAR files. It is highly reliable and trustful as it does not hamper the quality of the file while recovering it back.
Recoverit File Recovery software is the most professional lost files recovery program. To recover deleted or lost PowerPoint files from computer hard drive, or any other device like external hard drive, USB flash drive and SD memory card.
By following the below-written steps, it's easy to recover the deleted files after you download and install Recoverit PowerPoint recovery. Here we take Windows version as an example, Mac users can turn to Recoverit for Mac.
Step 1. With Recoverit File Recovery program, select the hard disk where your PowerPoint stored before, if your get an external device please connect to the computer.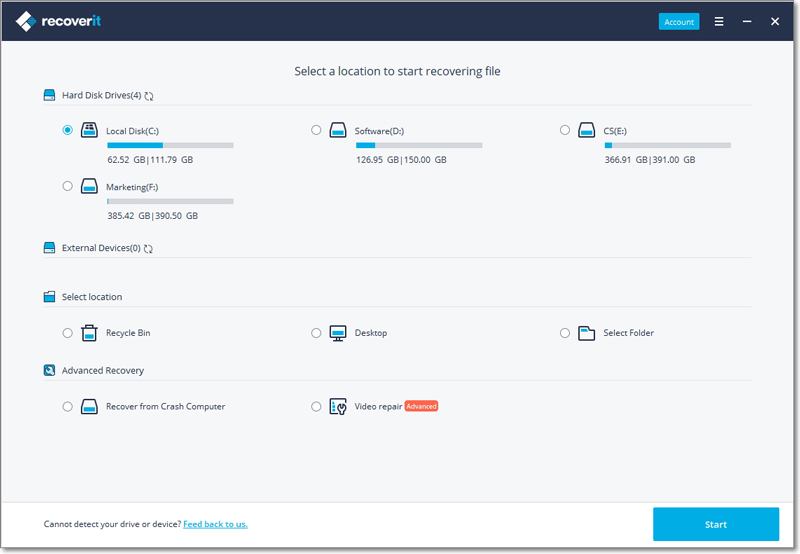 Step 2. The recovery software will start scanning the device to searching the lost PowerPoint files in minutes.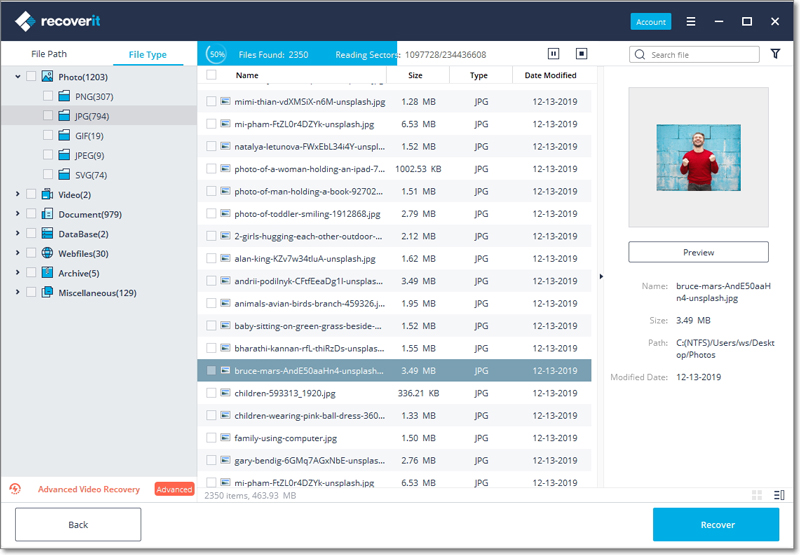 Step 3. At last, you can check all recovered data files. Preview your recovered PowerPoint files and selected. Click "Recover" button to get them back.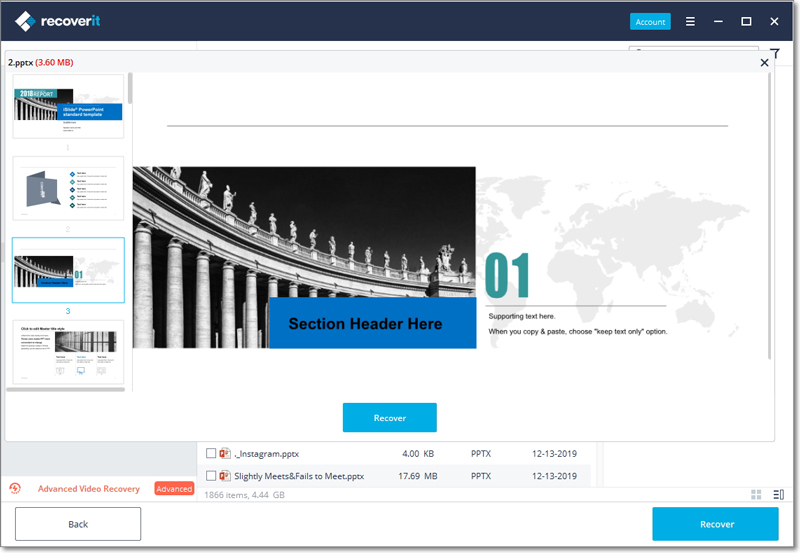 Video Tutorial on How to Recover Unsaved PowerPoint
If you think it not so convenient to follow the above steps, you can directly watch the video tutorial on how to recover deleted PowerPoint files with the powerful powerpoint recovery tool step by step.
Part 3. How to Recover Corrupted PowerPoint Files?
If you need to recover corrupted PowerPoint file, then it is important to fix the corrupted files first. For this you can follow the below-given methods to try to recover corrupted PowerPoint files.
Method 1: Move the Presentation to Another Location
Step 1

Go to the folder which contains the corrupted file.

Step 2

Right Click on the file and select "Copy". And then paste the file in other storage media.

Step 3

you can create a new folder in the storage drive and save the file in that location.

Step 4

Open the copied file you have saved in the new location.

Step 5

If you are able to run the file from the new location, then this is clear that the original location is corrupt.
Method 2: Insert Slides into a New Presentation
Step 1

Open the PPT file with the issue and try to import slides on the new PPT file.

Step 2

Select the blank Presentation, when you are up with this task.

Step 3

Select the "New Slide" by clicking on the "Home" button.

Step 4

Select the "Reuse Slides", from the options provided at the bottom of the menu.

Step 5

Select "Browse" button and click "Browse files". This will open a new window where you can select the particular file.

Step 6

Right Click on the selected slides and select "Resue All".

Step 7

Then you can import all the slides and save the new presentation file at another location.


Method 3: Use the PowerPoint Viewer (Windows)
PowerPoint Viewer is a program offered by Microsoft which allows you to access the PowerPoint files. It allows you to open the corrupt files.
Step 1

Open the PowerPoint viewer and start the installer.

Step 2

Install the program on your PC.

Step 3

Open the PowerPoint Viewer from the Start menu.

Step 4

Open the current files in the viewer.


Method 4: Open PowerPoint in Safe Mode (Windows)
PowerPoint Viewer is a program offered by Microsoft which allows you to access the PowerPoint files. It allows you to open the corrupt files.
Step 1

Press the Ctrl key and hold it down, and then click to open your PowerPoint file.

Step 2

Next you will see the confirmation dialog, click "Yes" on the dialog to enter safe mode.



Step 3

You will see that "Safe Mode" appears in the name of the open PowerPoint file.


Method 5: Use an Online tool
After trying all the above methods, if you are still unable to recover the corrupt PowerPoint files, then you can use any online free PowerPoint repair tool such as onlinefile.repair, powerpoint.recoverytoolbox, online.officerecovery, etc. These online PowerPoint repair tool is free, and you don't need to install any third-party software. However, these online free PowerPoint repair tools have lots of shortcomings.
Part 4. 2 Tips to Avoid Losing Your PowerPoint Files in Daily Work
PowerPoint is an amazing tool which helps you in creating business presentations. With the SlideShare options, you can perform amazing things and impress to viewers. But there are still many people can lose their PowerPoint files in some common scenarios like accidentally close without saving, system crash, power failure/outage, virus attack, corruption of PPT files, improper shutdown, etc. It's better to avoid losing PowerPoint files rather than try your best to recover PowerPoint files once lost. So what we can do to avoid losing PowerPoint files? You can follow these tips below step by step.
PowerPoint is one of the exclusive office tools offered by Microsoft. It allows you to do presentations in the SlideShare mode. This tool is extensively used in the major parts of the world and people highly rely on its productivity. But there are various issues where users face the problems like accidental deletion, corrupt files, power failure etc. which hamper your important work on PPT. Therefore, to recover corrupted/deleted PowerPoint files, you can rely on the specialized recovery tool called Recoverit. This tool allows you to recover files like Graphics, documents, Emails, and Audio & Video files. Check the guide here on how to recover lost word documents.