"I'm getting a PowerPoint can't read prompt whenever I try to launch a PPT file. Can someone tell me how to resolve this PowerPoint repair error and restore my document?"
Getting a PowerPoint error is a common thing for the regular users of the Microsoft Office suite. Ideally, PowerPoint problems can be triggered due to numerous reasons, related to the software or a corrupt file. The good news is that it doesn't matter if your PowerPoint is slow or a file has been corrupted, it can easily be resolved. Read this ultimate PowerPoint troubleshooting guide to fix all kinds of issues and errors.
---
Part 1 How Does PowerPoint Works?
PowerPoint is a dedicated application in Microsoft Office Suite that is used to draft engaging and informative presentations. It is compatible with a wide range of files and extensions. Though, the most common file types are PPT, PPTX, and PPTM.
Users candraft presentations from the scratch or browse the readily available themes.
There are different ways to incorporate textual and graphical content in it.
It also supports the integration of charts, tables, smart word arts, shapes, videos, images, GIFs, and so much more.
There are inbuilt graphic editing and formatting tools that can help us design visually appealing slideshows.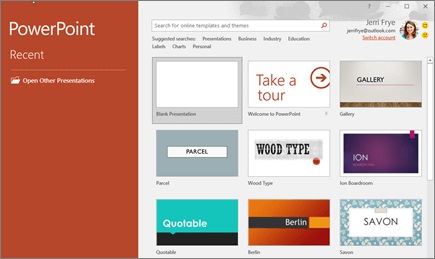 ---
Part 2 Common Causes of PowerPoint Errors
There could be tons of reasons for encountering PowerPoint problems. Here are some of the common causes.
The PowerPoint file can be corrupted due to a virus or malware attack.
If the file has been saved on a bad sector or corrupt storage, then it can become inaccessible.
Unexpected changes with its header, encoding, or meta data can also make PowerPoint can't read the file.
It can get corrupt if the transfer process of the file has been halted in between.
An unexpected shutdown of the computer when the PPT was still opened can lead to unwanted issues.
Sometimes, a third-party application can also tamper with the encoding of a PowerPoint file, making it unreadable.
A faulty or unreliable PowerPoint can also corrupt the entire application.
If your system is running low on memory or you have opened too many applications in the background, then it can make PowerPoint slow.
The multiple conversions of a file or the intentional change in its extension can make it inaccessible by PowerPoint.
---
Part 3 Typical Common Errors in PowerPoint
While working with PowerPoint, you might encounter different errors and issues. Here are some common PowerPoint problems that you might encounter.
1. This is not a PowerPoint presentation
This error occurs when PowerPoint is not able to recognize the document or some of its content (mostly the fonts) are not compatible. You can run the inbuilt repairing process to fix it or use a dedicated tool like Repairit.

2. PowerPoint cannot open the type of file
This PowerPoint error occurs when the file can't be located or has been renamed. Also, if the file has been drafted in a newer version of PowerPoint, but you are trying to open it in an older version, then PowerPoint can't read the file at times. Just make sure that the version of PowerPoint is compatible with the file.
3. Part of the PowerPoint file is missing
Users often get this PowerPoint repair error when a part of the file is missing or has been corrupted. Often, the corrupted content is replaced by a blank side. To repair a file, you would need to use a dedicated tool.
4. General Protection Fault
Sometimes, the system's anti-virus can block certain components of PowerPoint, resulting in this error. It can easily be resolved by unblocking the Protected View option via System configuration (discussed later in the guide).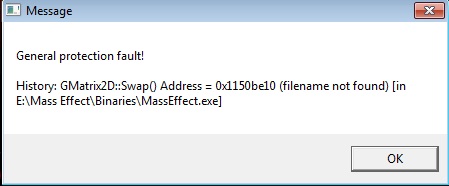 5. PowerPoint Illegal Instruction
This error prompt occurs when there is some conflict accessing the file or if the file has been corrupted. Mostly, a system reboot resolves this error. If not, you can use the native repair feature of PowerPoint to fix it.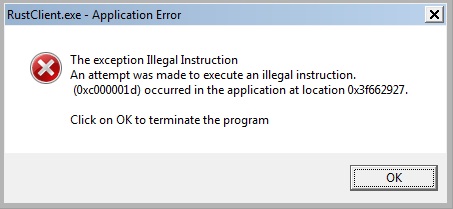 6. Low system resources
As the error states, it usually occurs when the computer runs on low resources. This can happen when numerous other applications are opened in the background. Close all the other running applications and try to launch PowerPoint again.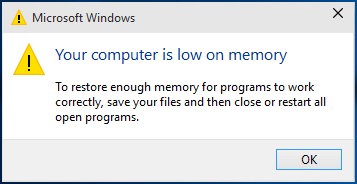 7. Out of memory error
The PowerPoint repair error happens when there is no space in the primary memory to load the file. Ideally, you would be able to fix the problem by restarting the system or closing other applications.

8. PowerPoint is running slow
If PowerPoint is slow, then chances are there could be a problem with your system's resource allocation or the application could be corrupted. It is recommended to reinstall PowerPoint in this case or run system diagnostics.
9. PowerPoint can't read the path\file_name.ppt
If PowerPoint can't read the file, then chances are there could be an issue with its encoding. Make sure that the extension of the file is not changed and that you haven't converted it multiple times to avoid this.

10. There was an error accessing the file
A file can become inaccessible due to different reasons. Its location or name could have been changed. The file or its location could have been corrupted as well. Run an anti-virus scan on the system or use a dedicated repairing tool to fix this PowerPoint error.

---
Part4 Multiple Methods to Resolve PowerPoint Problems
As you can see, there can be all kinds of PowerPoint problems that one can face. Therefore, depending on these issues, you can try to follow these PowerPoint troubleshooting suggestions.
1. Insert Slides into a Blank PowerPoint
The easiest solution to fix a corrupt PowerPoint is by reusing its content. You can draft a new PowerPoint document and later insert the existing content of a corrupt document on it. Here's how you can do a quick PowerPoint repair error.
i. Launch Microsoft PowerPoint on your system and draft a new presentation.
ii. Insert a blank slide and go to the toolbar. Add a new slide and choose to reuse slides.
iii. Browse to the location where the existing presentation is stored and load its content to a new document.
2. Start PowerPoint in the Safe Mode
All the Microsoft Office tools support a Safe mode. If there is a problem with the PowerPoint application itself, then you can choose to launch it in the safe mode instead. To do this, just select the PowerPoint application's icon and hold the CTRL key. While still holding the CTRL button, double-click the icon. Agree to the following prompt to enter the safe mode.
Apart from that, you can also launch the Run prompt to open PowerPoint in the safe mode. Just type "powerpnt /safe" and press enter on the Run command.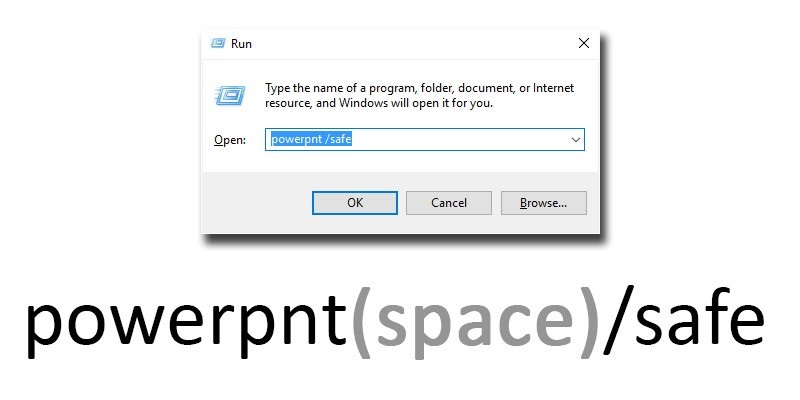 3. Unblock the Protected View Options
If you have got the General Protection Fault in PowerPoint, then you can resolve it by following this technique. Sometimes, PowerPoint can enable a Protection View that can tamper with the working of the application. To fix this PowerPoint error, follow these steps:
i. Launch the PowerPoint application and go to its File menu > Options.
ii. Visit the Trust Center feature and go to the "Protected View" tab.
iii. From here, disable the option for Protected View under different categories.
iv. Save the changes and restart your system to check if the PowerPoint troubleshooting works or not.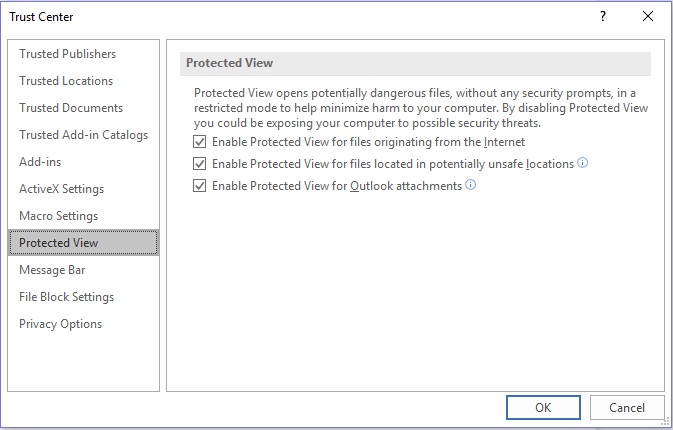 4. Open the Temporary PPT Files
You might already know that while working on a document, Microsoft Office creates its temporary file in the background. If the main PowerPoint file has been corrupted, then you can still try to access its data through its temporary file.
i. Firstly, you need to locate the temporary PowerPoint file. It is stored with the name of PPTxxxx.tmp. Here, "xxxx" is a 4-digit code given to the file.
ii. You can look for the temporary file in the same folder or the Temp folder in the Windows directory.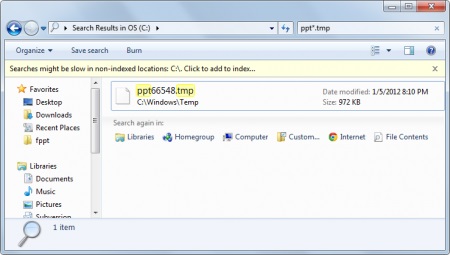 iii. Once you have selected the file, rename it and change its extension from .tmp to .ppt.
iv. In the end, launch PowerPoint and open the temporary file to view its data.
5. Use Open and Repair Utility
If you don't want to use any third-party PowerPoint troubleshooting application, then you can try this native feature as well. Instead of opening a document the usual way, open and repair it instead. In this way, PowerPoint will automatically run a diagnostic and try to repair the file.
i. Launch the PowerPoint application on your system and go to its File menu. Choose to open a new file and browse its location.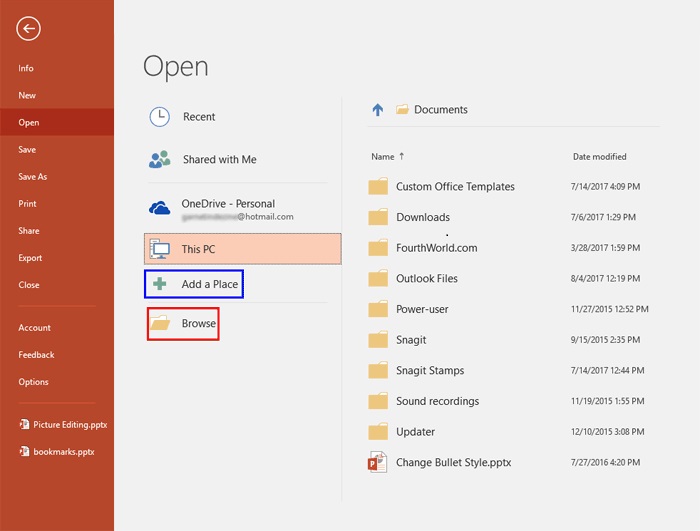 ii. As a browser window will open, go to the location where the faulty PPT file is stored and select it.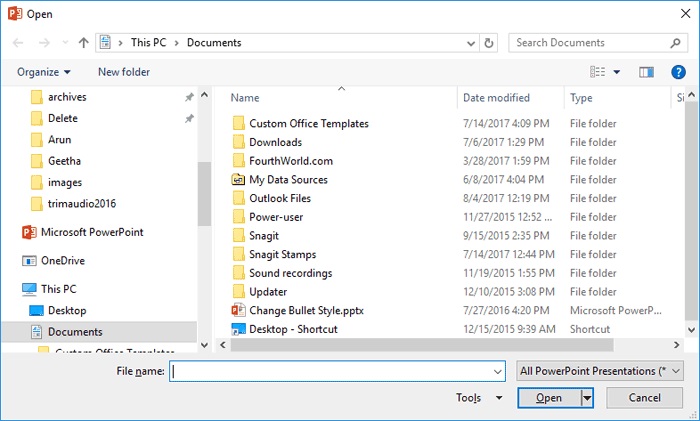 iii. Click on the dropdown menu adjacent to the Open button and choose to "Open and Repair" the file instead.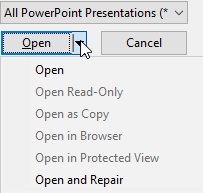 6. Repair PowerPoint Program
There are times when a problem with the Office program can make your application corrupt. If you are using an outdated version of PowerPoint, then you can encounter such issues frequently. To resolve this, you can run a thorough diagnostics and repair the PowerPoint application itself.
i. Go to the Control Panel settings on your system and view all the programs installed on it.
ii. Select Microsoft Office from the list of programs and click on the "Change" button.
iii. This will launch the Microsoft Office configuration wizard. Choose to repair Office and start the setup.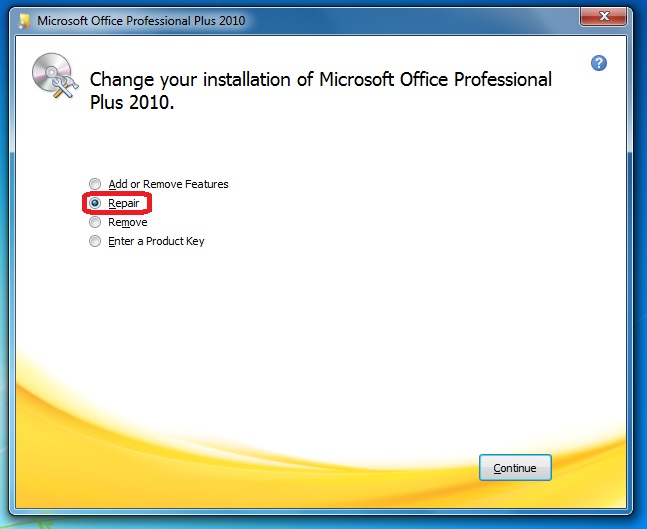 iv. Follow the simple on-screen instructions to complete the setup and restart your system in the end.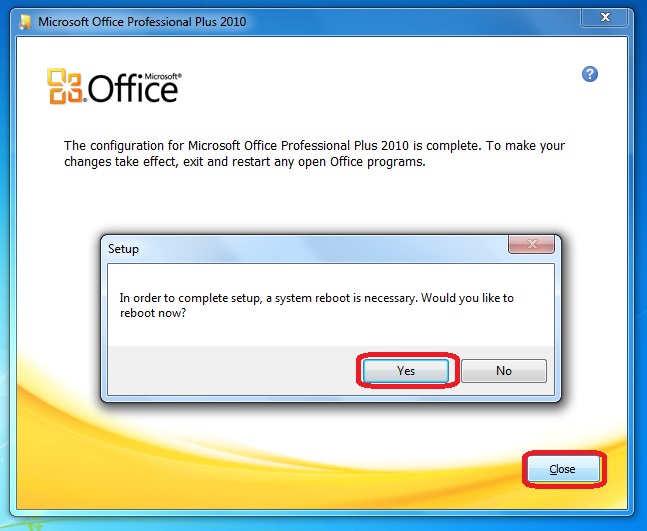 7. Run Scandisk to Check Disk Errors
You might be getting unwanted PowerPoint problems due to a bad sector or corrupt hard drive as well. To resolve this issue, you can run a scan of the disk and rectify these errors.
i. Open Windows Explorer and select the hard drive that you wish to diagnose.
ii. Right-click it and go to its Properties.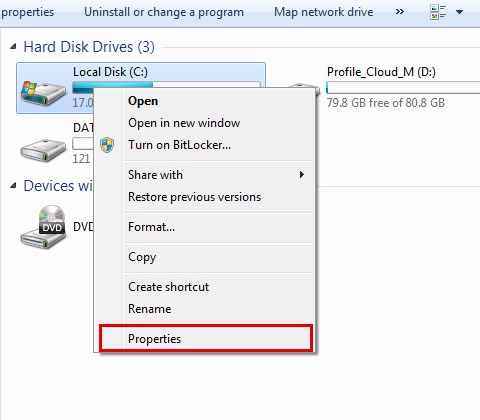 iii. Visit the "Tools" tab and click on the "Check Now" button under the Error Checking option.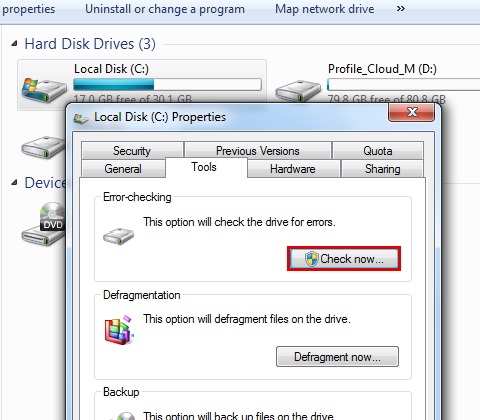 iv. Turn on both the options to scan for any bad sector and automatically fix system errors.
v. Click on the "Start" button to initiate the system scan.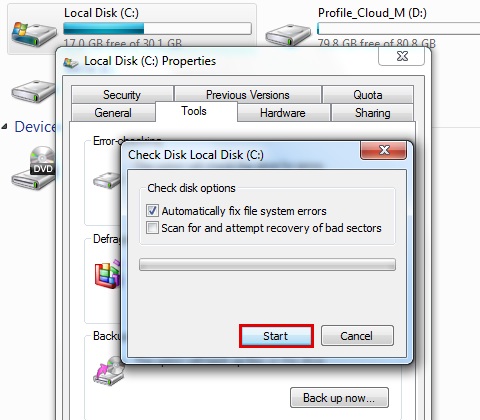 8. Use Repairit
If you are looking for a foolproof solution to fix PowerPoint problems, then give Repairit a try. It can provide a dedicated PowerPoint troubleshooting and resolve all kinds of issues with a corrupt or damaged file. By following a simple click-through process, you can resolve any PowerPoint repair error while still retaining all the data.
It can repair PPT, PPTX, PPTM, and all kinds of PowerPoint files.
Users can load multiple documents as the tool can repair them simultaneously.
It allows us to have a preview of the repaired files before saving them.
Also provides raw recovery for severely damaged PowerPoint documents.
All the formatting and graphics like tables, shapes, charts, images, header, word art, etc. are retained.
The tool is fully compatible with MS PowerPoint 2000 and all the newer versions like 2013, 2010, 2007, and so on. You can download it on your Windows system and follow these steps to resolve any PowerPoint error.
Step 1: Launch Repairit
Close all the corrupt or damaged PowerPoint documents in advance. Once it is done, launch the Repairit application on your Window system. If you don't haveRepairit installed, then you can download it from its website.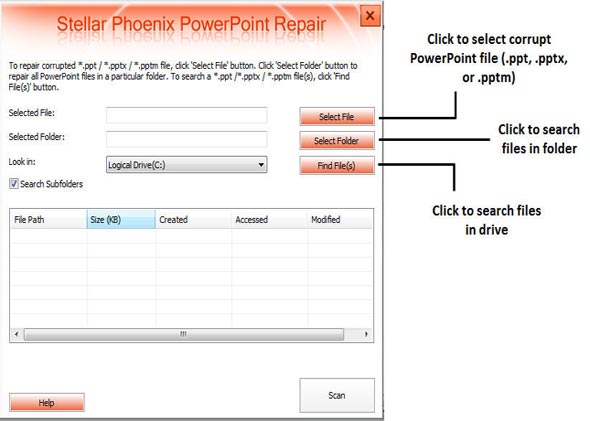 Step 2: Load the corrupt file and scan it
Select the drive where the corrupt file has been stored and simply browse to the location. You can select a file or an entire folder and load as many files as you want to the tool.
You can select the files that you wish to repair and see how many files have been selected. Once it is done, click on the "Scan" button to repair the PowerPoint files.
Step 3: Preview and save the file
Sit back and wait for a while as the application would repair the PowerPoint files based on different parameters. Just make sure that the tool is not closed in between.
As soon as the PowerPoint files have been repaired, you will be notified. Now, you can just preview the PPT and check if the content has been recovered or not. You can switch between different files from the left panel and view their data on the right.
a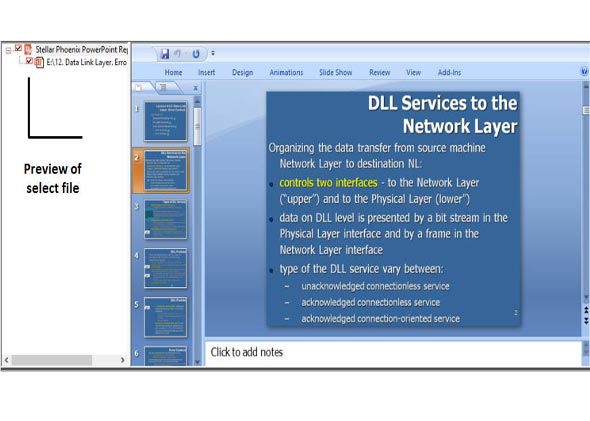 That's it! Once the errors are resolved, you can click on the save button. If you want, you can save the repaired file to the same location or go to any other location to save the PowerPoint file.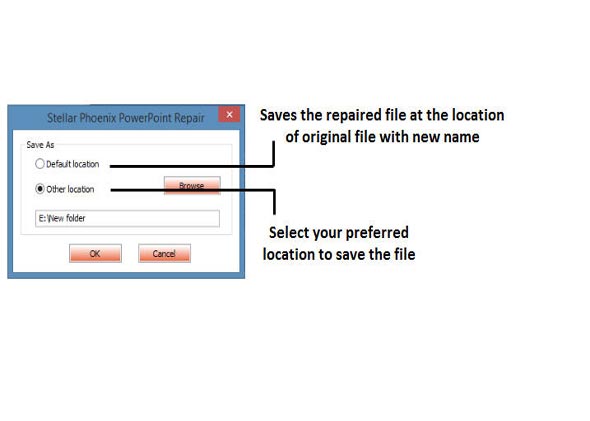 Repair 4 types of files,namely Word, Excel, PowerPoint and Zip.
Offer excellent search options to find corrupted files instantly.
Preview and recover all the data contained in the corrupted files.
Repair files corrupted due to different causes and from all devices.
---
Part5 Tips on PowerPoint Troubleshooting
Now when you know how to do PowerPoint repair error, you can easily make the most of this resourceful application. If you want to avoid getting an unwanted PowerPoint error in the future, then consider following these expert tips.
Update MS Office: If you are using an outdated version of PowerPoint, then you might encounter some unwanted issues as well. To resolve this, make sure that you have an authentic and latest PowerPoint application installed.
Install an anti-virus: If PowerPoint can't read a file, then chances are it could have been corrupted. To avoid this, install a working anti-virus software on your system and turn on its real-time protection features.
Only use reliable add-ons: There are tons of add-ons available for PowerPoint to perform various operations. Just make sure that you have added a reliable plugin that won't tamper with the working of the PowerPoint application.
Maintain a backup: If you don't want to suffer from PowerPoint error related to a file, then just make sure you have got its backup beforehand. Ideally, you can turn on the automatic backup feature to avoid an unforeseen issue with a PPT.
Avoid unexpected shutdown: Make sure that your computer has a stable power supply as an unexpected shutdown of the system (while PowerPoint is still open) can corrupt a file.
Avoid PPT conversion: The over-conversion of files to and from PPT can also cause an error. Try not to perform multiple conversions of a document to preserve its meta content.
Don't change the file extension: Try not to intentionally alter the extension of a file as it can lead to numerous PowerPoint problems.
Have enough free space: If your system is running low on memory or resources, then it can make PowerPoint slow. Therefore, you should have enough free space in the primary storage and RAM.
Use reliable third-party tools: If you are giving any third-party tools an access to PowerPoint documents, then make sure it is a secure and reliable application. Sometimes, a third-party tool can mishandle the PPT and make it corrupt.
By following this in-depth and comprehensive guide, you would be able to perform a complete PowerPoint troubleshooting. To resolve any unwanted PowerPoint error, give Repairit a try. It features a user-friendly interface and runs a sophisticated repairing algorithm to fix all kinds of PowerPoint problems in minutes.