Lost your digital photos by accident? We have all lived this nightmare at some point in our lives where our cherished photos got deleted by error. Either that, or there could be many other reasons that contributed to the mighty loss – accidental formatting or virus attacks, leaving us in utter dismay. And then comes the regret of not having taken up a backup regularly when you should have. But what most of us don't realize is that deleted photo recovery is possible. How? You can simply gain support from the best free photo recovery software – Recoverit on your device. This article will provide the detail supports on how to recover deleted photos on any of your devices with the free photo recovery software.
Recoverit is the best recovery software that can help you in rescuing your priced pictures. It is compatible with all the versions of Windows including 10, 8, 7, Vista and XP. Not just computers, you can also download Recoverit for deleted photo recovery from your hard drives, flash drives, memory cards, cameras and mobile phones. The software has easy to follow steps that can help the user in getting back their lost images in an easy, quick and convenient way. The friendly user-interface ensures a smooth recovery experience to the user.
Part 1: Why Choose Recoverit?
Recoverit as a free photo recovery software is designed for deleted photo recovery from your device. From accidental deletions to virus attacks recovery, it covers multiple solutions for different data recovery scenarios. The photo recovery software supports multiple scanning algorithms and all kinds of major data files. Let's look at some of its primary features:
It supports 8 different recovery scenarios depending on how and where you lost photos. If you just simply lost photos due to accidental deletion, then you could use "Deleted Files Recovery". When you lost photos from recycle bin, formatted disk, lost partition, external devices, virus attack or system crash, you can choose the exact scenario for photo recovery like "Recycle bin recovery", "Formatted disk recovery", "Lost partition recovery", "External devices recovery", "Virus attack recovery" or "System crash recovery". More intensely, all around recovery will help you process all scenarios for your deleted photo recovery.Its top-notch algorithms perform quick scans, deep scans and lost partition recovery among many other functions to help you recover your lost pictures.
It can recover all major graphic formats including photos created by cameras and screenshots. It can also recover photos that were edited using photo-editing software. Some of the graphics formats include JPG, TIFF/TIF, DCR, DNG, and PSD, to name a few.
It can accurately restore deleted images with original date-timestamp and file names.
The tool used by this photo recovery software can support 550+ different file formats.
It also lets the users rescue RAW files from the storage.
The best part about using Recoverit is that while the user is recovering their files, it does not snoop around their data. This makes it highly secure and reliable deleted photo recovery software.
The software has a comprehensive file filter system that makes recovering files easy and quick.
Part 2: How to Recover Photos Using Free Photo Recovery
Even though Windows may not be able to see the data you accidentally deleted or the data that got corrupted due to some virus attack, it is possible that the data is still there and you can retrieve it. Let's go through the step-by-step procedure on how you can recover deleted photos from your device using Deleted Files Recovery through Recoverit.
Step 1 Download and launch Recoverit free photo recovery software for your device and select a data recovery mode to begin. In this case, select Deleted Files Recovery.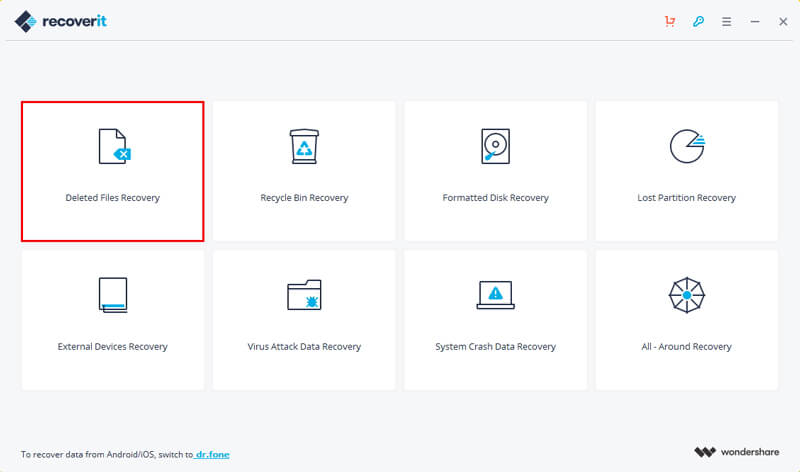 Step 2 After you have selected the 'Deleted Files Recovery', Recoverit photo recovery will require you to select the location where you lost your photos.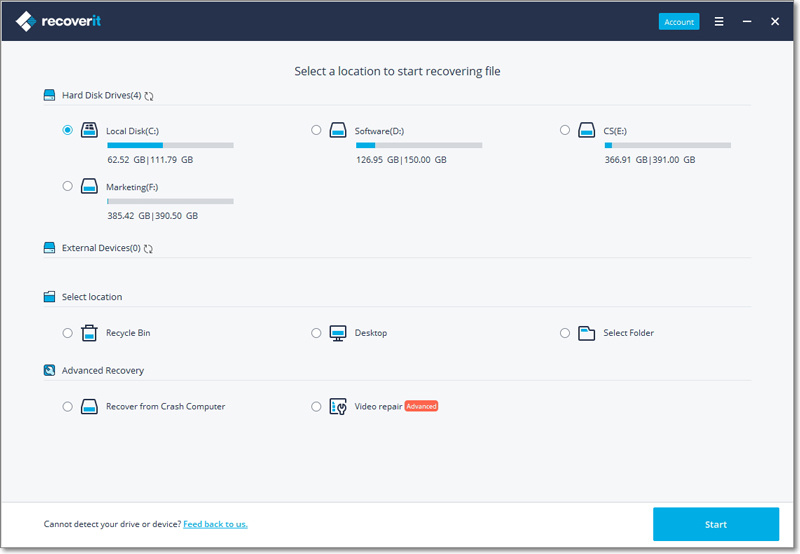 Step 3 After that, it will begin a quick scan of your device to look for the deleted pictures. You will be able to preview some recoverable files after the scan gets completed. However, if you cannot find any data in the preview, there is nothing to worry about. You can scan again using the 'All-Around Recovery' Mode.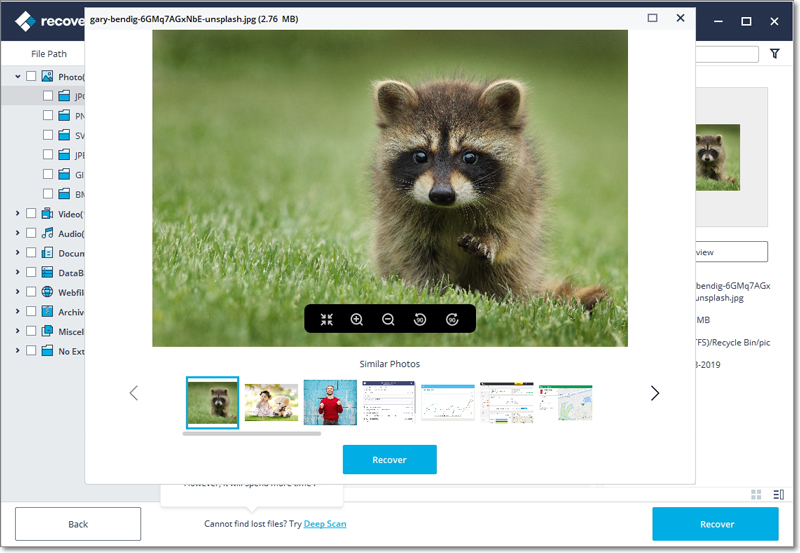 Step 4 Using the 'All-Around Recovery' for retrieving your deleted files, the software will perform a deep scan of your device at all the locations. This will naturally take more time as compared to the quick scan in step 3. So don't panic.
Step 5 Once the deep scan is complete, your screen will show you a Tree View and a File View of some of the files that you can recover. You can select the ones you want to retrieve and then click on the 'Recover' button to get them back.
Part 3: How to Recover Photos Using Formatted Disk Recovery
Formatting a hard drive is a normal activity for many users when they wish to get rid of some issues that their devices are facing like bad sectors, power outages, virus attacks, and more. There can be times that you forget to take a backup before formatting your disk or accidentally format it.
So what if you lost your photos not because of accidental deletion but because of accidental formatting? Well, the process to retrieve your files in this scenario is also pretty simple.
Step 1 Launch Recoverit free photo recovery software for your device and select a data recovery mode to begin. In this case, select Formatted Disk Recovery.
Step 2 Now, choose the specific hard disk where you lost your files. Click 'start' to proceed.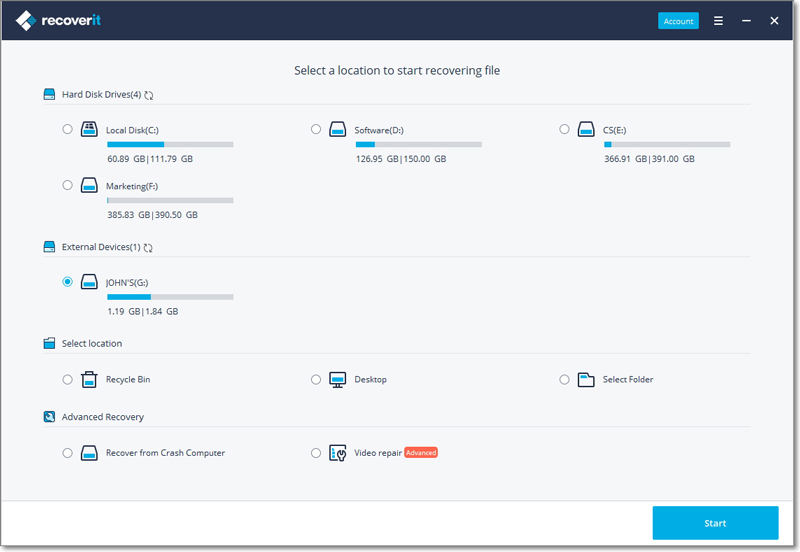 Step 3 Next, the Formatted Disk Recovery will begin with a quick scan to recover formatted partition so you can get back your lost images. In case you don't find any files after the quick scan, click on the 'All-Around Recovery' which is more time-consuming, but highly efficient.
Step 4 Recoverit will now give you a preview of all the recoverable files and folders after it has finished the 'all-around recovery' scan. Choose the files you wish to keep and click 'Recover'.
Note: It is important to keep in mind that you do not recover your lost files in the same formatted hard disk where you lost your data previously. Copy these files to another external hard disk and remember to take regular backups henceforth.
Part 4:How to Recover Photos Using External Device Recovery
We all use memory cards in our phones as well as DSLR cameras for more storage. However, at times, these memory cards can get corrupt, making it difficult to access the files stored in it. Here are quick steps to recover your files if you ever find yourself in the same situation:
Step 1 Launch Recoverit on your computer. Select the "External Device Recovery" mode to begin.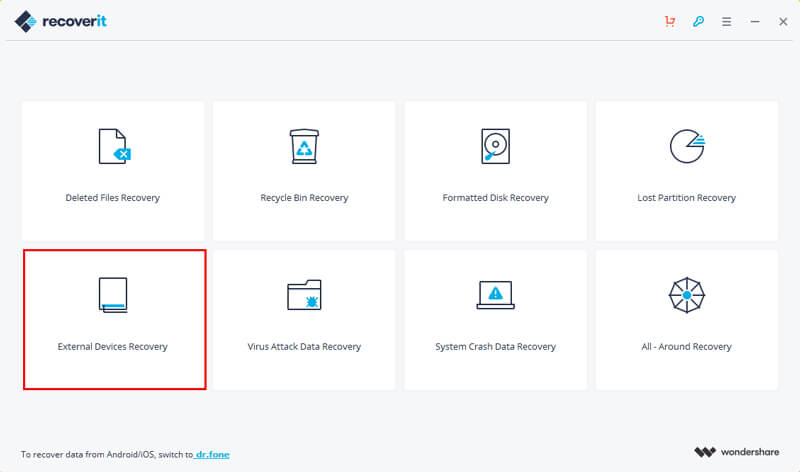 Step 2 Next, connect your memory card and then let the scanning process begin. Or select the external storage device you want to recover files from and connect it to your computer.After you have selected your external storage device, ensure that it is properly connected to your computer. Click 'Start' to begin the scanning process.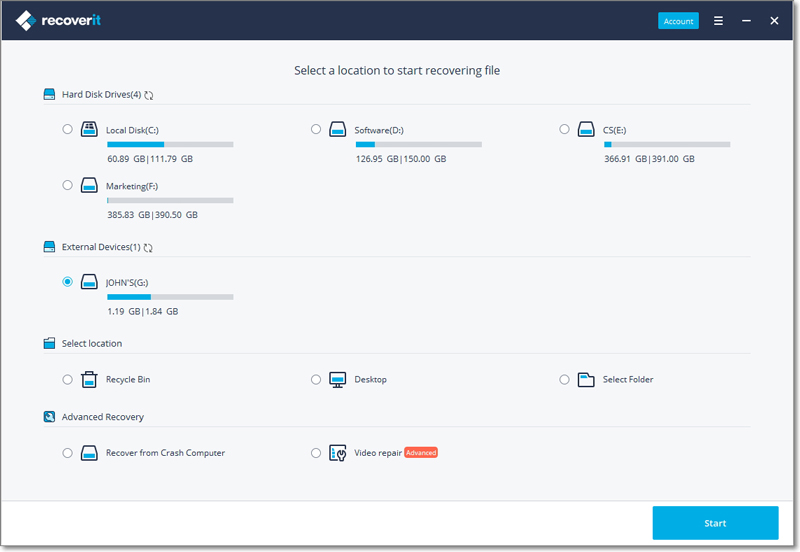 Step 3 Recoverit photo recovery software will perform a quick scan to search for your lost files. Wait for the scanning to finish.
Step 4 As soon as the scan gets completed, you will have a preview on your screen of all the recoverable files. Click on the ones you want to save and submit 'Recover' in the end. Your deleted photo recovery process is now complete.
Part 5:A Guide to Repair Damaged / Corrupt Images Using Photo-Repair Tools
Sometimes when you try to open your images, you cannot view them for some reason, and they pop up a message saying the file seems to have been corrupted. Is there any way to repair such corrupted photos? Of course, there is. You can download Stellar Phoenix JPEG Repair to repair corrupt and damaged photos in no time.
Step 1 Select the storage media and launch Stellar Phoenix JPEG Repair. Then, use the 'Add Files' option to add the corrupt JPEG files to be repaired.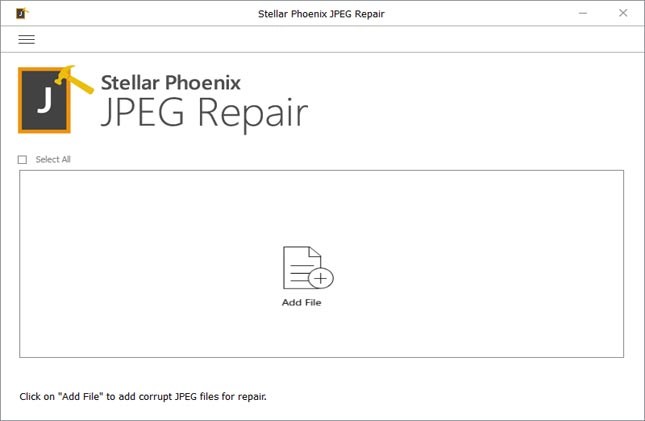 Step 2 The software looks for corrupt and damaged files by performing a scan of the selected media storage. After the scan is complete, it displays the recoverable files.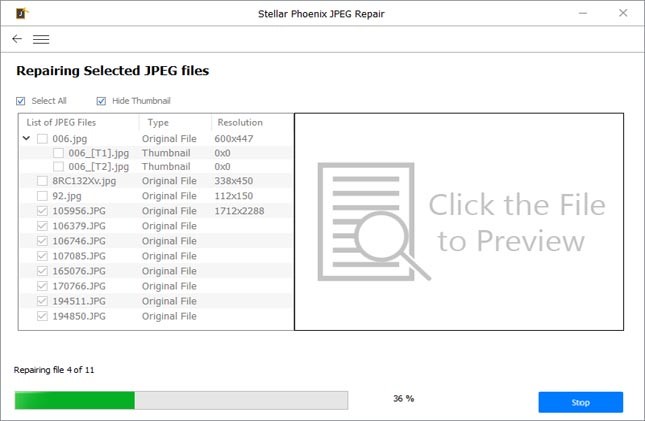 Step 3 You can now select the files from the preview that you wish to recover and save them to a new location.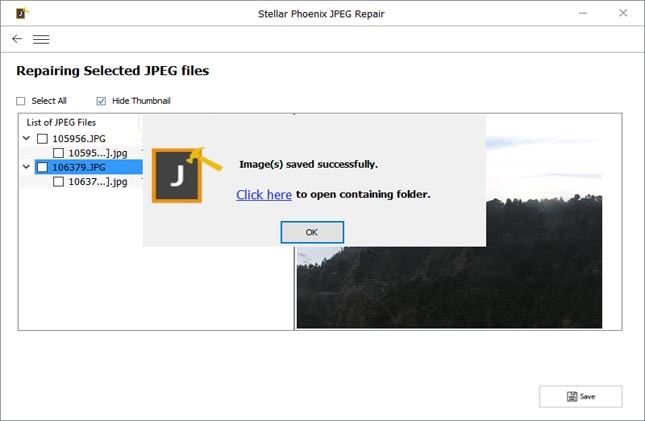 Part 6:Measures To Be Taken To Avoid Photos / Files Loss
Prevention is always better than cure. So while data loss may seem unavoidable, one can guard against it with the genuine safeguards. The primary move is to understand the causes and warning signs of potential data loss. Once you have the knowledge, you can take the necessary measures to prevent data loss.
Here are some essential tips to keep in mind, so you don't end up losing your valuable photos.
Maintain a backup of all your important files and photos on multiple locations and an external drive.
You can also consider using the cloud services like Google drive to keep a copy of all your photos.
Make sure you partition your drive into a program and data zone. In case you lose your data, it gives you a better chance to recover your data from the partition unless it is a complete disk failure.
Use updated anti-virus software, so your computer is protected against virus or malicious attacks leading to corruptions.
Should you lose your data, remember to stop using that device immediately. If you keep using the device where you lost your photos, you are writing new data on to the hard drive. This makes it difficult to recover old files.
Use an effective data recovery software like Recoverit to retrieve all your lost data within minutes.