Microsoft Office is a set of some very powerful tools that prove to be very helpful in processing different types of data for different purposes. While the software is known to be very useful, sometimes MS Office files get corrupted as a result of certain reasons. When you try to open up your files, some kind of error message shows up and the file never opens properly. This happens as a result of bad sectors on the hard drive, infestations of computer viruses, improper shutdown of the system and other similar issues. The whole experience proves to be highly provoking since we never want to lose any important data. So if you come across such a scenario, you do not need to worry at all since you can easily fix damaged MS Office files by taking the right measures. You can make use of certain hit and trial techniques in this regard but the better shot is to make use of a good file repair tool. There are plenty of these tools available in the market for the purpose of fixing broken MS Office files. Some details on a few of them are discussed below for your ease.
Part 1:The Best Microsoft Office File Repair Toolkit
As discussed above, you may find a whole lot of file repair tools in the market but if you are looking for the best among the rest, going for Stellar file repair tool kit would be a good call. It is a computer application that has been designed to fix damaged MS Office files. The algorithm used in the development of Stellar file repair tool kit is pretty high end so it delivers simply the best results when it comes to repairing and restoring the original contents of MS Office files. A few of the most prominent features of this tool are listed below: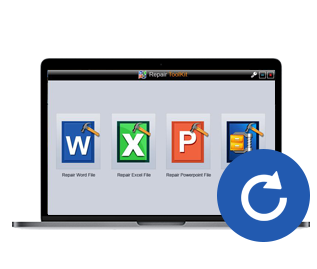 Allows you to repair four different types of files namely, Word, Excel, PowerPoint and Zip.
Extremely easy to use and is designed in such a manner that anyone can use it to repair corrupted files.
Offers a number of excellent search options to find corrupted files in an instant.
Provides an extraordinary preview feature that allows you to see the contents of the file to be repaired.
Capable of recovering the all of the data contained in the corrupted file.
Part 2: How to Fix Damaged MS Office Files
If you are wondering how to fix damaged MS Office files, you can easily do that by making use of a Offcie file repair tool like Stellar file repair tool kit. A step by step guide to help you through the process of recovering all your damaged MS Office files is discussed below for your convenience and understanding.
Downlaod MS Office File repair toolkit on you computer ans launch it, and select the option of "Repair Word File" start to repairing process.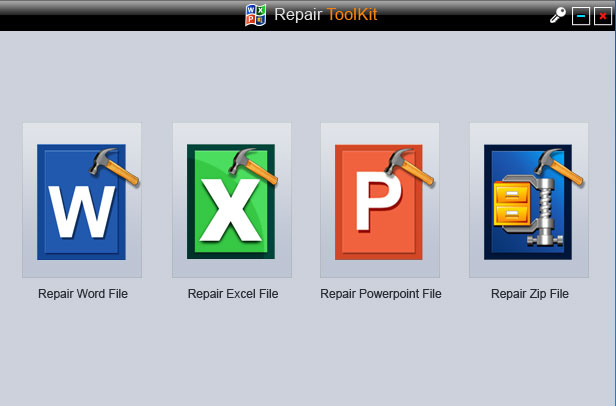 Step 1 Add corrupt Word files to search in local drive.
Step 2 Search drive and all corrupt Word files be list in the result section.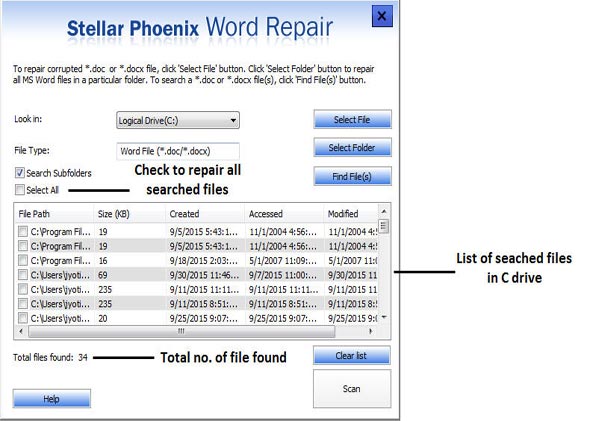 Step 3 Select a corrupt Word file for repair,click scan start to repairing process.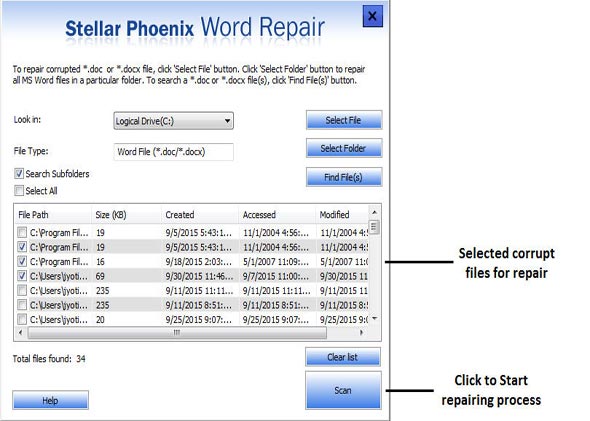 Step 4 In the left bar, the list of repaired Word files. Click one to see the preview of its content.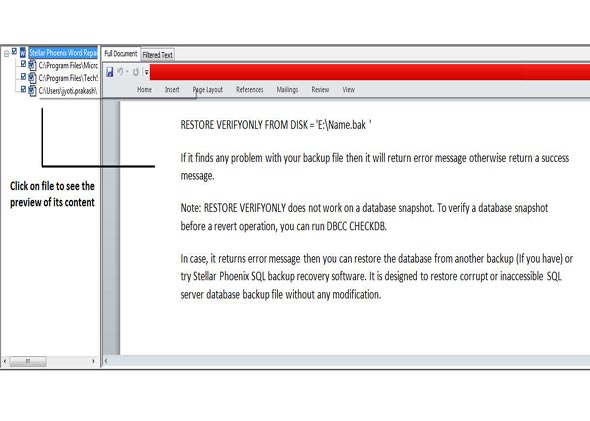 Step 5 Confirm the repaired Word file and save it to a desired location.
A few tips that might prove to be very helpful when you are trying to fix damaged MS Office files using a file repair tool are listed below:
Most of the corruption issues arise as a result of improper system shut down. So always shutdown your computer properly in order to avoid such situation in the future.
Copying your corrupted files to a new location proves to be helpful in case your hard drive has any bad sectors on its surface.
The option of 'Raw Recovery' may be used to fix damaged MS Office files which seem to be beyond repair, keeping in view their heavy corruption.
Recover & Repair Files
Recover Document Files

Repair Document Files

Recover & Repair More

Clear & Delete File