Do you work with PDF (Portable Document Format) files? The file format developed by Adobe contains all the required components that are vital to show the entire document in one layout. Irrespective of the operating system, you can easily share this highly secure document.
While working on these files, users encounter error messages like - your PDF file is corrupted or not readable? Are you also getting this error? When you see such messages, it can even lead to loss of your important data. Are you wondering now how to repair corrupted PDF?
This article will guide you with the possible reasons for corrupted or damaged PDF files and various ways to repair damaged PDF. If your PDF file is deleted accidentally, you can quickly recover it with Recoverit Data Recovery.
Part 1: Possible Reasons for PDF File Corrupted or Damaged?
While uploading, downloading or during your everyday use, the PDF file can get corrupted anytime. Some of the possible causes for its damage or corruption are:
Improper download: While downloading the PDF files, sometimes you have an unstable internet connection. It can lead to failed or incomplete download. This damages the file structure and thus results in corruption.
Problem with your storage media or hard drive: If you have your PDF on the corrupted hard drive, USB device, or any other social media, it results in corruption of your file too.
Unexpected system shutdown: Sometimes, while working on your computer, you experience a sudden shutdown of your computer or laptop. It can be because of power failure or any internal system error. But in such a scenario, if you are transferring your PDF file or working on it, chances are high of it being getting corrupted.
Virus: Any virus or malicious file in your system can also be the possible cause for corrupt or damaged PDF file.
Incompatible programs: Using incompatible programs to open the PDF can also damage your files.
The cause of the corruption of PDF files can be any. If you are also into such a situation, repair PDF easily with the methods discussed in the next part.
---
Part 2: How to Repair Corrupt or Damaged PDF files
Whenever you come across such a situation, where your important PDF file gets corrupted, do not panic. Try some basic troubleshoots like:
Copy or download the file from the source again.
Try restoring it from backup
If you are editing the file, you can even try restoring it from the previous version and do the editing again.
However, if none of the above listed troubleshoots work, there is nothing to worry. We are listing below the effective methods for recovering your important PDF document. Follow the detailed steps and repair PDF file easily and quickly.
1. Try other PDF Reader utilities
When you are facing trouble while accessing your PDF files, before searching on how to repair PDF file check whether the problem is with PDF reader or file. For checking the problematic area, you can consider opening it with other PDF reader tool.
You can check online, the search engine will make you available with numerous PDF readers. Select the compatible one and try opening your file in it. If the file fails to open, try the next method to repair corrupted PDF.
2. Restore previous file version
Windows 10 users can use the in-built backup utility tool to restore the previous version of the inaccessible PDF file. Proceed with the following steps:
Step 1: Open Update and Security
Press Windows button and select settings to reach update and security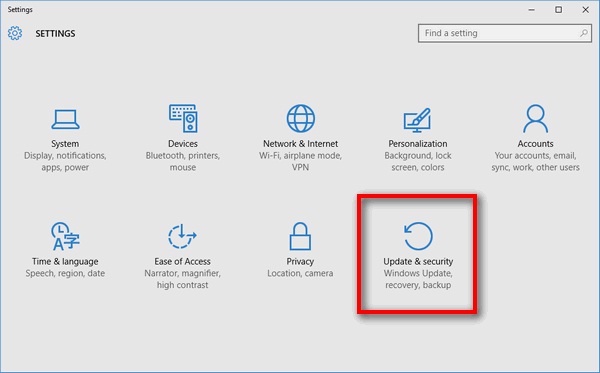 Step 2: Restore the backup and get access to your PDF file
If you have not taken the backup, then you can also try File history feature to restore the previous version of the file.
Step 1: Right on your file in Windows Explorer and click on "Properties."
Step 2: Move to previous versions tab to restore.
Check the previous versions of the PDF files. Click on the latest or the right version and check whether it is the one that will restore your file back into the system.
If the previous version unable to restore your file, you can repair PDF online with the online tool.
3. Use a free online PDF repair tool
To repair PDF file online, you can try "Sejda," a free online tool used to repair damaged PDF. You can repair a PDF file with 200 pages or document of 50 MB. The tool allows 3 tasks per hour and keeps your files private before automatically deleting it after 2 hours.
Repair corrupted PDF file with the following steps:
Step 1: Select Files

After opening the "Sejda.com" website, click on "Upload PDF files" to select the corrupted file. You can even drag and drop your file to the page to begin the repairing process.
Step 2: Repair PDF
After loading the file, click on the "Repair PDF" and wait till the process completes.
4. Try professional PDF repair software
Stellar, the professional tool is effective software that can repair damaged PDF file easily. It is compatible with your Windows 7, 8, 8.1 and 10 and supports PDF files of versions 1.3 to 1.7. Stellar helps you in restoring all the content of the PDF. It includes tables, page format, word art, comments, headers, footers, etc.
Features:
Repair damaged or corrupt PDF files and its components.
Restore all the music, videos, graphs, hyperlinks, text, graphs, digital signatures and other content of the PDF file.
You can also repair PDF files stored on external devices.
If you are wondering how to repair damaged PDF file, then here are the detailed steps for you.
Step 1: Add Corrupted PDF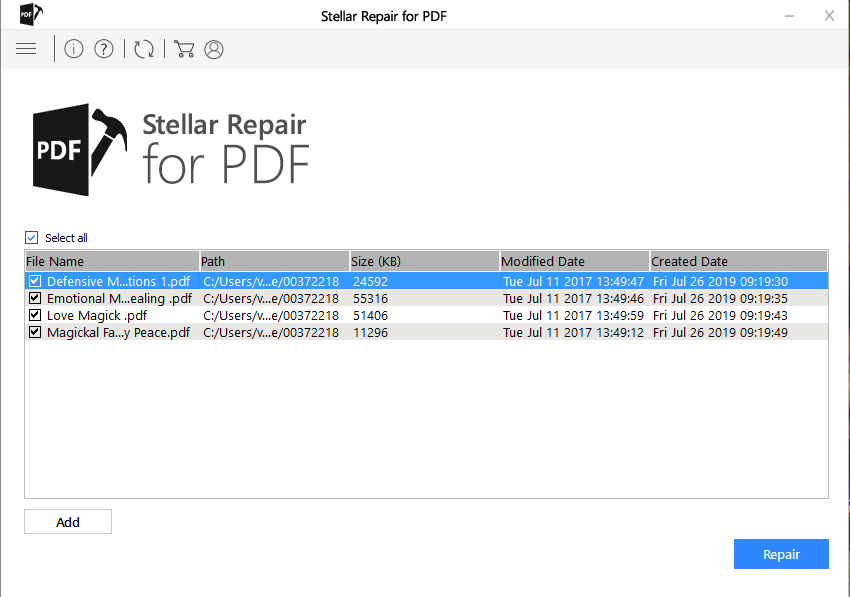 Open the main interface of the Stellar PDF repair tool and select the corrupted file by clicking on the "Add file option." If you want to repair more than one files, you can add more PDf files with the use of the "Add" button.
Step 2: Repair the PDF
After adding files, click on the "Repair" button to begin the repairing process. When the repairing is in progress, you can stop the process anytime in between the on-going repairing process.
Step 3: Preview and Save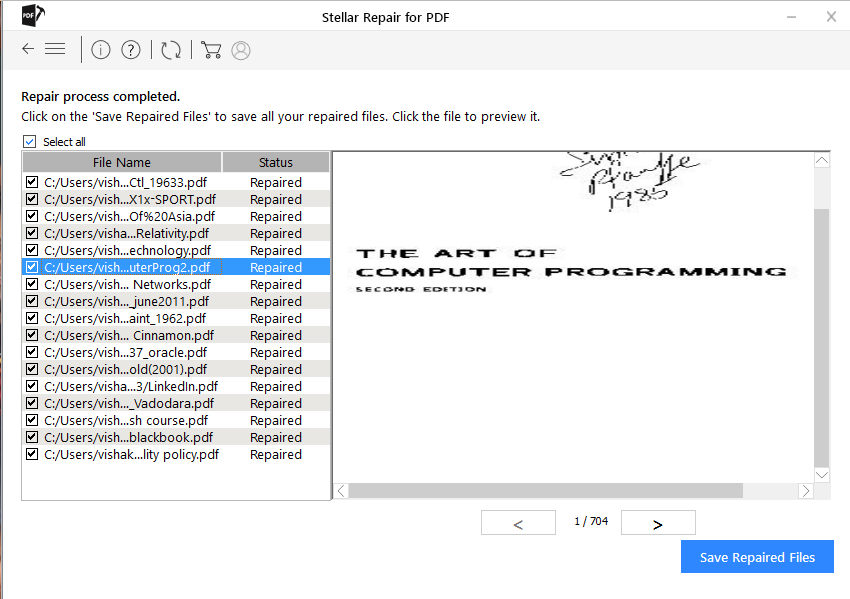 Once the repairing process completes, view the repaired PDF file, by clicking on the "OK" button. When you are sure that the file is repaired completely save it at the desired location.
---
Part 3: How to recover PDF file deleted accidentally
While accessing your PDF files, sometimes you accidentally hit the delete button, and your important data is lost. You strive to get your lost data. If you are in the same situation, do not worry. Data loss is not a matter of concern unless you have Recoverit Data Recovery tool.
This ultimate software supports above 1000 file types and formats and can successfully recover data from your hard drive, recycle bin, desktop, and even from external devices. Does not matter how you have lost your data, the software can recover your files deleted under different scenarios.
Recover your deleted PDF file with the following three easy steps:
Step 1: Select a location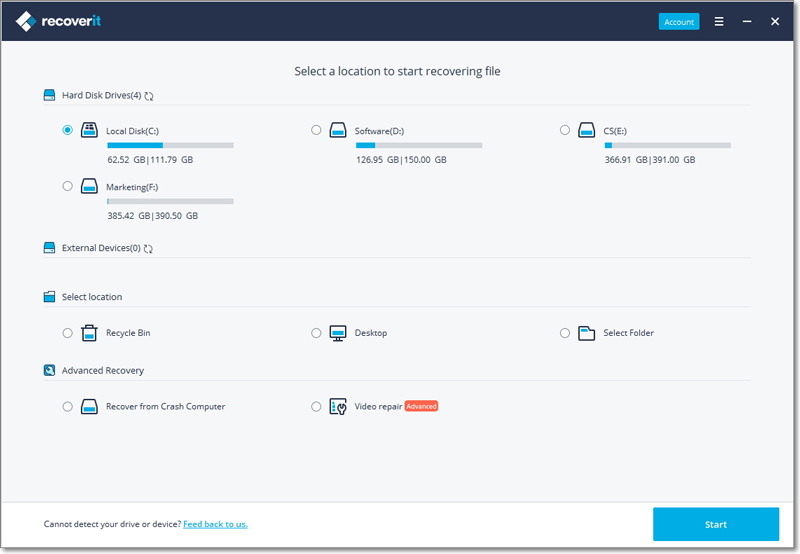 Download and launch the software Recoverit on your system. Choose the location from where the PDF file is deleted from your system. After the loaction selection, click on the "Start" button.
Step 2: Scan the location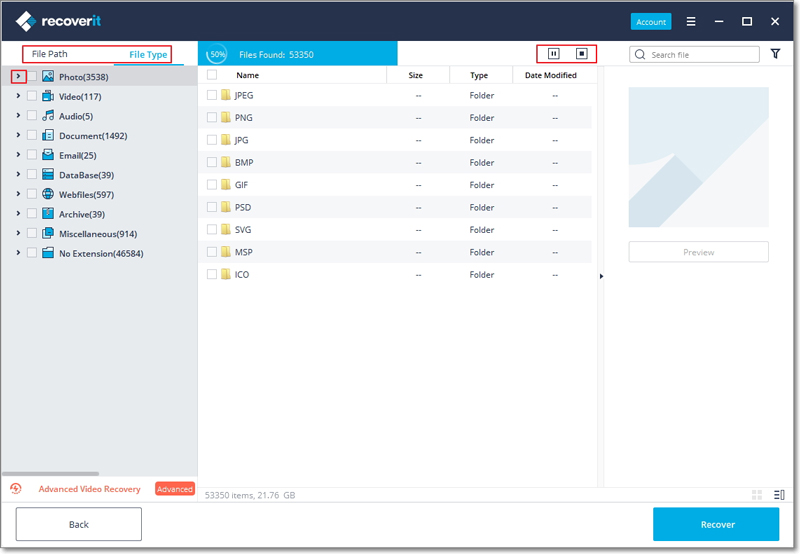 When the scanning is running, you can add filters to let the software search for the specific file. During the scan, if you have found your deleted PDF file, you can even stop it in-between. However, if the scan completes and but you have not got your lost PDF file, you can try "advanced search."
The "advanced" feature allows the software to do an in-depth search and look for the deleted PDF file.
Step 3: Preview and save
When the scan completes the software allows you to preview your recovered files it. After verifying your PDF file, click on the "Recover button and save the file to the required location.
Note: While selecting the location to save the recovered file, it is recommended never to save on the same path from where you have lost your data. This can overwrite your precious data.
With this step, you have successfully recovered your important PDF file.
The Bottom Line
PDF files saved on your computer or any other storage media can get damaged or corrupted anytime. The reason for data corruption can be any, but you can easily recover them. We have discussed various ways of recovering your damaged or corrupted PDF file. Stellar Repair for PDF is the most recommended software to recover your PDF files.
However, during the recovery process or while working on the PDF file if you accidentally delete your file, Recovereit Data Recovery software can help you in recovering it.
Rescue & Fix Files
Recover Document Files

Repair Document Files

Recover & Repair More

Clear & Delete File