If you have images of your vacation that are stored on your PC. And for some reason, your hard drive on your PC gets corrupted or your deleted those photos from your PC by mistake. So here we need a best PC file recovery software for windows files recovery. There are many PC data recovery software out there in the market.
There is few PC data recovery software that only restores the deleted files from PC. But Recoverit data recovery software not only recovers the files of PC which are deleted, but also it restores files from the corrupted file. This is best features ever of PC data recovery tool. This tool supports all kinds of format for the restoring process. Here we will discuss the process of PC data recovery.
The Best PC File Recovery Software
Now, by mistake, you deleted those files or your PC hard drive gets corrupted. So here all your data is gone. The next step you think is for PC file recovery software. This can also be called as computer data recovery. When you start thinking of computer data recovery, all you need to do is to search for Recoverit data recovery software. This is the best tool for computer data recovery. In fact, it's simple UI makes it easier to use. The UI of PC data recovery software is so simple that even a non-techie guy can use this recovery tool for windows file recovery. This tool is mostly used for recovering all sorts of file format. It can recover files in situations like virus damage, accidental delete, and hard-drive crash, reset without backup.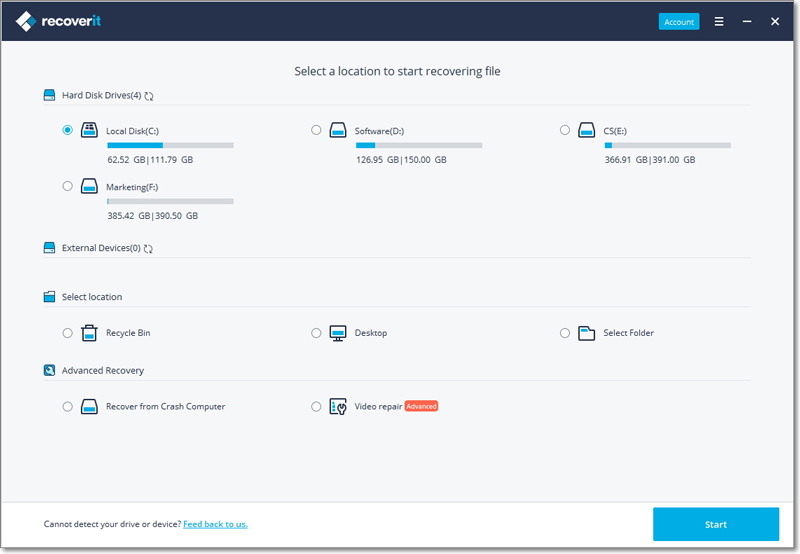 Recover lost or deleted files, photos, audio, music, emails from any storage device effectively, safely and completely.
Supports data recovery from recycle bin, hard drive, memory card, flash drive, digital camera and camcorders.
Supports to recover data for sudden deletion, formatting, hard drive corruption, virus attack, system crash under different situations.
How to Recover Lost Files on PC Computer
Download Recoverit PC file recovery software to you PC computer, and follow the next simple steps to deep scan your PC hard drive.
Step 1 Make sure your remember where your file lost from,select the location and click the "Start" .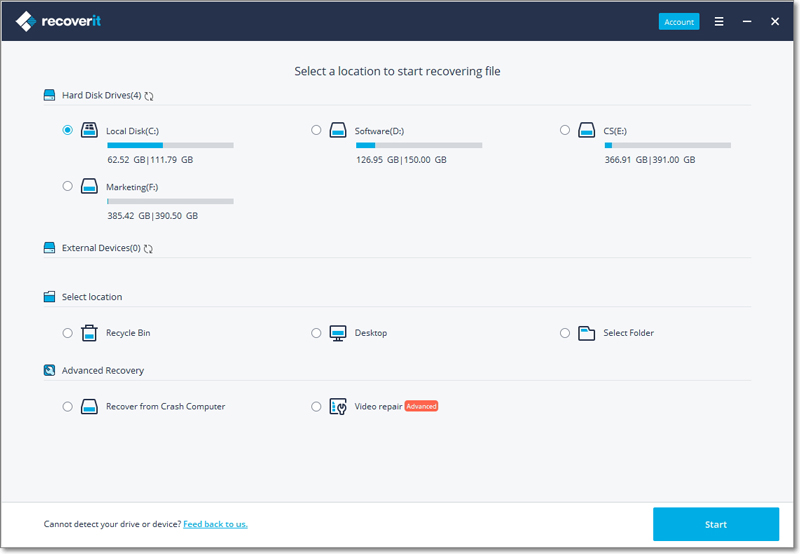 Step 2 Recoverit will start an all-around scan. Usually, it will take a few minutes to finish the scanning. Sometimes, a few hours are required if many large-sized files are present.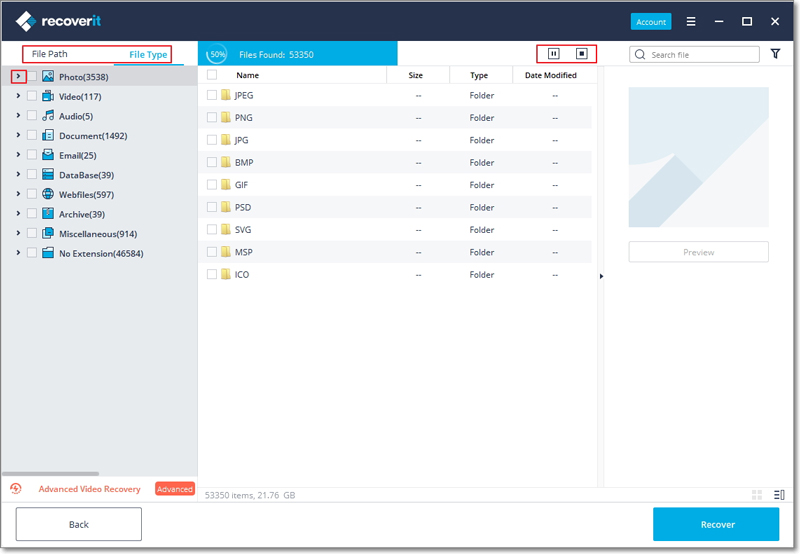 Step 3 After the scan come to the end, you can preview all the recoveral files. Pick your targeted files and recover your lost files within one click.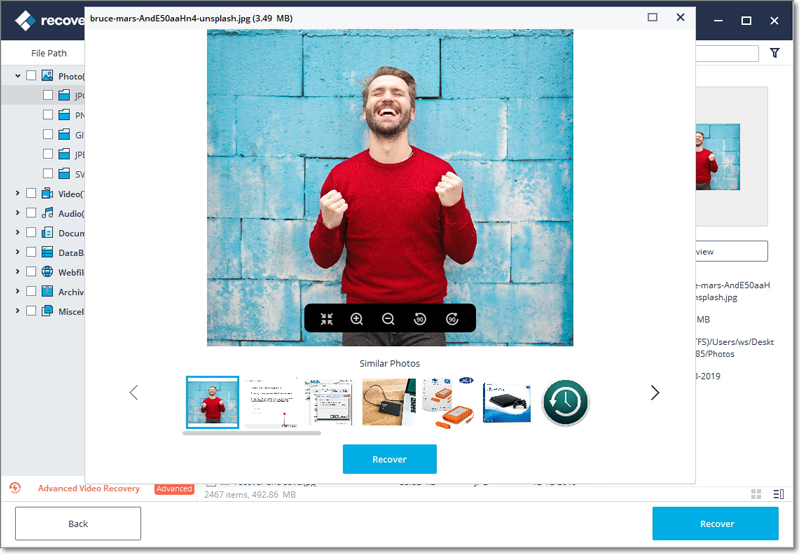 Tips for PC File Recovery
As you delete all your important files, images, videos and other documents. Take a backup of all these files using backup and restore tool. You can search for backup and restore tool out on the internet. Or you can take a backup of those important files on a separate hard drive or on some other storage devices like a flash drive or some external hard drive.
Always have an antivirus on your PC. As antivirus help, you detect a virus and remove the virus. Antivirus removes all those unwanted shortcuts and makes your PC clean. When most people see those shortcuts on their PC they tend to format it. But it is crucial to have an antivirus program on PC to be safe from. As every day lots and lots of new viruses are created.
If you do not have an uninterrupted power supply (UPS) on your computer and you incur power loss you may lose data if the was files being transferred on your Hard drive. Unexpected system failure is another major cause of data loss. A system failure occurs when the hard drive is corrupted which in turn results in operating system configuration files.
Keep your in cool temperature. If you keep your PC in a hot place then it is most likely to hang a lot. And the result is to immediate shut down i.e directly from the main switchboard. Actually, this harms PC and result in loss of important PC files. Also keep your PC away from dust. And the reason behind it is when dust enters the PC it sits on the motherboard and the result is it becomes hot and you need to do an improper shutdown.
Video Tutorial on How to Recover Deleted Files on Windows 10/8/7 Easily?
Rescue & Fix Files
Recover Document Files

Repair Document Files

Recover & Repair More

Clear & Delete File