How to Perform Excel Recovery after Computer Crash
In the given article, we take up the issue of saving our Excel workbooks from unforeseen computer crashes. As we all know, computer crashing randomly can be frustrating, and therefore, it is important to have a mechanism in place that can help you save your Excel files before things get out of control. As we discuss the "Computer Crash Recovery Excel" aspect of troubleshooting, we ponder upon all the techniques that can come in handy if one is looking to save their crucial charts and statistical data. For the ones who are looking for solutions to the problem of computer crashing randomly in Windows 10, you can check out other articles in this category on our website.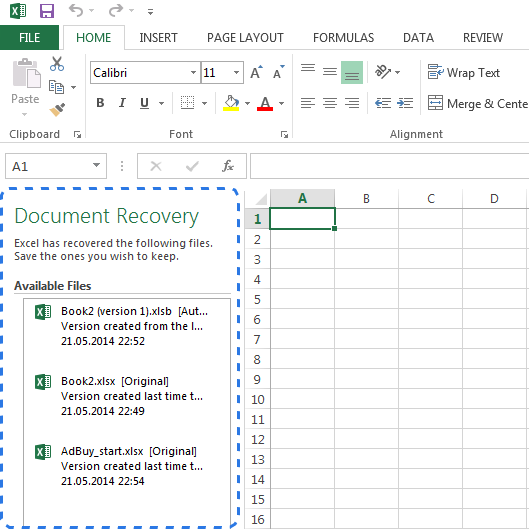 In the following sections, we are going to see how one can save their Excel files without having to worry about the computer getting crashed and accomplishing the "computer crash recovery Excel" process.
Excel AutoSave and Auto-Recover:
For the users working on Microsoft Excel, the program offers features such as Auto-Save and Auto-Recover. However, not many users have sufficient knowledge about the features that must be enabled within the program. Please note that these features are inbuilt in all the MS-Excel variants released in and after 2010.
Let us understand how the Excel Auto-Save tool works. This tool automatically saves every new document that you create, but haven't saved yet. This feature is particularly helpful if one is working on a desktop or with an external peripheral and there are chances of a computer crash or power failure.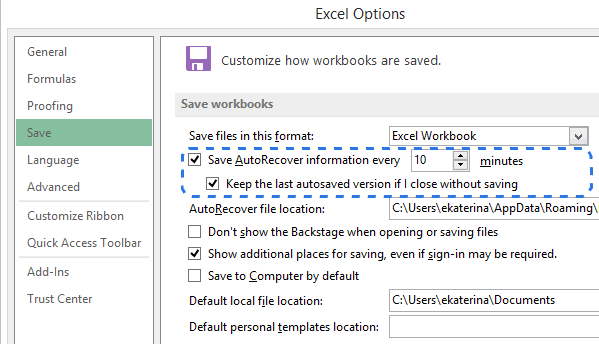 On the other hand, the Excel Auto-Recover function is instrumental in helping users regain their unsaved files after an accidental closure or crash. This feature helps you restore the last saved version of your Excel workbook, which is also displayed in the "Document Recovery" pane when you reboot your MS-Excel.
One must understand that the Auto-Recover feature only functions on the Excel files that have been saved, and saved at least once. The document must be saved before the crash occurs, else the document recovery pane would never show up in Excel.
However, users not familiar with the technicalities of these functions shouldn't worry much as they have been turned "On" by default within the program, and users have the provision to manually turn it on in case it isn't.
Configuring Auto-Save Settings in MS-Excel:
In the following section, we shall understand how users can configure the auto-save settings in MS-Excel.
You first have to go to the "File" tab and select "Options" from the "File" menu.
Follow it up by clicking on "Save" on the left-hand pane of the "Excel Options" dialog.
To ensure that the "Save Auto-Recover information every X minutes" and "Keep the last auto-saved version if I close without saving" are ticked.
Finish by clicking on Ok.
Please note that by default the auto-recover feature is set to save the changes made to your workbook every 10 minutes. However, users are free to increase or decrease the interval as per their choice. One can also look to change or modify the "Auto-Recover" file location and specify the locations of "Auto-Recover".
Working on the "Computer Crash Recovery Excel" process;
In the following section, we learn how to restore an Excel file that was not saved. This is a fairly simple process and requires you to seek guidance from the shots attached.
Start with going to File>Open

You then have to opt for "Recent Workbooks"

You have to move down and then click on the "Recover Unsaved Workbooks" option, which lies at the bottom of the list.

After the "Open" dialog box appears, all you have to do is select the necessary file and choose "Open".
The document will then open in Excel and the program shall prompt you to save it. You can click on the "Save As" button which appears in the yellow bar above the worksheet you are working on, and save it on the location of your choice.
Recovering Overwritten Excel Files:
If you are looking to recover the overwritten Excel files, it has been made possible by the variants released in and after 2010 in MS-Excel. One can also recover different versions of their documents which prove to be helpful. For the ones who keep getting confused within the changes they make to their documents, this feature is particularly helpful.
Start by clicking on the "File" tab and then choose "Info" which appears on the left-hand pane. Alongside the "Manage Versions" button, one can see all the auto-saved versions of their documents.

At specific intervals, Excel has the facility to save the versions of the workbook, but only if the changes have been made to the workbook. Each version comes with a date, time, and most importantly, an "auto-save" note. Clicking on any of them would help you compare the different versions.

For the users who found their program to be closed incorrectly, the last auto-saved file is labeled with the words (when I closed without saving).

Video Tutorial on How to Recover Unsaved/Deleted Excel File
How to Recover Excel File with Recoverit Data Recovery
However, what if you are not able to see your Excel file in the hard-disk and wish to recover it? In this case, we turn to Recoverit Data Recovery Software that proves to be instrumental in helping you locate all your files.
Recover lost or deleted files, photos, audio, music, emails from any storage device effectively, safely and completely.
Supports data recovery from recycle bin, hard drive, memory card, flash drive, digital camera, and camcorders.
Supports to recover data for sudden deletion, formatting, hard drive corruption, virus attack, system crash under different situations.
Preview before recovery allows you to make a selective recovery.
Supported OS: Windows 11/10/8/7/XP/Vista and Mac OS X 10.10 - macOS 13 (Ventura) on iMac, MacBook, Mac Pro, etc.
3981454 people have downloaded it
Simple steps to recover lost Excel files
Free download Recoverit Excel file recovery software. It is a 100% safe and effective file recovery software to perform "Partition Recovery", "Deleted File Recovery" and "RAW Hard Drive Recovery".
Step 1. Make sure you still remember where your Excel file saved. Select the target location to start scanning lost Excel files.
Step 2. Recoverit will start an all-around scan. Usually, it will take a few minutes to finish the scanning. Sometimes, a few hours are required if many large-sized files are present.
Step 3 Preview and check the lost Excel files and click to recover your files.
Conclusion:
Working on the "computer Crash Recovery Excel" mode can be a tricky affair for the users who haven't gained a basic understanding of how the functionality works. However, with the troubleshooting techniques in place and other data recovery options, the "computer Crash Recovery Excel' process can be accomplished.
Rescue & Fix Files
Recover Document Files

Repair Document Files

Recover & Repair More

Clear & Delete File
Other popular Articles From Wondershare