Files can be lost from your computer or other devices for different scenarios, such as deletion, formatting, virus attack or system error. Once files are lost, there are 3 solutions for you to retrieve them:
Recover lost files from preview backup if you have;
Recover deleted data from Recycle Bin (Windows PC) or Trash (Mac) if they haven't been totally emptied;
Get data recovery software.
In our experience, the first two solutions are not as useful as we expect in most occasions. Normally, we're likely to find a data recovery program for help. But since data recovery software in the internet are so complicated that it's always hard for us to select the most useful and reliable one. What's even worse, most of data recovery programs are paid software. The free or trial versions of them only offer you limited recovery functions. This is really misery.
Is there a data recovery program that is powerful but free? The list of free data recovery software is properly prepared here. We have picked 5 free data recovery programs for you to choose from in this article.
Top 1

Recoverit Data Recovery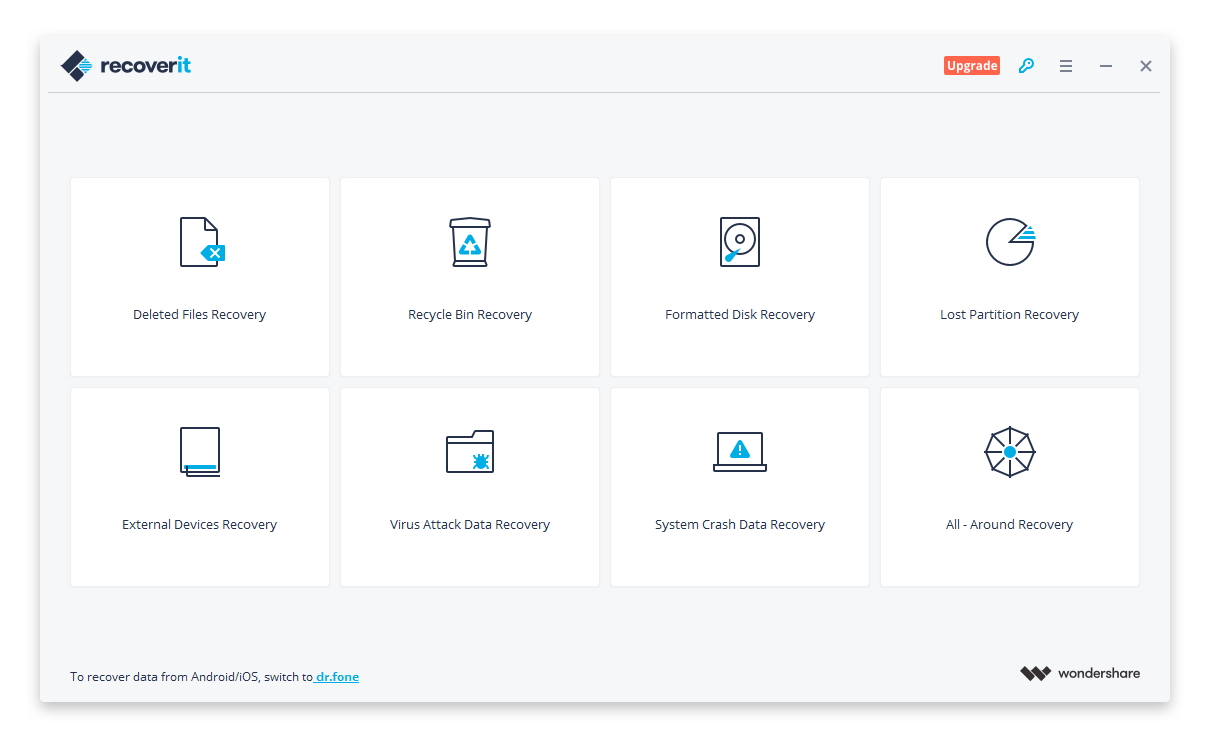 Recoverit Data Recovery is one of the advanced technology among these 5 free data recovery programs. It is a utility helps you to retrieve important work documents, photos, videos or music from both local drive on your computer or external storage devices including memory card recovery, external hard drive recovery, usb drive recovery and so on. in any data lost situation. It provides a varies option to meet your data lost situation including scenarios of deleted files recovery, recycle bin recovery, formatted disk recovery, lost partition recovery, external devices recovery, virus attack data recovery, system crash recovery and all around recovery. Users can simply click on what they meet from the data lost disaster. The free data recovery solution offered by Recoverit has covered all your need from quick scan, all around scan and deep scan.After scanning, you can sort files in file types such as "Pictures", "Music", "Documents", etc. You'll also be able to save recovered files with their path structure intact. In all, Recoverit free data recovery's clear interface helps you to recover all lost data with ease with the top success recovery technology in the industry.
Pros:
Provide all the different data lost scenario solutions
It is easy to use even without guide
Highest recovery success rate and 24*7 technology support
All Windows system and Mac OS system are capabible with the data recovery tool
Cons:
Free version is limited to recover only 100 MB. However, it is fair enough for users' need.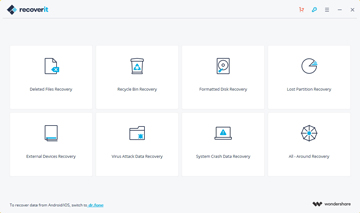 Recover lost or deleted files, photos, audio, music, emails from any storage device effectively, safely and completely.
Supports data recovery from recycle bin, hard drive, memory card, flash drive, digital camera and camcorders.
Supports to recover data for sudden deletion, formatting, lost partition, virus attack, system crash under different situations.
Top 2

Recuva (Windows)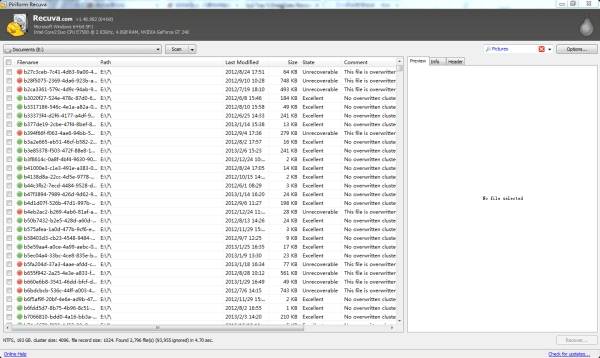 Recuva, one of 5 free data recovery program, is a famous free data recovery software specially designed for Windows. You can use its Wizard mode or manual mode to restore lost data from your device.
The Wizard mode let you customize search type to "All Files", "Picture", "Music", "Documents", "Video", "Compressed" or "Emails". Then you can set the search location to everywhere on your computer.
Pros
Powerful wizard mode with detailed guide;
Detailed states of found files will be shown in the window: recoverable or unrecoverable;
There is a handy version for you to install it on a usb drive or an external hard drive;
It's totally free, and there's no functional difference between free version and paid pro version;
All Windows OS supported: Windows 8, Windows, Windows 2008 Server, Windows Vista, Windows XP , Windows 2003 Server.
Cons
Not all original file names are available. You can only view some of original found file names;
Files are not sorted in file types in manual mode;
You can only preview some of pictures.
Top 3

Undelete 360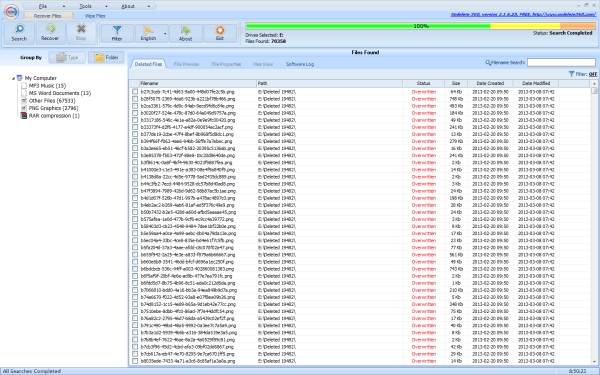 Undelete 360 is a user-friendly and useful utility that suits for all versions of Windows and Windows file systems. It effectively recovers files lost due to many reasons like intentional or unintentional deletion, software or hardware failure, Trojan infection, or even unexpected system shutdown. You can sort found file by "Type" or "Folder". You can tell how damaged the file is according to "Status" column in the window.
There is a paid professional version of the program. You can't use "Filter" option, as well as sort file in "Folder" category, the free version is still a reliable and powerful data recovery tool for you to restore your lost data.
Pros
Amazingly fast scanning speed
Clear states of found files are displayed. All found files will be noticed in red "Overwritten" and green 'Very Good" status.
Cons
Many functions in the window are not available, such as "Wipe Files", "Group By Folder" and "File Preview". You need to upgrade to professional version to activate them.
Not all files are listed with original names. Sometimes it would be hard for you to get what you really want to retrieve.
Top 4

Pandora Recovery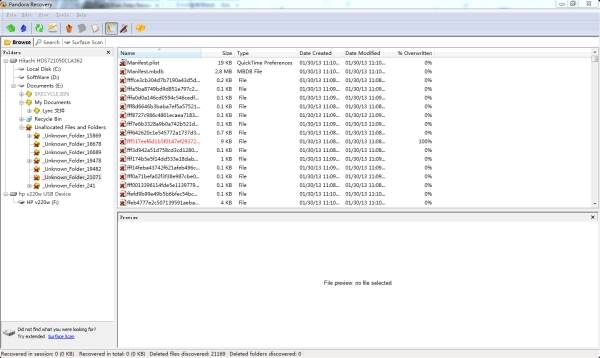 Pandora Recovery is a free data recovery software that recovers lost files from NTFS and FAT-formatted volumes. With it, you can recover pictures, videos, audio files or documents.
What makes it so special is that you can browse the hierarchy of existing and deleted files, or you can use search functionality to find a deleted file if you remember file name, file size, file creation date, or file last accessed date after scanning. You can preview both image file types and text file types before recovering them.
Pros
Offers different scanning options: "Browse scan" and "Surface scan";
Wizard Mode with detailed instructions is available;
Recovers Archived, Hidden, Encrypted, Compressed files
Quick Viewer allows you to preview image file types and text file types;
Nicely-designed searching features
Cons:
Files are not sorted in file types. You need to use "Search" function frequently to get what you want;
The utility doesn't support all file types;
The interface is not very clear that it might be a little bit difficult for newbie to use it.
Top 5

Wise Data Recovery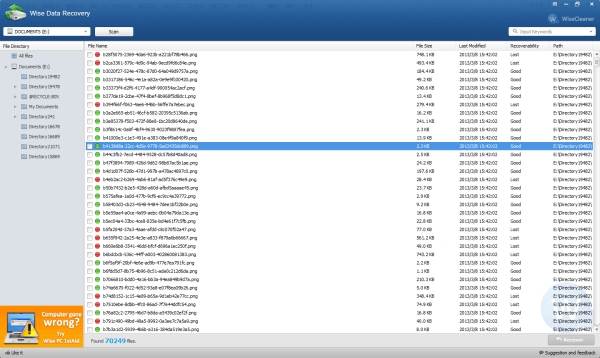 Wise Data Recovery is a tiny and fast free data recovery program that runs on Windows PC. The really clean interface of the utility helps you to recover deleted pictures, videos or audio files within several simple clicks. The program's clean menu makes it rather simple to find and select the exact file you want to recover.
Pros:
This is a tiny utility with easy-to-use interface and fast scanning speed;
The recoverability of found file will be clearly displayed in "Good", "Poor", "Very Poor", or "Lost" status;
Last modified time of lost data will be displayed in the program window.
Cons:
You'll not be able to preview found files;
Found data is listed in physical directory other than in "Folder" or "File Type" categories.
Conclusion:
All free data recovery programs in this list are reliable, and they're good enough for normal data recovery requirement. Now that you have so many free data recovery programs in option, it's time for you to select the most suitable to restore your deleted files now!