I will need to migrate OS/App/data from 1TB HDD to a 500GB SSD. Does the Samsung Migration software allow me to migrate data from a larger drive to a smaller volume IF the source's used data fits the capacity of the smaller volume? Please no guesses. Only answer if you know for certain, based on previous experience with this specific scenario, on this specific software. The laptop is not yet in my possession and the SSD is not yet purchased. If it ends up being necessary to purchase a larger 1TB capacity SSD, then other laptop upgrades must be eliminated, to balance the upgrade budget.
Cloning your HDD to SSD is sometimes an important task that you perform to secure your data and to create a backup that avoids any potential data loss. Faulty drives, bad sectors or virus and malware attacks can cause the data loss. If you clone HDD to SSD windows 7 or 10, you can protect your data. If you are using Samsung device, you surely need a Samsung SSD clone software for Samsung hard drive clone. This article is all about the ways you can proceed with the process of cloning by using Samsung clone software.
Cloning HDD to SSD requires a high end Samsung SSD clone software for Samsung SSD backup. The software is basically a migration tool termed as Samsung data migration (SDM). Being a free tool for serving windows 10/8/7, it helps efficient migration of data and skips the step for reinstalling the OS and applications. But here comes a potential question.
Why you even need to clone Samsung HDD to SSD?
As for the answer, here are some of the reasons.
Your HDD is facing short comes while running the operating system in hard disk drive.
Fault hard disk drive due to bad sectors, physical damage or virus or malware attacks that leads to an urge of sending your device to repair center, you first have to clone the HDD to SSD.
General backups is your goal. To protect your data, you have to create at least one clone copy at hand.
In case, your device is connected to a loop of several devices in which you have to install the operating systems, a clone created on SSD can act as a source to for operating system.
At times, when you are planning to sell your device and you need to create a copy of your important data, you can clone HDD to SSD windows 7 or 10.
For all above reasons, you have to clone HDD to SSD. This article will explain how you can achieve cloning. Following are the topics that would be discussed in detail.
Part 1: Samsung HDD to SSD Clone Software-Samsung Data Migration
As mentioned above, the software that is required to clone HDD to SSD windows 7 or 10 i.e. the Samsung SSD clone software is termed as Samsung data migration (SDM). Being a professional data backup tool, SDM allows you to transfer all the files and file systems from existing HDD to new Samsung SSD. Not only the files systems, the operating system of one device when cloned can be transferred to another device and skips the process of reinstalling. Even if you have a smaller Samsung SSD, you can still clone a larger HDD to it via SDM.
While using the SDM, here are some of the points that needs to be pondered upon.
Any data saved on the Samsung SSD prior cloning process should be backed up at first. In process of cloning HDD to SSD, the data present on SSD would be deleted and cannot be recovered.
This Samsung SSD clone software i.e. SDM is not at all an alternative for backup software. In case of any data loss, you definitely need a third party data retrieval or backup software for recovering the data.
In case, if the process of cloning fails, it is not going to affect the data present of source disk i.e. HDD.
Prior cloning, make sure you have installed all the essential drivers i.e. Samsung NVMe Driver.
Once you have checked all the points, you are good to go for making a clone of HDD on Samsung SSD.
---
Part 2: Limitations of Samsung Data Migration
This Samsung backup software for windows 10 or Samsung backup software windows 7 i.e. SDM where on one hand is quite efficient in its process to clone HDD to SSD windows 7 or 10, on other hand it do carries certain limitations. Here are some of those short comes that may impede the process of cloning.
SDM is only applicable for parts and types of Samsung SSD products. It is not appropriate for any device other than the Samsung products.
The software does not clone the files that are currently running on the device i.e. any open files.
In case, if there more than one disks on your device, only the current system disk can be cloned via SDM.
Sometimes, the SDM fails to clone the HDD to SSD, or it can stuck with an error message i.e. Samsung data migration not responding. This preferably means you need another software support to clone the HDD to SSD.
---
Part 3: How to Clone Samsung HDD to SSD with AOMEI Backupper?
As mentioned above, in case, if the SDM fails to work on your Samsung SSD for making a clone of HDD, or it stuck or not responding, or even if you are using the products other than Samsung, you now need another strategy for cloning HDD to SSD. For this you need a third party application software i.e. a backup software to create a Samsung hard drive clone. Out of all, one of the potential third party professional software in market is AOMEI Backupper.
AOMEI Backupper, is an all professional tool used for free disk cloning and like the SDM it do supports Samsung SDD along with all other devices and products. Similar in operation like SDM, it helps to clone the HDD to SSD and eliminates the step of reinstalling the operating system or applications. High on data security, you can easily transfer all data without any data loss. Moreover, with hot clone technology, you are allowed to use your device while the software will proceed with the process of cloning. The software provides certain efficient features like resizing of partitions, aligning of partition and sector by sector cloning.
Here are the steps to use the software.
Step 1: Start the process with downloading and the installing the software on your device. Secondly, install Samsung SSD to the device.
Step 2: In the main menu of the software, select the option of Clone and then select the disk cloning in sub-menu.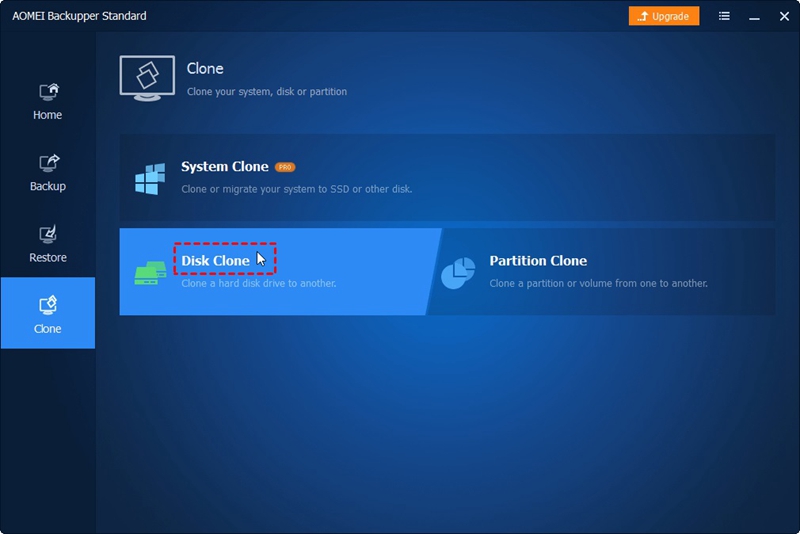 Step 3: In disk clone option, search for your targeted hard drive (source drive).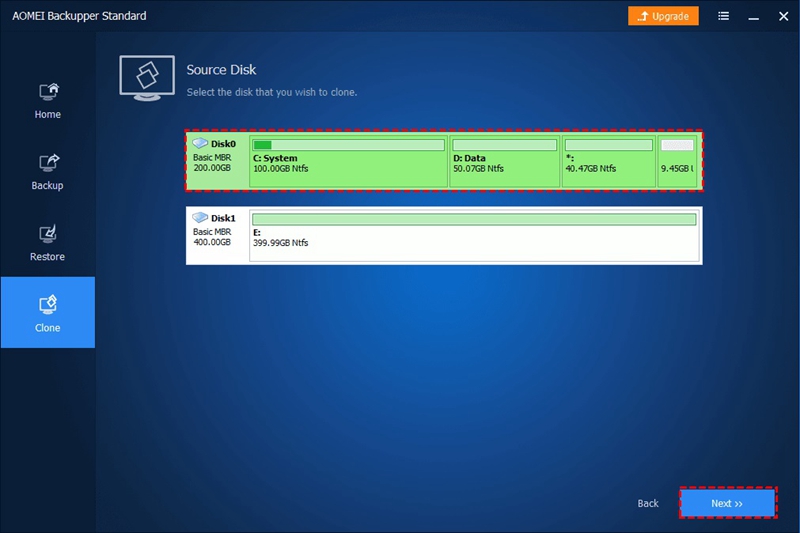 Step 4: Now select the Samsung SSD as the destination drive.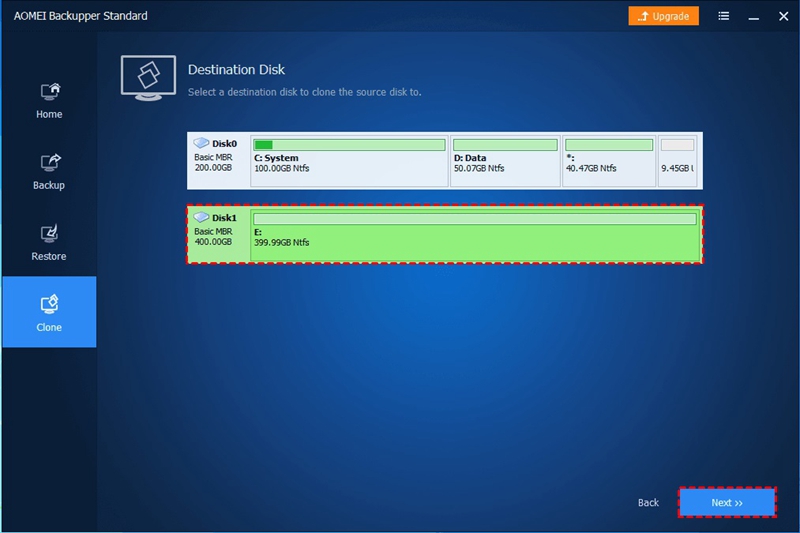 Step 5: Once both drives are selected, check for the SSD alignment and the click clone to continue the process.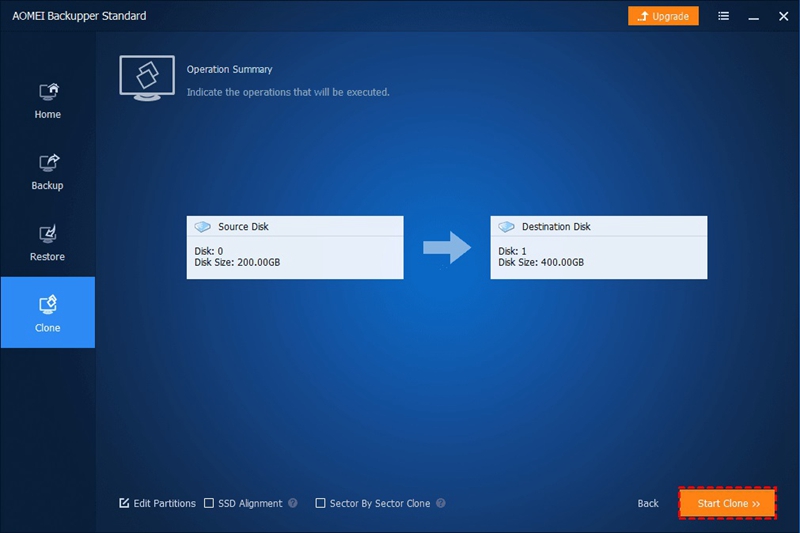 Step 6: Lastly, replace the drive and boot priority.
Hence, be it any of your reasons for cloning the HDD to Samsung SSD windows 7 or 10, this article explained all about the SDM (Samsung data migration) i.e. the Samsung SSD backup software. It easily helps to clone the HDD to Samsung SSD to avoid any data loss or reinstalling the operating systems and applications. Dealing with certain drawbacks or limitations associated with SDM, here in this article, a powerful alternative in the form of AOMEI Backupper. It is a third party application software to clone HDD to SSD for Samsung as well as products belonging to others. Packed with super features, it helps to edit the size of partitions. It also provides an option for sector to sector cloning and also assists for aligning the partition to optimize SSD. O in case you are targeting or disk cloning, and your SDM mechanism fails to work, you exactly know that AOMEI Backupper is going to facilitate you similarly and you can end up creating clone of HDD to SSD.
Data Backup Services
Computer Backup

Hard Drive Backup

Mac Backup

Cloud Backup