It's no wonder that data loss can happen to anyone. But we do understand how painful it could be to lose your dear photos from Picasa and on top of that you do not even have back up on them. In such a situation recovering deleted Picasa photos becomes imperative. If you also are looking for a powerful tool that can help you to perform Picasa photo recovery and recover deleted photos from Picasa within just a few clicks, you have landed over to the right place.
In this article, we have brought to you the best free photo recovery tool along directly with its download link below for your convenience, if you want a quicker way to recover deleted Picasa photos automatically. Just download it and follow to recover deleted Picasa photos right now.
---
Part 1: Some Common Picasa Photo Loss Scenarios
Most people have no idea about why their Picasa photos can be lost? In fact, there are some possible photo loss scenarios. Here in this section, let's talk about a few of the data loss scenarios that quite commonly happen with every other person at some point in their lives.
Accidental deletion
It is the most common situation that can happen to anyone. As you could have accidentally tapped the "Delete" button instead of "Cut", "Copy" or "Paste" which could have triggered the data loss and you are then left with no clue how to recover photos from Picasa web/desktop albums back.
Virus/Malware attack
You or your friend may have plugged in an infected removable device to your computer or you may have unintentionally downloaded some files from the Internet that are some sort of infection and eventually, corrupting or deleting your data.
Errors occur while installing or uninstalling the Picasa
There are times when you may also have experienced that interruption due to errors while installing or uninstalling or failed attempts to get Picasa in your computer may also trigger data loss to some extent and Picasa
photo recovery
then becomes imperative for you.
Intentional deletion but regret
Sometimes, we may also face a situation where you delete photos intentionally from our storage media assuming that you wouldn't need that in the future. But suddenly, out of the blue, you discover the use of that deleted data soon after you removed it and then regret for your actions.
Well, we can understand how miserable a situation is when you're not a tech savvy person and have no idea what to do or how to recover deleted photos from Picasa back into your possession. Don't worry, we've got your back! Read further in the article and we'll provide you the best solution for Picasa Photo recovery.
---
Part 2: Why We Need Picasa Photo Recovery Software?
Well, after deletion, there are only two ways to retrieve Picasa Photos back to your Picasa application. Either, you have to restore them from Recycle Bin/Trash or recover Picasa deleted Photos from the backup folders that you may have on your computer.
Now, there could be a possibility that you might have not made any backup in your past or may also have emptied your Trash/Recycle Bin. In such a situation, don't panic and relax.
First, you need to immediately seek help for a Picasa Photo Recovery software that can help you to retrieve Picasa photos back. Yes, this is possible, your photos or any other data don't actually get deleted permanently when you delete them.
Rather, the data become hidden and inaccessible, waiting to be overwritten with the new data. This is where you need data recovery software to search for that data and make it accessible again.
Enough of the talking now, let's explore the recommended way to recover deleted pictures from Picasa with best Picasa Photo Recovery.
---
Part 3: The Best Picasa Photo Recovery Software
Today we have brought to you the best way, i.e. Recoverit data recovery to retrieve your deleted Picasa photos back into your possession. This third-party Picasa photo recovery is a trusted and a recommended free data recovery tool by millions of users worldwide.
With this powerful tool you are more likely to retrieve your photos back and that too, in just 3 simple steps. It can not just recover Photos, but also enables the users to recover almost all major data types and with the highest success rate in the market. Here's a quick snapshot of the key features of Recoverit free Picasa photo recovery software.
Recover lost or deleted files, photos, audio, music, emails from everywhere effectively, safely and completely.
Supports data recovery from recycle bin, hard drive, memory card, flash drive, digital camera and camcorders.
Supports to recover data for sudden deletion, formatting, hard drive corruption, virus attack, system crash under different situations.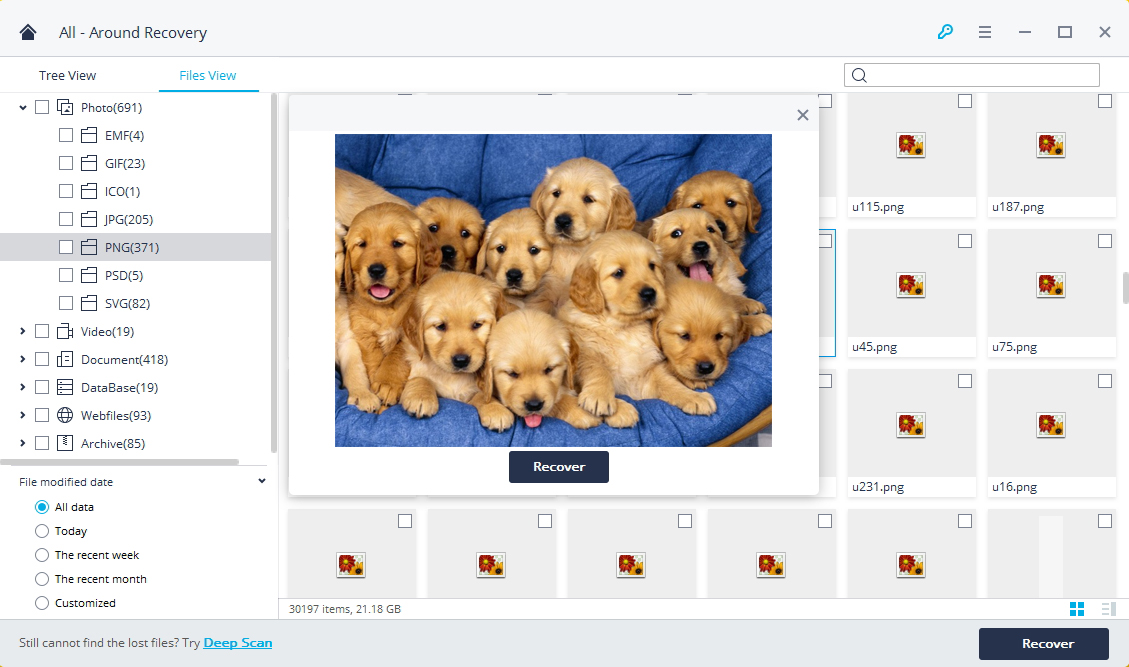 Part 4: How to Recover Deleted Photos from Picasa?
In this part, we offer both text guide and video tutorial below to demonstrate how to recover deleted Picasa photos with the best Picasa photo recovery software
1. Video Guide to Picasa Photo Recovery
Watch the one-minute video and get the solutions to recover deleted pictures from Picasa with consummate ease.
2. How to Recover Picasa Photos with Recoverit Photo Recovery
After you download and install Recoverit Picasa photo recovery, launch it and follow the guide below step by step. Here we take the Windows version of Recoverit as an example to show detailed steps. Mac users can turn to Recoverit for Mac. The steps are the same as the Windows version.
Step 1
Choose a corresponding recovery mode
From the main screen of the Recoverit Picasa photo recovery, hit on the "Deleted Files Recovery" option and proceed to the next step.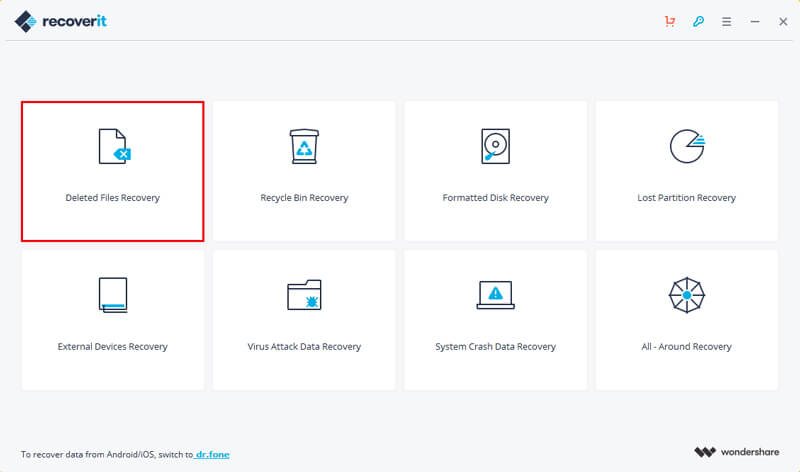 Step 2
Select the location to scan
You are now required to select the drive on which your Picasa photos were stored, choose the one and hit on 'Start' button to initiate the quick of your lost data.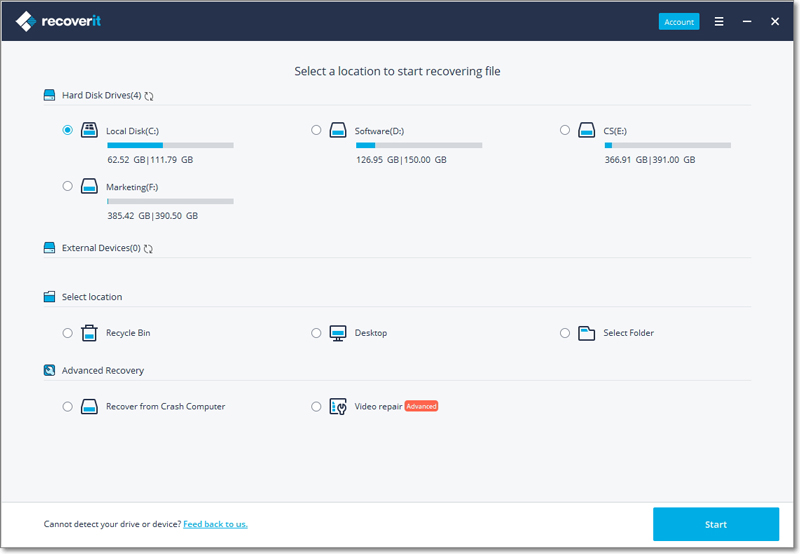 Step 3
Scan your Picasa photos
If you can't find your deleted Picasa photos after the quick scan, you can try a deep scan by entering "All-Around Recovery" mode to search more files deeply from hard disk. It will take a longer time to complete.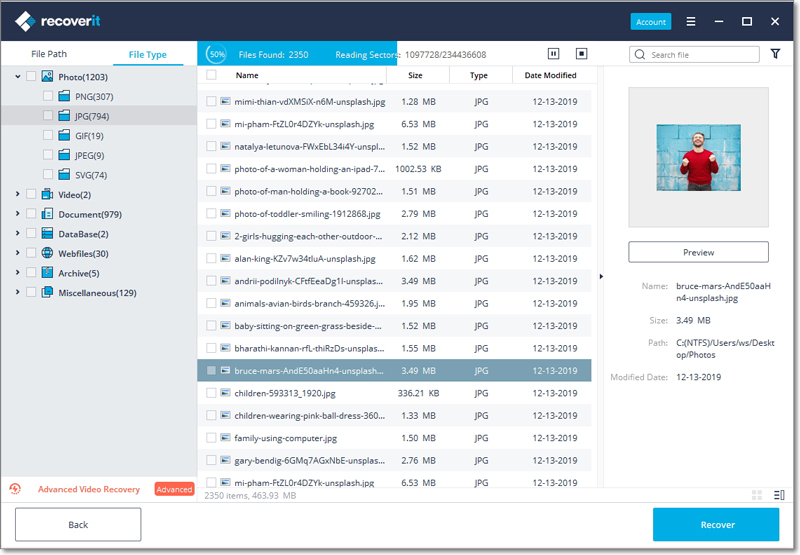 Step 4
Preview and retrieve Picasa photos
1Once the scan has been completed, all your detected data will then be available on your screen for your preview in a categorized manner.
2Select the photos that you wish to recover by marking the checkbox besides them. Lastly, hit on the "Recover" button to initiate the recovery of your deleted Picasa Photos.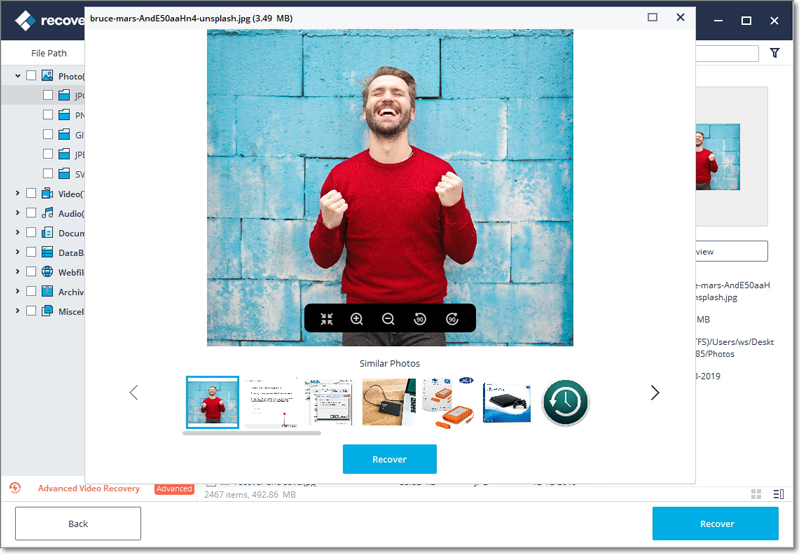 That's all about how to recover Picasa photos that got lost. Simple it was, isn't it? If you accidentally lost your photos, you can try the Recoverit photo recovery software, it will not let you down.
---
Extension: Some Useful Tips to Manage Photos on Picasa
First, let's get a bit familiar with Picasa. In 2002, Lifescape developed a renowned image viewer, organizer and editor for your digital Photos and named it as Picasa. In mid-2004, Picasa got acquired by Google and then was offered as a freeware for the users worldwide.
With Picasa, users have the privilege to organize, track, edit or Geo-tag their photos at ease along with a unique feature of facial recognition which enables them to perform advanced search. Moreover, Picasa used to be a desktop application cum web based service that smoothly runs on different Operating System variants like Windows, Mac and Linux. But it later got discontinued by Google in March, 2016.
All in all, it is a useful and popular image organizer and viewer. Except its main features, today we are going to introduce a few tips for your convenience about managing your photos using the Picasa Photo editor and organizer.
1. Tag with Keywords
The first tip is to make use of Picasa Photo viewer the appropriate way. Make sure to tag your photos using keywords that remind you of that particular image or you can also set a category name in the keyword to categorize the images.
For this, down the "Ctrl" button and click on the photos that you wish to set a specific keyword.
Now, once you're done with the selection, hit the "Ctrl"' button again along with the letter "K" and then you can add keywords to the selected ones.
Tag with Keywords
2. Geo-Tagging with Google Earth
Consider Geo-tagging your Photos using Google Earth. Geo-Tagging will automatically capture the coordinates of the geographic location on the earth informing you about where the picture has been shot.
For this, you must have Google Earth installed on your computer already. Select the desired photos and head to "Tools", then tap on "Geotag" option and click on "Geotag using Google Earth".
Now, drag the crosshair icon to the desired location on the map and finally hit "Geotag" button.
Geo-Tagging with Google Earth
3. Batch Edit Mode
You can also choose the "Batch Edit" mode to apply a custom setting for all of your selected Picasa Photos in one go.
For this, select the desired photos that you wish to edit altogether.
Then tap on "Picture" tab available in the top menu, hit on "Batch Edit" option and then choose the preferred editing feature.
Batch Edit Mode
4. Export or Publish as HTML
With Picasa, you can also export your Photos as HTML Pages for web based usage needs. For this, tap on the 'Folder/Album' tab available in the top menu and then hit on "Export as HTML Page".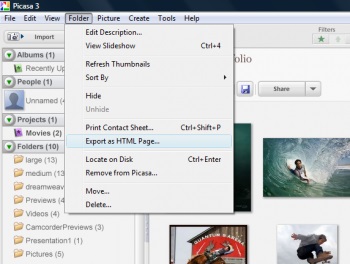 5. Keyboard Shortcuts for Picasa
Here we have mentioned the widely used keyboard shortcuts to help you manage your photos effectively.
Ctrl + Shift + B: Apply black & white effect
Ctrl + Shift + H: Flip-horizontally
Ctrl + Shift + V: Flip-vertically
Ctrl + A: Select all photos
Ctrl + 1: View as small thumbnails
Ctrl + 2: View as large thumbnails
Ctrl + 3: Get your photo into "Edit Mode"
Ctrl + 4: Initiate Slideshow
F11: Full-screen Mode
Coming towards the end of today's post, we are now positive that you are well familiar with the recommend and the best way - Recoverit Data Recovery to recover deleted photos or any other lost data from any of your removable/storage media.
So, next time you face any sort of data loss, you need not to panic but instead opt for Recoverit Picasa photo recovery tool that will effectively and efficiently retrieve your lost data back to you in a short while!
Fix Media File Issues
Recover & Repair Photos

Recover Videos

Repair Videos

Recover & Repair Audio

Recover & Repair Cameras