How to Recover Deleted/Lost Data from Toshiba Exceria Pro Flash Memory Card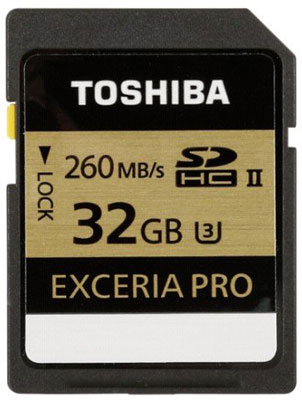 You can find a lot of valuable information about Toshiba Exceria Pro Flash Memory Card by accessing Toshiba-memory.com It is said to be the world's fastest SD card with a fabulous writing speed of 240 MB/s and a surprising reading speed of up to 260 MB/s.
In the following sections, we're going to talk about Toshiba memory card recovery, and then give you a tutorial on a flash memory card recovery software I recommend you should use in case your SD card becomes inaccessible. You will also learn more about the causes of SD card crashes and in the end, I have prepared for you a list of important tips you should know on Toshiba memory card recovery.
Troubles You May Meet With Toshiba Exceria Pro Flash Memory Card
If you have bought a high-end SD card and somehow in the middle of an important photo session your SD card breaks down, you probably don't even think about a Toshiba flash card recovery. You are in shock and can't explain how this could have happened even to you, right here, and at this very moment. In moments like these, it's important to remember that the best thing you could do right away to save your work, is to leave the SD card untouched. 
When you pull out your SD card from the camera or computer while it is transferring files or your device is still running, it can affect its file structure and could ultimately become inaccessible by any normal means. If your battery is running low and it dies in the middle of a shot, the wiring of the process is suddenly cut off and errors are produced. These are just some of the causes that can make your SD card unusable. Read further to find out more about our proposed flash memory card recovery solution.
Recover Deleted/Lost Data from Toshiba Exceria Pro Flash Memory Card
I am not sure what it means to you if I am saying that Recoverit data recovery has over 5.000.000 active users. Will it make to you a great Toshiba flash card recovery software? This free flash memory card recovery can recover more than 550 known file formats and is designed to be used with ease by any user, be it amateur or average user.
Recover lost or deleted files, photos, audio, music, emails from any storage device effectively, safely, and completely.
Supports data recovery from recycle bin, hard drive, memory card, flash drive, digital camera, and camcorders.
Supports to recover data for sudden deletion, formatting, hard drive corruption, virus attack, system crash under different situations.
Recoverit can effectively recover lost data from any external device including SD cards, SSDs, HDDs, external hard drives, and even your smartphone. Is data safety concern to you? It should be for all of us. However, there is nothing to worry about with Recoverit data recovery: it uses a smart algorithm that enhances data safety. You can get the Toshiba memory card recovery software presented by accessing this website.
If you have already downloaded the Toshiba flash card recovery I have talked about in the previous section now you should install it so we can proceed further with our tutorial on flash memory card recovery. If you haven't downloaded it just yet, please do so.
Before the process, the Toshiba flash memory card data recovery, connect your device to your PC computer, and launch the Recoverit Memory Card data recovery.
Step 1 Select a recovery mode. To recover deleted data from a flash memory card, you can go to select the option "External Devices Recovery" to start.
Step 2 Select the target location. Toshiba Exceria Pro Flash Memory Card will display on the path list, select it, and click the "Start" icon to start a quick scan.
Step 3 After deep scan the flash memory card, you can preview the lost files, and select the target one and recover.
Video Tutorial on How to Recover Files from Memory Card/SD Card
Important tips for Toshiba Exceria Pro Flash Memory Card
Any writing operation on an inaccessible SD card can overwrite data and make it barely impossible for it to be recovered. Leave it untouched until you get an excellent Toshiba flash card recovery solution;
Some of the SD cards are durable. However, don't push it to the limit by always keeping your SD card in humid places, with extreme temperature and magnetic fields affected places. This could wreck your card;
Always safely remove your SD card after importing files to the computer;
Always turn off your device before inserting or ejecting your SD cards;
Different cameras may use a different file structure: use only one card for one camera;
Don't ever interrupt your SD card while copying files to your computer;
Format your card in the camera after importing files to your computer instead of just deleting the photos that you don't need any more;
There is a lot of free flash memory card recovery software. Choose one that is safe and reliable like Wondershare Data Recovery;
Toshiba memory card recovery is also available for mac users right here - Recoverit for Mac.
Apart from the Toshiba memory card, you can also recover data from the Kinston memory card.
SD Card Troubleshooting
Recover Data from SD Card

Card Repair Solutions
Other popular Articles From Wondershare