Introduction
In today's technologically-advanced world, most of us rely on our computers and mobile devices to get us through the day. Whether it is something personal like storing your music, videos or images on your computer or using it to store important files related to your work, computers play a central role. It goes without saying that backups are extremely important, so you should always access your files in case of an emergency. For example, you accidentally pressed the delete button and lost some important files, or your system crashed or succumbed to a virus attack, with all such data loss scenarios.
Why Should You Perform Regular Backup?
Having a backup is important to ensure that your business does not suffer from major downtime due to data outages. You may not just lose your data, but also have to say goodbye to valuable clients if there is no data recovery plan. At a personal level, you could lose your precious photos and videos if you didn't think of taking a backup beforehand.
Here are some reasons why regular backups are an absolute necessity:
Prevents Loss of Data – You are secured against accidental deletions, hard drive failures, system crashes, virus attacks and other such scenarios if you create regular backups.
Downtime is No Fun – Without any access to the data, it will be impossible for your employees to work. Further, the restoration efforts might not be fruitful if you don't have a backup plan to handle such emergency situations.
Reputation is at Stake – What if you were to lose critical data which was irreplaceable and you had no backup for it? How do you think your clients would feel? It would not just amount to lack of professionalism, but also break their trust in you.
Audits & Taxes – Most of the businesses are required to preserve the records of their companies for a certain number of years. Failure to do so can subject them to fines and penalties. Ensuring that you have a backup offsite on another location is a good way to be secure and prepared for all scenarios.
Competitive Edge – The first business that can get back up on its feet after a major data loss disaster is the one that wins and will take all the clients. Not having a backup plan is a huge mistake that reflects badly on your company.
The Best File Backup Software for Windows
AOMEI Backupper is a user-friendly backup software which is compatible with all the versions of Windows such as 10/8/7, Vista and XP. It makes your backup procedure very simple, convenient and fast.
AOMEI Backupper, the best Windows backup software, has the following features:
It can backup large files without slowing down your PC.
It is capable of performing disk/clone backup and taking a backup of the entire operating system.
It can backup files that are open or in-use.
How to Backup Files in Windows with AOMEI Backupper
AOMEI Backupper has an easy-to-use interface and can be easily performed by a novice to backup files.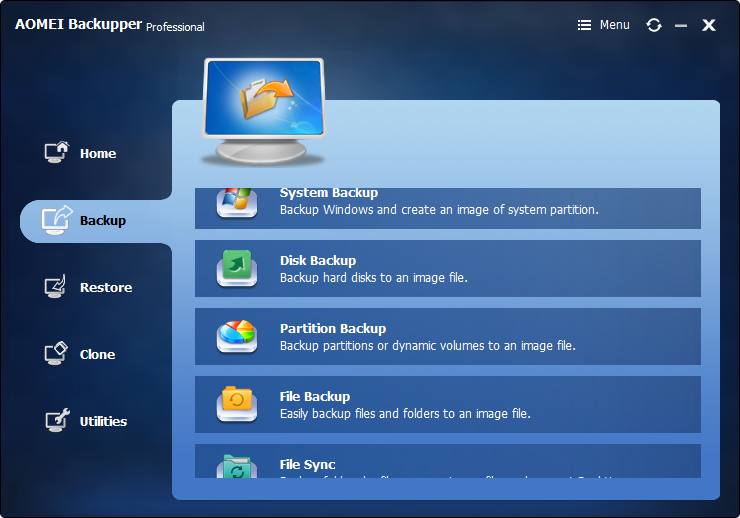 Allows you to take automatic, full, incremental and differential backups of system, disk, partition and files.
Supports system restore, disk restore, dissimilar hardware restore, partition restore and selective file restore.
Supports disk clone, partition/volume clone, flexible clone, system clone and command line clone.
Supports Windows 10, Windows 8.1/8, Windows 7, Vista, and XP (all editions, 32/64-bit)
Let's have a look at the step-by-step procedure on how to backup files using AOMEI Backupper:
Step 1: Download, install and launch the application to backup files. Now, select "File Backup" under the "Backup" tab.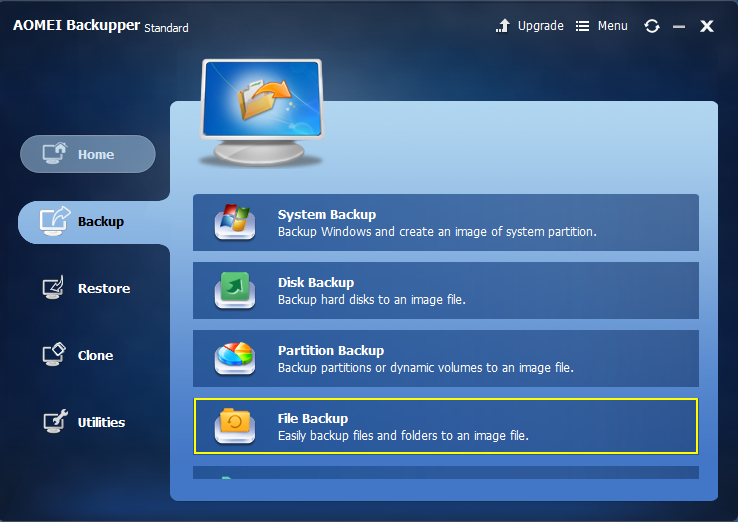 Step 2: On the pop-up window, click "Add File" or "Add Folder" to select the files you want to backup.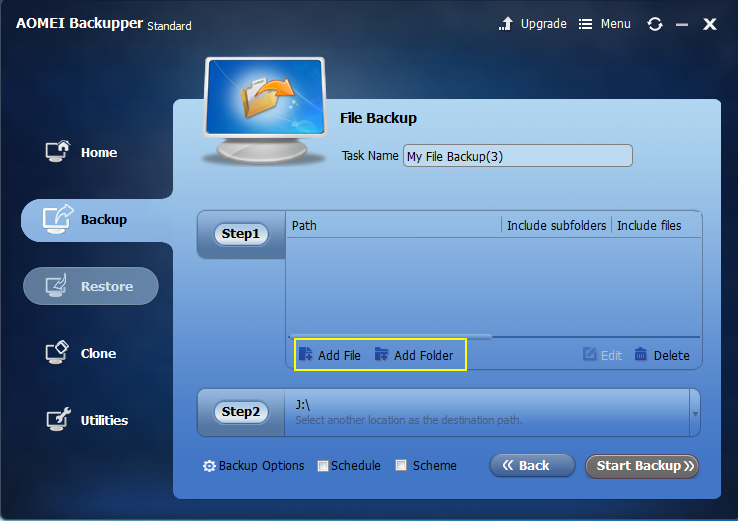 Step 3: Choose the destination path where you want to backup files. This could be your NAS, an external hard drive or a USB flash, wherever you want to save the secondary backup.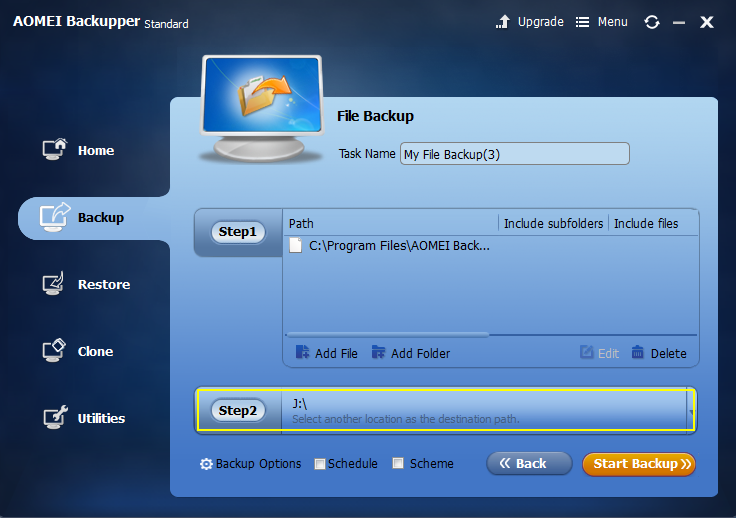 . Step 4: Finally, click on "Start Backup" to have your files backup on Windows start. It will just take a few minutes to complete the backup process.
You have the option to choose the "Backup Options" and "Schedule" as per your requirements.
For Backup Options:
Now, let us go through each of the five different tabs that you can see once you click on "Backup options". Each setting allows you different features for how to backup files:
General – This function allows you to comment, encrypt backup and receive notifications via email.
Compression – You can compress your backup at three different levels namely, "None", "Normal" and "High".
Splitting – Splitting allows you to split the large files when you are backing them up.
Intelligent Sector – This backup function includes two features – "Make an Exact Backup' and "Intelligent Sector Backup".
VSS – This feature allows you to carry out your backup without any interruptions and restart requests by Windows.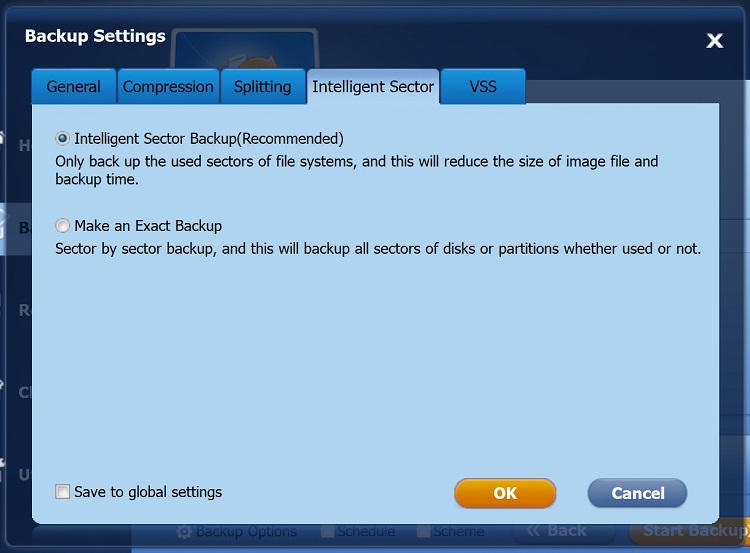 For Schedule:
You can choose for an automatic backup every day, week or month on time set by you. For example, if you wish to take a backup every Saturday at 6:00 p.m. you can set the weekly schedule and the application will automatically start and finish after the backup of files has been performed and saved.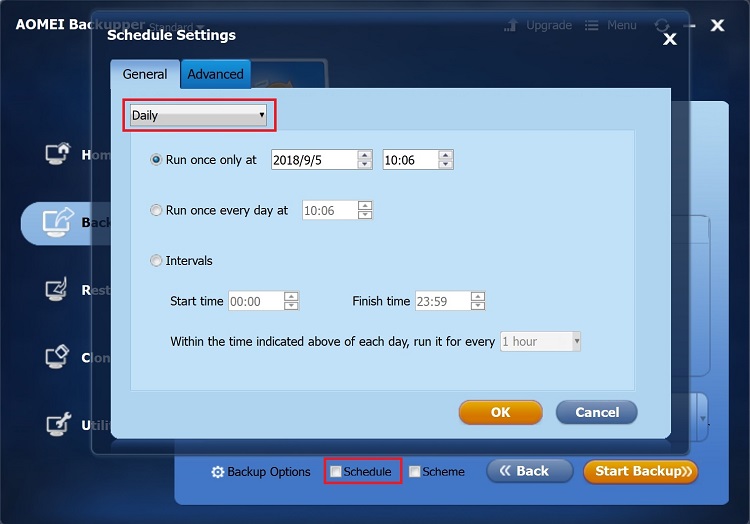 Additionally, you have the option to choose the type of backup you wish to create – Full Backup, Incremental Backup or Differential Backup.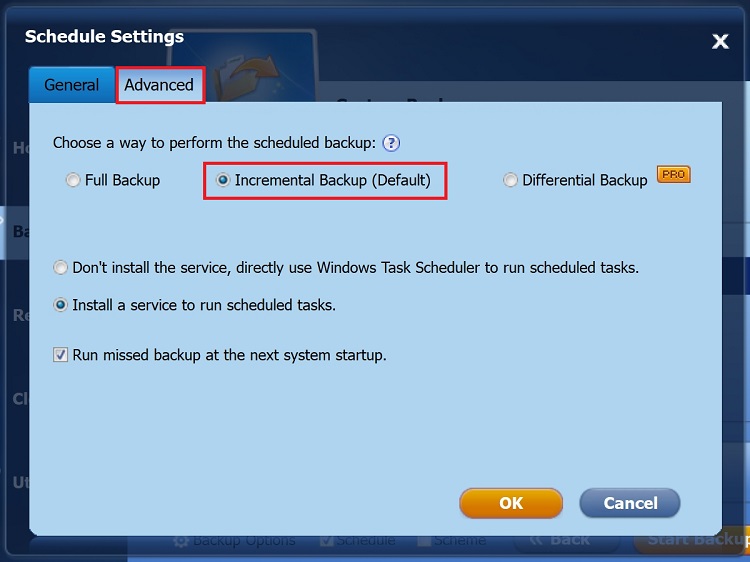 Incremental Backup and Differential Backup
Before we decide on which backup we would like to create, let us understand what each of these different types of backups comprises of.
Full Backup: A full backup consists of all the files and folders (old, new and modified) and the entire system. You must always take a full back up when it is the first time you are taking a backup of your system.
Incremental Backup: An incremental backup only contains the newly added files after the last full backup or incremental backup, as applicable. This eliminates any repetition or duplication of files and thereby saves a lot of space on the drive.
Differential Backup: All the files that have been altered or modified since the last full backup forms a part of a differential backup.
Now, let us continue with the step-by-step procedure of taking a differential and incremental backup:
Step 1 and Step 2 remain the same as above. Go to the "Home" tab once you finish with the above steps and have taken a full backup of the system.
Step 3: After selecting the "Home" tab you will see on your screen the system backup image that you just created after finishing Step 1 and 2. Click on the "Backup' option and choose from the drop-down list whichever backup you wish to create – incremental or differential.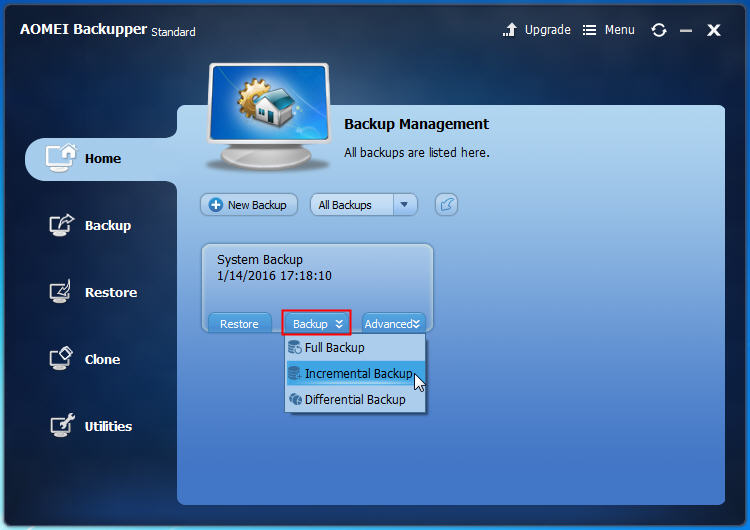 Step 4: You can write some comments if you wish. Then hit "Start Backup".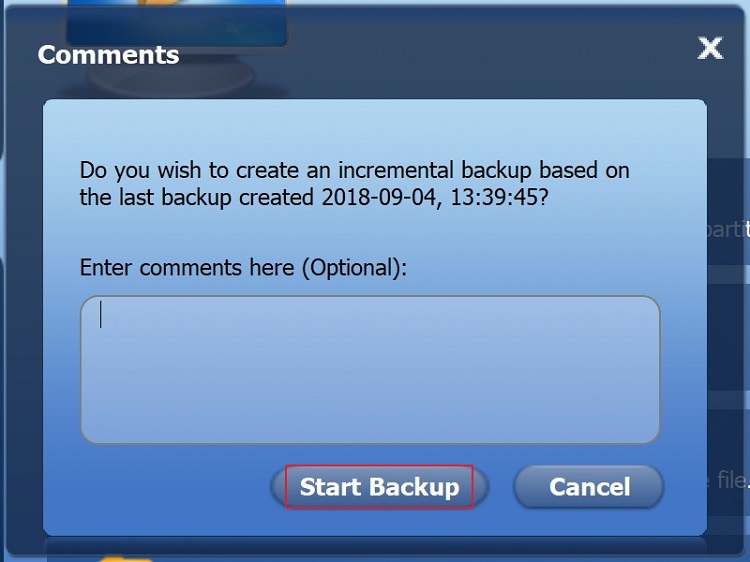 Backup Tips
If your system drive is a dynamic disk, system backup in standard version will not be supported.
It is advisable to back up your C: drive using System backup instead of Partition Backup. This is because if you choose partition backup, you will not be able to access your system for a while after it gets restored as the booting may take longer.
Conclusion
Thus, it is very crucial that you invest in a good backup software like AOMEI Backupper and put your data loss worries to rest. Regular backups will not only ensure peace of mind but also keep your data protected against cyber threats, hacks, system crashes, malicious attacks, natural calamities like floods or fire and other such disastrous scenarios.