Zip files are basically just collections of files. In general, the risk of getting virus infected by opening a folder having an unknown provenience is about the same. The ugly truth is that there is always someone out there planting viruses within Zip files. Usually the best way one could use to hide a virus within a Zip file is by compressing files using the "Self-extracting executable" option, which is almost undetectable by most of the virus scanning software. In this article, we'll talk about two file repair tools to help you repair corrupt ZIP files. Let's find out more about it in the next sections.
Part 1: Repair a ZIP File with Command Prompt
There is a specific, simple to use file repair tool which you could use to repair corrupt ZIP files. This tool is called WinZip Command Line Support Add-On and has different functions that will allow you to fix corrupt zip files. You can find the download link for the zip repair tool. The legacy download page, also offers support for earlier zip repair WinZip versions. In addition, for this ZIP file repair method, we are going to use Command Prompt.
Please follow the next steps to repair a Zip File:
1. For Windows 10 and Windows 8.1 users:
Press "Windows" + "x" keys simultaneously;
Select "Command Prompt (Admin)";
Continue with pt.5 in the next section
2. For Windows 7 and Windows Vista users:
Click the Start Menu button;
Navigate to "All programs";
Select "Accessories";
Right-click on "Command Prompt", and select "Run as Administrator";
Navigate to the file location of your corrupted zip file;
Write* "C:\Program Files\WinZip\wzzip" -yf zipfile.zip and press the "Enter" key;
*Please Note: The content between the double quotes is referring to the exact installation location of your WinZip program. Likewise, change "zipfile.zip" with the name of the file you want to recover. Last thing, don't forget to use double quotes. You need them because the space between "Program" and "Files" in the "Program Files" phrase. Otherwise you'll be displayed an error. Furthermore, if you want to recover a split or spanned Zip File, you need to type this command line instead of the one suggested at step 6: << "C:\Program Files\WinZip\wzzip" -yfs zipfiles.zip >>
WZZIP is using the original zip file to read data which will be saved in a new file having a fixed suffix in its name. None of the data contained in the original zip file will be modified in any way.
Using WZZIP will repair the zip file structure without changing the data itself. However, if the contained data is corrupted, of it has a CRC (cyclic redundancy check) error which is usually detected when extracting files, the new archive created using WZZIP will also be corrupted even though the data structure might be fixed this time, because data integrity cannot be fixed by restructuring it.
Part 2: How to Repair Corrupt ZIP File with Utility
Whenever you are being frustrated about a corrupted file that cannot be repaired, you should consider using a file repair tool. Stellar File Repair Toolkit is a specialized software that was specifically engineered to repair corrupt ZIP files. This program can also repair corrupted Word, Excel and PowerPoint files and help you save the recovered data by creating a fresh copy. If the previous method was not of any help, then you should really try this ZIP file repair. This software can fix almost all corruption errors caused by virus attacks, hard drive problems, issues caused by incomplete download or incompatible compression.
Allows you to repair four different types of files namely, Word, Excel, PowerPoint and Zip.
Extremely easy to use and is designed in such a manner that anyone can use it to repair corrupted files.
Offers a number of excellent search options to find corrupted files in an instant.
Provides an extraordinary preview feature that allows you to see the contents of the file to be repaired.
Capable of recovering the all of the data contained in the corrupted file.
Simple steps tp perform ZIP file repair
Download ZIP file repair tool and your PC computer, select the option of "Repair ZIP File" start to repairing process.
Step 1 Pick the destination drive for the dropdown menu, and tap "Select file", or "Select Folder" if you know the exact location of your zip files. Otherwise, hit "Find Files" and let the system automatically find files for you;
Step 2 After the scanning process is finally to an end, select the files you would like to recover from the search results box, and tap the "Repair" button;
Step 3 Wait up a few secs for the utility to work its magic on your damaged files. The results are shown shortly;
Step 4 All you have to do left is select the files you want to recover and tap the "Save" button; choose a save location and tap ok.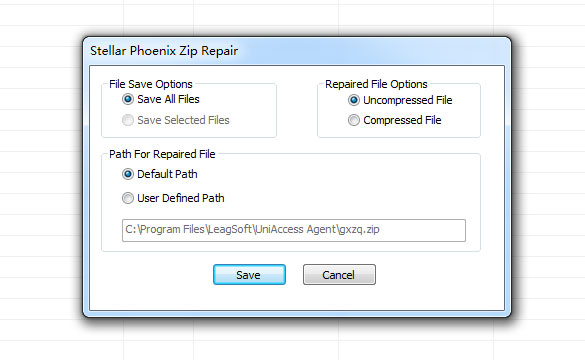 Hopefully, you will be able to recover your corrupted zip files after carefully reading and applying what you have learnt from this article. It really doesn't matter what method you are choosing as long you are able to fix your files. If I were you I would go with the utility tool, because it's super easy to use and you don't have to hold a quantum physics degree just to operate it. If none of the methods shown in this article seem reasonable to you, then I suggest you find another copy of your zip file. All righty then, until the next time I wish you guys happy recovery.
Recover & Repair Files
Recover Document Files

Repair Document Files

Recover & Repair More

Clear & Delete File