The hard disk drive stores all the data on a computer system. This data is critical for the running of the computer and without it the system can't function. However, if the data on the HDD is very sensitive and you don't want it to get into someone else's hand, then it is best to erase the hard disk. This task isn't easy, though. A simple deletion won't be enough to erase the contents of the hard disk drive. For an HDD erasure to be performed successfully, you need to make sure that the data on the HDD is completely irretrievable. The only way to perform this task in a secure manner without damaging the hard disk is to use an HDD erasing tool.
Erasing a hard disk drive is an extreme option which needs to be exercised only in time of great need. For instance, if you are selling your hard disk and don't want the person purchasing it to view your data, then it is in your best interest to do an HDD erasure. Also, if you plan on recycling your old hard disk drive then you should again be looking to erase all of its data first. Most importantly, if there is sensitive data stored on the hard disk and you are concerned that it might fall into the wrong hands, then you should definitely erase the HDD. However, make sure that you use good HHD erase software for this purpose as erased data can be restored using data recovery tools.
Part 1: How to Securely Erase HDD (Hard Disk Drive)
Erasing an HDD isn't an easy task and to erase it securely is even more difficult. You need to make sure that the hard disk remains usable but its previous data has been deleted beyond recovery. Ordinary HDD erasing tools can erase data but can't do so in a secure manner. They end up damaging the hard disk in the process and it becomes unsuitable for use. However, there is one tool available on the Internet that can be used for erasing HDD in a secure manner without causing any damage to it. Stellar BitRaser for File can help you in your attempt to securely erase the contents of your HDD.
User-friendly Interface Stellar BitRaser for File has a user-friendly interface and has been designed in such a manner that anyone can use it without encountering any difficulty. Even if you have not used a data erasure tool in the past, you would be able to utilize all of its features with consummate ease.
Compatibility with Multiple Versions of Windows This HDD erase software is compatible with various versions of Windows. The Windows versions which are supported include Windows XP, Vista, 7, 8, 8.1 and 10. So, no matter what Windows version you are using on your computer, Stellar BitRaser for File can be used for erasure of data.
Comprehensive Erasure of Data Stellar BitRaser for File completely erases any data stored on the hard disk drive. Be it a document, a file or even a log, you can use this tool for permanently erasing it from the hard disk. This means that the data erased cannot be recovered no matter how powerful data recovery tools are used.
Erases Traces of Internet Activity This HDD erasing tool can not only permanently delete stored data on an HDD but can also erase Internet history as well. You can use Stellar BitRaser for File to erase even the minutest traces of your internet activities.
Utilizes Various Data Erasure Standards Stellar BitRaser for File makes use of various data erasure standards for erasing data. Each of these data erasing algorithms can be used for wiping clean your HDD.
Step 1: Free download Stellar BitRaser for File on your Windows computer and connect your hard disk drive to your PC.
Step 2: Go to the option "Erase Now" on the left panel, and select your hard disk drive.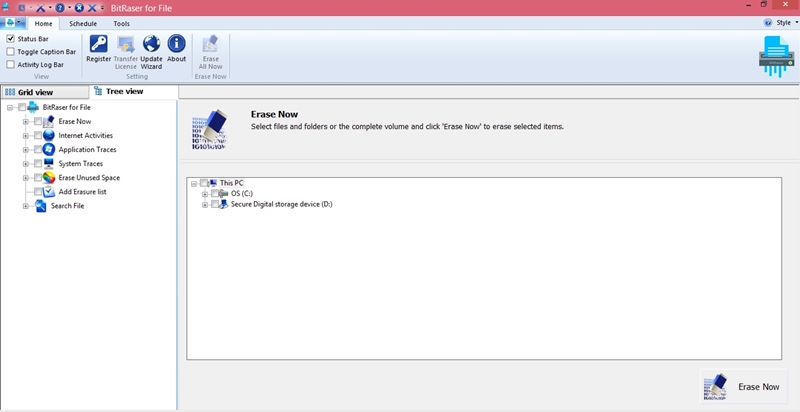 Step 3: Click "Erase Now" button to start securely erase hard disk drive.
Step 4: After completely erase hard disk drive, you will be asked to reboot the system. You can click "Yes" to confirm.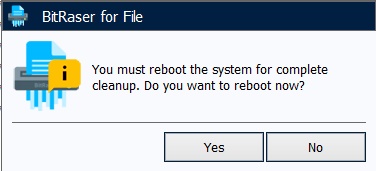 A single pass of Stellar BitRaser for File is usually enough to securely erase HDD. However, if you aren't satisfied then you can take a couple more passes to ensure beyond any doubt that the HDD has been completely wiped clean.
HDD erasure becomes necessary if you want to sell or recycle the hard drive or erase any sensitive data stored on it. While data erasure can be performed using various tools, erasing an entire HDD requires using an HDD eraser tool like Stellar BitRaser for File. It can ensure that the HDD is wiped clean in a secure manner and the data it previously had can't be recovered forever.
Make sure that you make use of a powerful HDD erase tool like Stellar BitRaser for File.
Take up to three passes to completely ensure that data is comprehensively erased from the HDD.
If you need some of the data then create backups of it prior to the HDD erase.
What's Wrong with Drive
Recover Your Drive

Fix Your Drive

Format/Wipe Drive

Know Your Drive