Accidentally deleted videos? How to recover deleted video files? Videos are visual mementos of important occasions in anyone's lives, or a source of entertainment for when one wants to unwind. While this form of media can easily be saved in a laptop or Mac, it's also so easy to lose—particularly when you delete videos from your PC accidentally. Before you panic when that happens, here are a few ways you can follow to recover your deleted videos from PC computer or Mac.
Overview of Deleted or Lost Videos Issue
Accidental deletion of videos (user error)
Faulty hard drive due to overheating, water/fire/drop damage, power surge or outage
Damaged hardware
Blue Screen of Death (BSoD) errors
Malware or virus that makes videos unreadable or suddenly disappear
Corrupted video or software due to improper installation or partitioning
Formatting of drives and storage devices
Major updates on software or system
How to Restore Deleted Video from Recycle bin and Trash
Whether you accidentally delete or change your mind about deleting a video, Windows (and Mac) has a way of restoring the deleted video before it is permanently wiped out of the PC's physical memory.
Here is how you access Window's Recycle Bin:

1. On the search bar, type Recycle Bin and click the top result.
2. Locate the deleted video you want to recover, and click Restore the selected items found on the task pane at the top. You can also choose to Restore all items.
3. You can now find the deleted video in its original folder.
To access Mac's Trash, here is how:

1. You can find the Trash icon in the Dock, select it.
2. To restore an item, just simply drag it out to the desktop, or to the folder where you want to store the video.
How to Solve Permanently Deleted Videos in Trash/Recycle Bin
If you got all deleted video files from recycle bin and emptied the folder, there is still a way to recover it back. In Windows, there is an option to go back to the computer's previously backed up state by using a restore point, but only if you enable the backup option. You can find this in the System and Maintenance option of the Control Panel.
However, not all files might be recovered when using this backup option. How to recover permanently deleted videos from emptied recycle bin or trash? On the follow guide we will instroduce the best video recovery prorgam to help you recover all deleted or lost video back.
How to Recover Deleted Videos from PC/Laptop with Data Recovery Software
Accidental deletion of videos will never be a real worry if you have a powerful video recovery software that can restore these files and more with just a few clicks of a button. One prime software that does this job is the Recoverit Video Recovery Software, which works for both Windows and Mac. It is developed and distributed by Wondershare, a reputed brand in digital media solutions.
Recoverit Video Recovery can handle the most bizarre situations concerning video deletion: formatted SD card, crashed system, emptied recycle bin/trash and other scenarios. This software has a deep scan that inspects a drive's architecture to find hidden or corrupted video files and restores them efficiently and easily.
Steps on How to Recover Deleted Videos with Ease
Download and install Recoverit Video Recovery program on your computer, the next steps we will perform video recovery on Windows computer. If you are using Mac, you should download Recoverit Video Recovery for Mac and go on.
Step 1 Launch Recoverit Video Recovery, select the location where your video files get lost.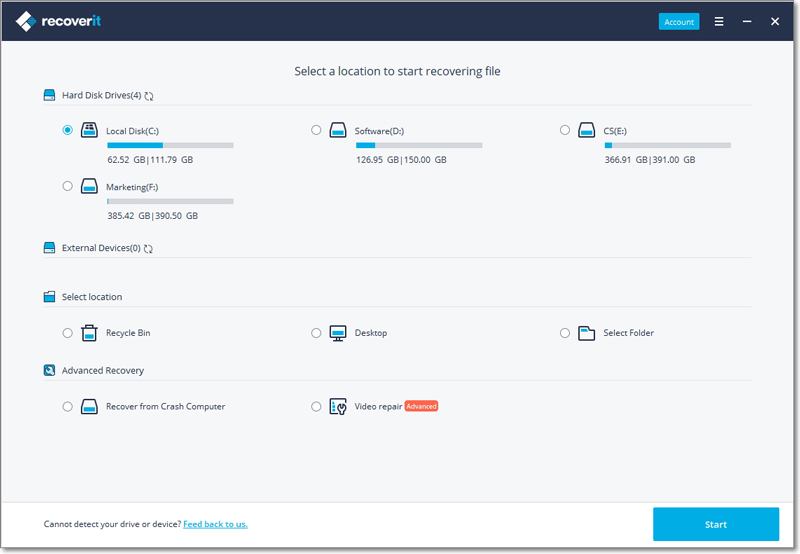 Step 2 Then the video recovery software will start to scanning the hard disk/device to searching the lost videos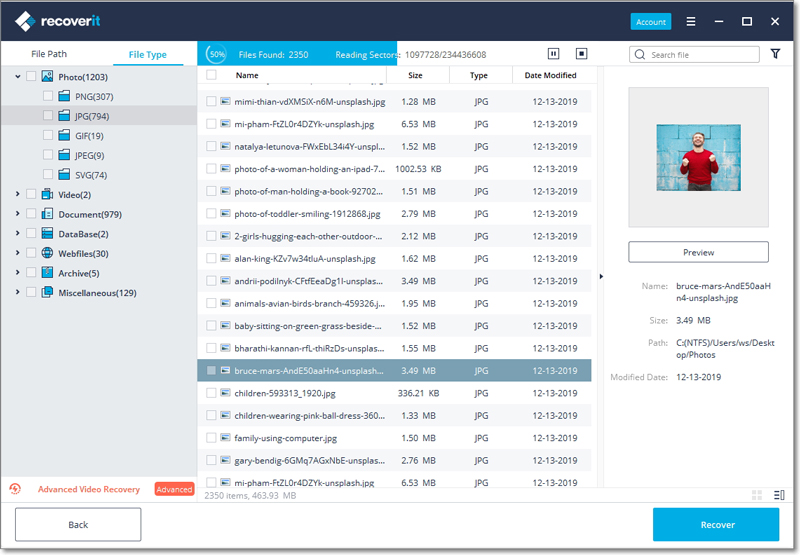 Step 3 At the end of scan completed, you can check all recovered video files. Select the one you need to restore by click "Recover" button.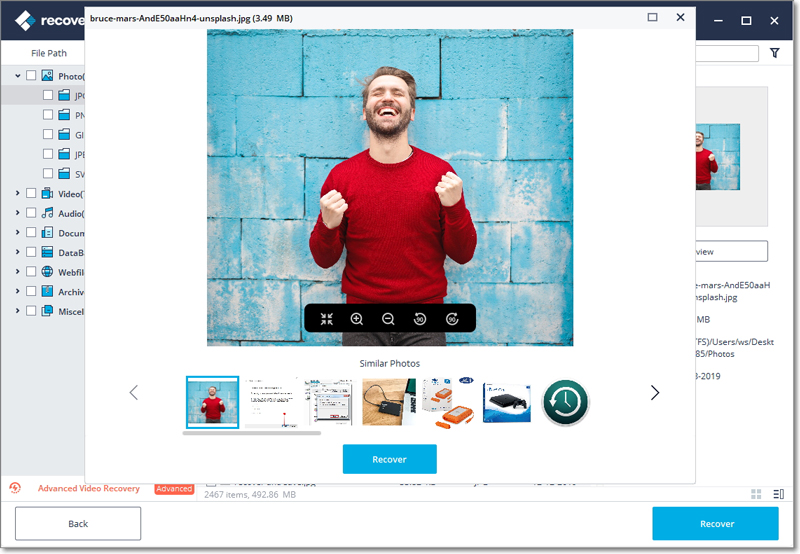 Advance Video Recovery for fragmented video recovery (recommended)
In general, you can recover lost video for whatever reason. However, you might find the video corruption after the preview using software. If so, Advance Video Recovery feature in Recoverit can help you. It scans, gathers and matches the fragments of your corrupt videos, and thus ensures most of your videos are recovered from DSLR, Digital cameras, Drones, Action Cameras, Dashcams, camcorders, SD card, PC, HDD, etc
Scan and match your video fragments
Merge the fragments from the same video
Recover unlimited video files without corruption
Just click Advance Video Recovery option to recover fragmented video file easily.
Having a video data recovery software is a handy must-have for any Windows PC or Mac user, especially when it comes to accidentally deleted video files. You can recover lost photo files as well. Download as below and try it for free now.
Solve Media File Problems
Recover & Repair Photos

Recover & Repair Videos

Recover & Repair Audios

Recover & Repair Cameras